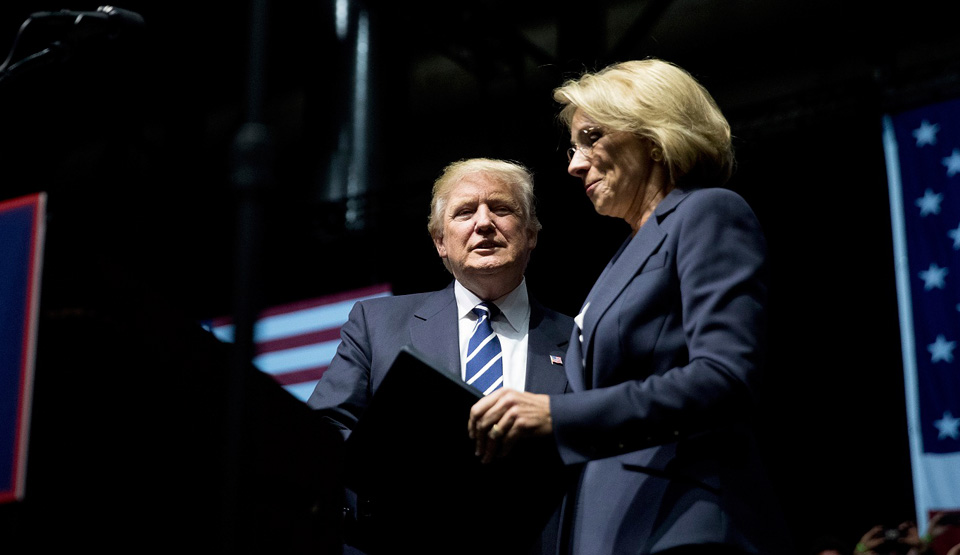 WASHINGTON – Ignoring the fact that she has no experience with public education, in fact has spent her career putting profits over children, the Senate Health, Education, Labor and Pensions Committee has approved Donald Trump's nomination of billionaire Elizabeth "Betsy" DeVos to be Secretary of Education.
Her only qualifications seem to be the fact that she gave millions to Trump's campaign and is a former Michigan GOP chair.
Her nomination now goes before the full Senate.
The Senate committee's 12 to11 party-line vote came despite more than 1 million phone calls, e-mails and tweets objecting to her nomination. The campaign was coordinated by the National Education Association (NEA).
Furthermore, the American Federation of Teachers (AFT) ran a two page newspaper ad laying out the case against DeVos.
And the ranking Democrat on the Education committee, Patty Murray of Washington, herself a former kindergarten teacher, raised serious doubts about DeVos' ability and qualifications.
Even two GOP members of the Education committee who voted for DeVos, Alaska's Lisa Murkowski and Maine's Susan Collins said they are not "fully convinced" DeVos can do the job.
According to the Washington Post, Collins and Murkowski said 'they are not yet committed' to voting for Michigan billionaire Betsy DeVos for U.S. education secretary on the Senate floor. It was the first time that any Republican senators said they might not vote for President Trump's nominee."
While she was being considered by the committee, DeVos cheated on a written test.
Parts of answers written by DeVos' to a set of questions submitted by Sen. Murray were discovered to have been directly cribbed from statements made by members of the Obama Administration.
Privatizer
DeVos is known for her adamant advocacy of taxpayer-paid vouchers for parents of private school kids, her campaigns in Michigan for unregulated and unsupervised charter schools and her efforts to deny teachers the right to tenure.
She's drawn support from rabid anti-unionists, including right wing Wisconsin Governor Scott Walker, who boasted in a letter to the Education committee that DeVos agrees with the anti-union actions he's taken in his state.
On the other hand, AFT President Randi Weingarten said in a written statement:
"In nominating DeVos, Trump makes it loud and clear that his education policy will focus on privatizing, defunding and destroying public education in America.
"DeVos has no meaningful experience in the classroom or in our schools. The sum total of her involvement has been spending her family's wealth in an effort to dismantle public education in Michigan."
NEA President Lily Eskelsen-Garcia said in her statement that "The level of engagement from parents, students, and educators —from both political parties — across the country in opposition to DeVos' nomination and agenda has been nothing short of astounding."
"She continued, "This is a clear signal that a dangerously unqualified nominee has failed to convince the American people that she is capable of doing the job for which Donald Trump nominated her. … As the nomination moves to the floor, every senator has a unique opportunity to put students before all else.
"Senators: We are watching. America is watching to see if you do what is right — reject the DeVos nomination — on behalf of students and public education."
During the Education committee hearing, Murray hit DeVos for putting an ideological agenda above the needs of nation's kids.
Murray said, "[DeVos spent decades] using her inherited fortune to influence Republican candidates and push her extreme anti-student ideology. "DeVos fought for the failed education policies that siphoned money away from strengthening public schools for all students and toward taxpayer-funded private school vouchers, with little accountability, for just a few."
And Murray cited DeVos' work "to reduce accountability for charter schools, including for-profit charters, and the devastating impact her advocacy has had on students in Michigan and across the country."
No date has been set for a full Senate vote on DeVos.