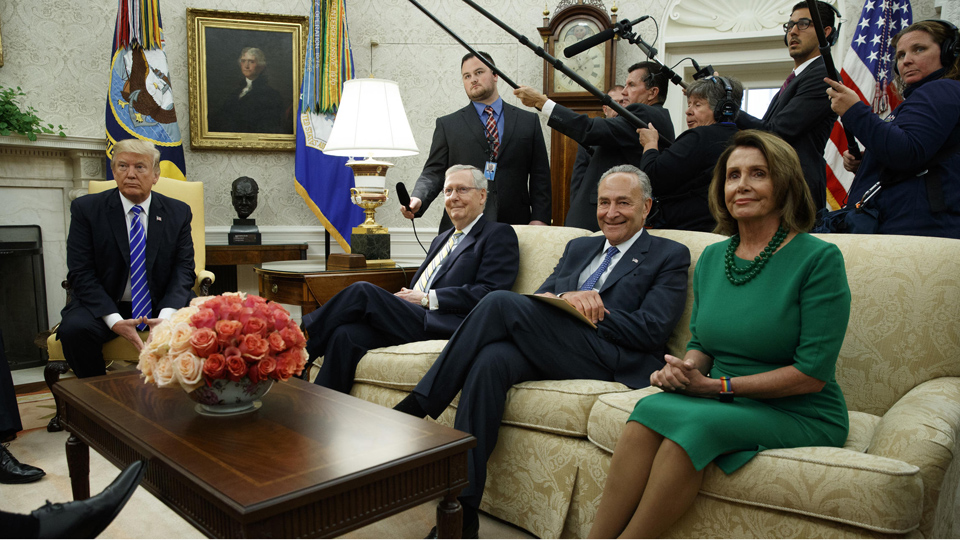 WASHINGTON—The largest federal workers union, the Government Employees (AFGE), is hailing the surprise budget and debt ceiling deal GOP President Donald Trump reached with Democratic congressional leaders on September 6.
And a second federal union, the Treasury Employees, also welcomed it – along with a public service ad campaign telling voters and consumers nationwide how the government works for them.
The agreement increases the debt limit by enough money to fund past federal obligations and pay for upcoming ones through December 15.
It also includes a temporary money bill to keep the government going, at current spending levels and without ideologically motivated additions, through the same time.
Both the debt limit and the temporary money bill are attached to emergency legislation allotting the first $15 billion in federal aid to victims of Hurricanes Harvey and Irma. That won't end the hurricane-related spending, as losses in Texas alone from Harvey are more than $100 billion and rising.
The agreement was needed because if the debt limit was hit and a money bill didn't become law by September 30, the government would be unable to pay its bills or its workers, and it would have to shut down. Schumer said the two parties agreed to work together to avoid another shutdown and to again raise the debt ceiling before December 15.
"The risks of a government shutdown or defaulting on our debts are too great to hold either issue hostage to partisan politics," AFGE President J. David Cox, a retired Veterans Affairs Department psychiatric nurse, said.
"With this agreement in place, the American people can be confident their government will continue to deliver the programs and services they expect and will be able to pay its bills on time. I can only hope this bipartisan agreement marks a turning point in lawmakers being willing to cross party lines to reach consensus on other issues that are equally vital to our national interests," he added.
NTEU President Tony Reardon emphasized the valuable services – from food inspection to border security – that federal workers provide. So did his union's ad campaign, which started the same day. If the government had shut down, the services would have stopped. The public service ads were sent to 20,000 radio stations and cable outlets, he said. They decide whether to air the spots.
"The message is simple and straightforward: Our nation's civil servants are on the job for US (his emphasis).
"The main goal of this campaign" in both the English and Spanish ads "is to raise awareness of federal employees and their commitment to taxpayers and the professional work they do, often without recognition or fanfare."
Reardon said his union intentionally timed the campaign to air as Congress faced the debt-ceiling and budget crunch the agreement between Trump and the Democratic leaders seems to have resolved.
Without it, he noted, "We are facing yet another funding deadline and uncertainty about a path forward, which can be demoralizing to federal employees and disruptive to the taxpayers they serve."
The ads also remind listeners that federal workers – 85 percent of whom live and work outside metropolitan Washington – are middle-class workers with middle-class incomes. "Threatening them with budget cuts, RIFs and shutdowns also threatens the services they provide, and we intend to remind all Americans of that reality," he said. "RIFs" is the bureaucratic word for layoffs and firings.
But while the two unions hailed the budget deal, there are potential skeptics in other quarters. Senate Majority Leader Mitch McConnell, R-Ky., glumly announced it and said he would go along.
News reports said at least one progressive group and a pro-Latino group were upset the Democrats did not demand the deal include extending the Deferred Action for Children of Arrivals (DACA) program that lets the 800,000 "Dreamers" – people brought to the U.S. as children – to live and work openly under President Obama's program. Trump shut that down in an announcement the day before that drew nationwide protests.
But the Congressional Progressive Caucus and UnidosUS – formerly the National Council of La Raza Unida – had no immediate comment on the exclusion of the Dreamers in agreement.
Meanwhile, Sen. Ted Cruz, R-Texas, a leader of the congressional radical right – who led them in voting against aid to East Coast victims of Hurricane Sandy several years ago – grumbled about the linkage of Harvey aid to raising the debt ceiling and extending government funding.
So did the right-wing House Freedom Caucus, but a White House aide told the right-wing Washington Examiner that unless they got on board, Trump would just pass them by.
Cruz also claimed all the hurricane money would go to Texas, ignoring Louisiana – which Harvey also hit – and victims of Irma in Florida, Puerto Rico and the U.S. Virgin Islands.
"It is unfortunate that congressional leadership and the administration chose to tie Harvey relief to short-term extensions to the CR and the debt ceiling. Historically, the CR and debt ceiling have proven to be the only effective leverage for meaningful spending reform, and I believe we should continue to use them as tools to reduce our long-term debt. I would have much preferred a clean Harvey relief bill—which would have passed both Houses nearly unanimously," he said. The House passed its original Harvey relief bill 419-3 on September 6.