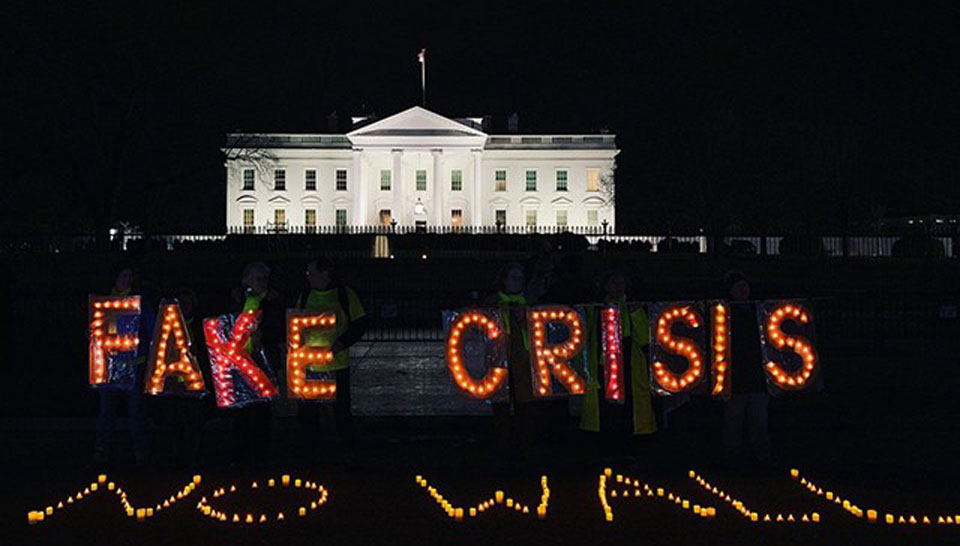 WASHINGTON—Even GOP President Donald Trump's normal mouthpiece, Fox News, called out Trump's lies in his Jan. 8 speech promoting his Mexican Wall and justifying shutting down part of the government to force Congress to give him $5.7 billion for that scheme.
Fox anchor Shepard Smith – who has a reputation, unusual there, for straight news and tough questioning of Trump — spent his time after Trump's nine-minute address and the responses by House Speaker Nancy Pelosi, D-Calif., and Senate Minority Leader Charles Schumer, D-N.Y., deconstructing the president's oration. So did other TV news commentators. So did the two lawmakers.
For example, "Government statistics show much of the heroin actually comes not over the unguarded border but through ports of call," Smith noted after Trump claimed his Mexican wall would stop the migrants from bringing in drugs. There were many other falsehoods, Smith said.
"Much of what we heard is full of misinformation and crisis-manufacturing," Pelosi said. "The symbol of America should be the Statue of Liberty, not a 30-foot-wall," Schumer added.
Trump argued for his wall, but he put it last in the address, after first repeating his canards about "illegal immigrants" running rampant, murdering innocent people, bringing in tons of drugs and causing a "national security" crisis at the U.S.-Mexico border.
And while he didn't say so, his 2020 campaign revealed another real purpose for the speech: Fundraising. It sent out a demand letter to donors – and a Trump foe revealed and posted it.
Trump's speech was so toxic that progressive organizations such as MoveOn.org and Gays and Lesbians Against Discrimination (GLAAD) recommended in advance that viewers boycott the address. Media Matters for America said, "the networks got played, and they know it."
"@realDonaldTrump's taking his #TrumpTantrum to a television network near you… doesn't change the fact that it's a racist & wasteful ($5,000,000,000) wall. #BoycottTrumpPrimeTime," MoveOn tweeted.
Some lawmakers said they would boycott it, too, and urged others to do so. And first-year Rep. Rasheeda Tlaib, D-Mich., who introduced a Trump impeachment resolution on her first day in office on Jan. 3, posted a picture of herself reading Rebecca Traister's book Good And Mad.
"Instead of listening to Trump's rant which will most likely include many falsehoods, I think I'll take some time to read this," Tlaib tweeted, following it with the hashtags for "EndTheShutdown" and "BoycottTrumpPrimeTime."
"If Trump isn't talking about the children dying in his administration's custody at the border, federal workers going without pay, or the service organizations who rely on gov't funding being in limbo – I don't need to hear it," another Tlaib tweet added.
Others, including the two Democratic leaders, hit other presidential lies, including Trump's claim he cares for the 800,000 federal workers who won't get paid – half of whom he has locked out.
"President Trump demonstrated he is very focused on the border and unfocused" on "administering the rest of the federal government," said Paul Shearon, president of the Professional and Technical Engineers, which includes locked-out immigration judges and NASA engineers, among others.
Two other unions representing big groups of the locked-out workers planned anti-lockout rallies. The Government Employees met the night of Jan. 9 and the Treasury Employees, along with AFL-CIO unions rallied on Jan. 10.
"He is responsible for the government shutdown," which has caused "real damage" to the 800,000 unpaid workers, Shearon added. "We need less 'Art of the Deal' and more attention to the management of the federal government."
That's not counting the workers' families, or businesses that depend on spending by those workers – such as nearby diners and food carts the workers patronize on their lunch hours, or retailers where they buy clothes for their kids. Combined, the Trump shutdown/lockout affects millions of people.
"Cab drivers and other direct service providers in places with big government workforces are being squeezed. Organizations dependent on government grants that serve communities in need are running out of money and face shutting their doors and laying off their employees. And, as this shutdown drags on into its third week, more and more Americans will feel the impact," said Ben Betz of People for the American Way.
Sen. Bernie Sanders, Ind-Vt., put Trump's speech in a bigger perspective, in a post-speech video.
"Sadly, what President Trump is trying to do is create fear and hatred in our country," Sanders said. "Instead of trying to bring us together as a people, he is trying to divide us up. And in the process, divert our attention from the real crises facing the working families of this nation," Sanders said.
One big social media outlet, BuzzFeed, didn't cover Trump's speech.
"There was no news in the speech, and a politician just opening his mouth and saying stuff isn't news by definition," BuzzFeedBen's tweet explained.