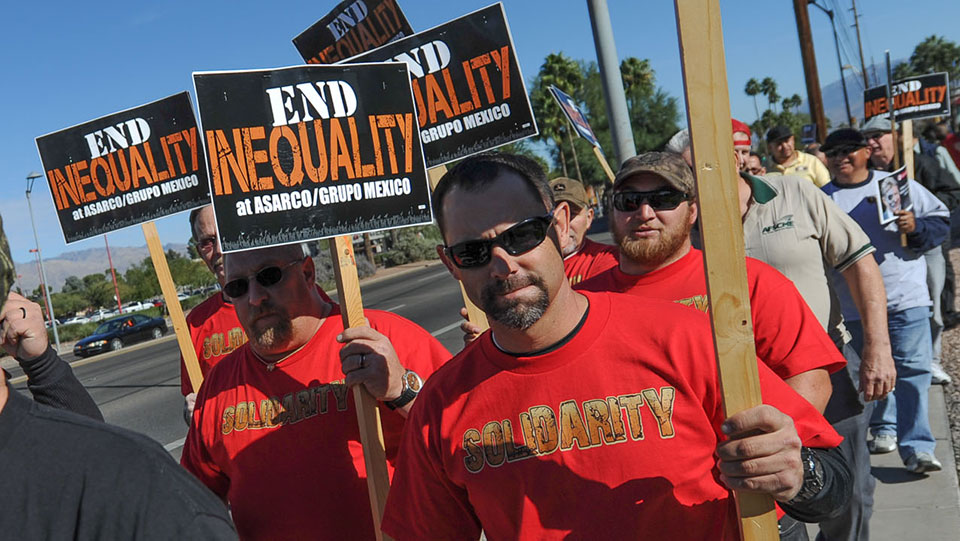 TUCSON — "You are not alone" was the message from Tucson Mayor elect Regina Romero to striking copper miners in Southern Arizona. She was addressing rallying strikers and supporters who came to picket their bosses at ASARCO's corporate office lair on Tucson's east side on Nov. 17. Romero called out the company for refusing to bargain with the copper unions in good faith. She condemned ASARCO for offering only takeaways to workers, most of whom who have gone ten years without a raise, and wanting to more than double their workers' out of pocket healthcare expenses. She also pointed out that German Larrea, CEO of Grupo Mexico, the multinational that owns ASARCO, is worth $13 billion, but won't invest in his employees.
United Steelworkers Arizona Sub-district Director, Manny Armenta, thanked the community for their support and explained that after five weeks of refusing to sit down with the union, ASARCO finally met with the unions but offered only the same old nothing. Armenta urged the striking unions and supporters to maintain their unity. Armenta also introduced a railroad switchman visiting from Seattle who brought a check for $350 that his union collected for the strike fund as "a stand against corporate tyranny."
Romero, who was elected earlier this month, will become Tucson's first woman mayor, and the Tucson's first Mexican American since 1876. Joining her at the rally were State Senator Victoria Steele, and representatives of County Supervisor Richard Elias and Congresswoman Ann Kirkpatrick, as well many trade unionists and community supporters.
About 2,000 union copper workers, represented by Steelworkers, Teamsters, Electricians, Operating engineers and four other unions walked off the job October 13 at three open pit copper mines in Arizona, a refinery in Amarillo Texas, and a smelter in Hayden, Arizona. The strike has forced ASARCO to cease operations at the smelter and refinery, but is still operating the three mines with scab labor.
The Mission and the Silver Bell mines are near Tucson so striking miners have been joined by union and community supporters, especially at the time of shift changes. The Pima Area Labor Federation and it's member locals have been particularly active in support of the strikers, as is the local Jobs with Justice coalition, but it's clear that the struggle needs to be broadened. ASARCO/Grupo Mexico is a corporate predator that has viciously and mercilessly attacked workers and their unions in Mexico and South America.
The strikers are prepared for a long fight and need all the solidarity and support they can get.