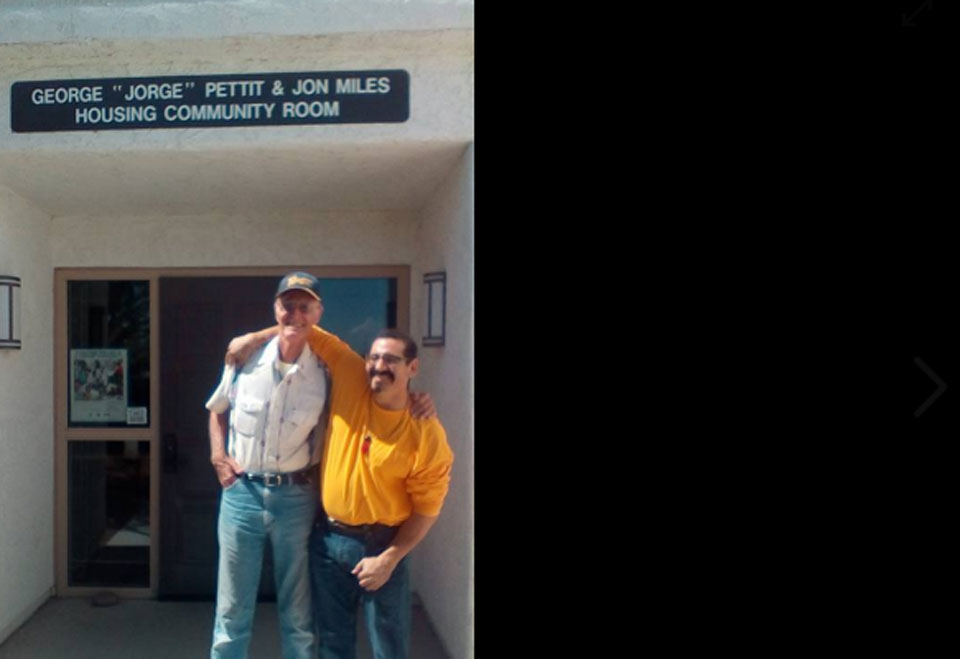 Tucson lost its favorite political activist when Jon Miles passed away on February 21st at age 81, after a long battle with cancer.
For some 25 years everybody attending Tucson's Salt of the Earth Labor College was greeted at the door by Jon Miles' request they register for the class and fork over a small fee, "if you can afford it" he would add with an understanding smile.  Jon was one of the school's founders and an active member of its Governing Board and operating committee until last month.  But Jon was so much more.
Born in New Jersey, Jon moved to Tucson in 1960 after graduating from high school.  His first job in Tucson was at a car wash where he made lifelong friends with Chicano youths his age.  One of them went on to become President of the Steelworkers' local at the country's largest copper mine in San Manuel, Arizona.  Another, Pancho Medina, like Jon, has been a lifelong leader in the struggles against war, for immigrant rights, and for equality.
In 1964 after trying his hand at several jobs, he was drafted and served in combat in Vietnam.  Returning to Tucson he took college classes and got a job in the San Manuel mine for several summers.  From warrior, he gradually turned into a peace advocate, and his union job led him to see the importance of solidarity.  By the 1970s, Jon was working full time at the mine and doing solidarity work with the United Farm Workers who were organizing boycotts of grapes, then lettuce and Gallo wine.  When the solidarity activist started encountering thug violence the union sent Jon for special security training and he was put in charge of security for the UFW's many campaigns in Arizona.
Later, when the UFW was no longer organizing in the state, Jon would be contacted to take charge of security whenever Cesar Chavez came to Arizona.  Since then we saw Jon's towering figure at every action and demonstration requiring security precautions.  And if security was not a problem, Jon was still there.  The farm worker movement, also gave birth to a people's theater group which enacted skits to encourage consumers to boycott, and also for the workers in the fields to join the union.  Jon loved to participate.
Meanwhile, his mining career ended when he was fired for participating in a wildcat strike, which is a strike not authorized by the union.  Jon later acknowledged that the wildcat was a mistake he blamed on his youthful militancy overcoming rational assessment of the situation.
After that Jon earned his living as a self-employed landscaper.  In the late 1970s, Jon met Chilean exile Rebeca Cartes who he married in 1980.  This marriage and a trip with her to Chile led Jon into the growing Latin American Solidarity movement of the time.  In Tucson, this meant the Tucson Committee for Human Rights in Latin America.  Jon Also became active with the Palestine Solidarity Committee, and the local anti-apartheid movement.  When a local chapter of Veterans for Peace was formed, Jon was one of the first to join, and a decade later he served for more than a dozen years as the chapter president.
In 1980 Jon also joined the Communist Party USA.  By the mid 1980s he was elected Treasurer of the Arizona District of the Party, an office he held for some 35 years until his health deteriorated.  And that's not all.  In the very early 1980s, Jon began volunteering at the Casa Maria soup kitchen.  Casa Maria went on to organize a very militant homeless coalition that fought for homeless and poor folks by fighting gentrification and putting families into unoccupied federally owned homes.  Jon continued to work with Casa Maria until his passing and I'm sure he's still with them.
In the 1990s Jon started working with the Coalición De Derechos Humanos, the Human Rights Coalition, in English, but usually referred to in Tucson as Derechos Humanos, or just plain Derechos.  Jon played a major role in all the fights for migrant rights that took place in this 21st century. He helped organize and provide security for huge demonstrations and May Day marches.  Because Tucson is on a major route for migrants risking their lives to cross Arizona's deadly deserts, the many organizations fighting for humane treatment of these guests always have lots of work, and Jon was in the midst of this struggle.
And, of course, Jon was part of the peace movement.  His Vietnam war experience led him to hate war and its devastation.  He was a leading figure in the anti-war mobilizations against the Gulf War, the Kosovo war, and the U.S. aggression against Iraq, Afghanistan, Grenada, and elsewhere.
Jon was, clearly, Tucson's most beloved activist.  He was also a public official serving for 22 years as a Pima County Housing Commissioner, one of few Communists who have held public offices in this era.  He was originally nominated by County Supervisor Raul Grijalva, who is now in Congress, and Jon was re-appointed by three succeeding supervisors, including the latest, Adelita Grijalva, the Congressman's daughter. The County Housing department has named a meeting room in his honor.
Over 150 people braved attending a spreader event to attend a Celebration of Jon Miles' life on March 12th at Tucson's El Tiradito Shrine where Tucson mayor, Regina Romero, recounted how she learned to appreciate Jon Miles while they successfully worked for a city Cesar Chavez holiday when she was still a Council member.  Jon's Daughter and grandchildren spoke about his caring and role modeling for them.  Community members sang his praise, as usual, but we were sad.  I've known Jon for 41 years and can't remember anybody ever criticizing him.  When I sent out a notice of his passing to the community many sent condolences, but my favorite quote was from local folk singer Ted Warmbrandt who emailed, "Wherever he was you knew you were in the right place."
He will be sorely missed in Tucson.  Jon Miles, Presente!