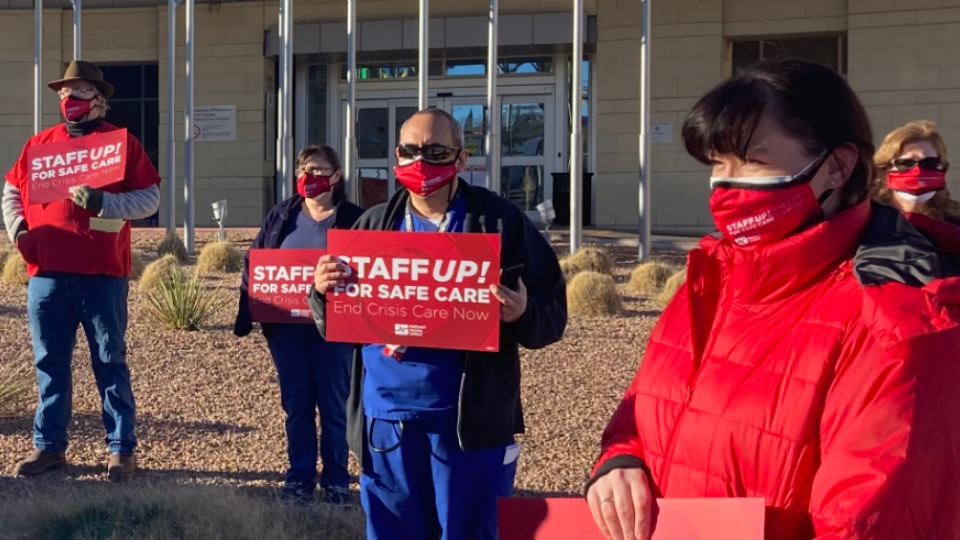 TUCSON—Some 100 Registered Nurses and community supporters showed up for a press conference here Thursday morning, Jan. 13, to demand a safe environment for themselves and their patients. The action was sponsored by National Nurses United (NNU), the largest RN union in the country, with over 175,000 members.
RNs held simultaneous press conferences, pickets, and other actions at their hospitals across the country to bring attention to the nationwide hospital staffing crisis. As part of the day's action, NNU held a memorial vigil in Washington, D.C. for the 480 RNs who have died over the last two years of the pandemic.
NNU represents Tucson RNs at St. Mary's Hospital, and at St. Joseph's Hospital where this action took place. Both hospitals are owned by Tenet, a for-profit corporate health care behemoth. In a press release announcing the event, the union explained that 82.5% of Tenet nurses in Tucson work half of their shifts or more in unsafe conditions. Up to 50% are considering leaving the profession. The nurses here say that's unacceptable and that patient safety and nurse retention should be Tenet's priority, rather than their shareholder's profits.
Liz Hurt, an RN at St. Mary's for over ten years, pointed to the millions in profits Tenet pulls in—enough to take care of staffing shortages and patient safety. "They should be committed to the highest standard of health care instead of corporate profits," she said. Hurt also explained that Tenet already had a staffing shortage before the COVID-19 pandemic.
Mellissa Fatula, also a St. Mary's RN, explained that there isn't really a shortage of nurses, but rather a shortage of nurses willing to risk their licenses and the safety of their patients by working in unsafe conditions imposed on them by profit-driven employers.
Trish Muir, leader of the Pima Area Labor Federation, expressed the solidarity of working people in the community for the nurses who have been working day in and day out to care for people in Tucson at this risky time. She condemned Tenet for putting profits before people and called on the company to provide for appropriate staffing with safe working conditions.
The union stressed that the bosses are seeking to make the "crisis standard of care" and "crisis staffing levels" into the new normal after COVID, a major threat to people needing hospitalization. It also emphasized that these corporate policies are driving nurses out of the profession.