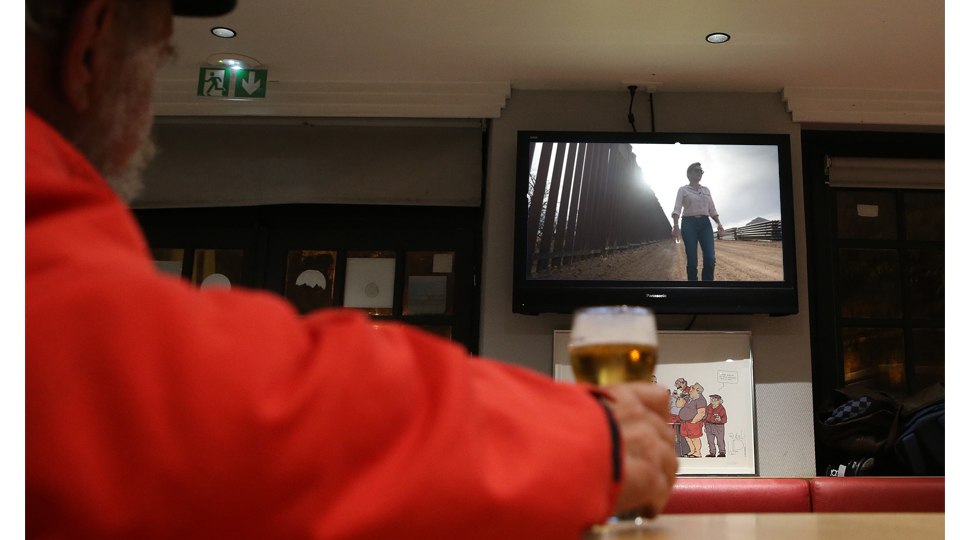 TUCSON—Southern Arizona is reacting with anger to the unending stream of hateful and racist campaign ads broadcast by Republican candidates. Over 150 local organizations and prominent individuals signed a letter condemning racist ads that demonize immigrants and people of color.
The statement, with the subtitle, "Political campaigns must stop their overtly racist ads!" states:
"Campaigns for elective office are expected to be about how to improve our lives, from the ongoing drought and changing climate, to the urgencies facing public schools, yet these political campaigns have decided that migrant and Mexican-bashing is the key to their election."
It condemns what it calls "narratives that demonize Mexicans and Central and South American migrants," and slams the ads that have dominated local television screens for over two months in the run-up to the primaries in August. "Resorting to outright lies that we are being invaded, to frightening imagery, these political TV ads and signs poison the political discourse, damaging our community and our entire state."
The statement calls for acknowledging the contributions made by immigrants, who it says have provided the "economic lifeline and cultural diversity that have enriched our state." Arizona elected officials in city, county, and state offices are called to speak out and respect and support immigrant communities, including the full protection of civil and labor rights. Further, the statement condemns the "continued militarization of our borderlands that causes great damage to the environment, harms Indigenous Peoples, and directly causes hundreds of migrant deaths every year."
Speaking at a press conference on Aug. 10 in front of the Pima County Republican Office in Tucson, Isabel Garcia of Tucson's Derechos Humanos Coalition announced, "Today, we are here to say NO to the Republican campaign of racism…. How dare you talk racism when you won't discuss policies?" Garcia went on to lambast the corporate media for the millions of dollars being earned from airing these racist commercials.
Ryan Kelly, AFL-CIO Southern Arizona Field Director, spoke of the need for politicians on "our side" to build alternative visions and not only show how the Republicans are lying. He explained that the labor movement doesn't recognize the wall, pointing to the existing solidarity shown by copper miners on both sides of the U.S.-Mexico border who often share the same bosses.
Activist Faith Ramon, whose Tohono O'Odham Nation is bisected by the international border, spoke out against the racist wall that was built through the most sacred part of her homeland and the hundreds of dead bodies of migrants found in the borderland deserts every year. She called on everyone to remember to vote in November.
University of Arizona Professor Anna Ochoa O'Leary criticized the Republicans for criminalizing immigrants, pointing to studies that show immigrants commit fewer crimes than native-born Americans. The GOP claims to support "Family Values," but it is the party of deportations and separating families, O'Leary said. "They are not the Party of Lincoln," she added, "They are the Party of Racism, of Trump."
Sponsors of this campaign against racism include immigrant rights groups, local churches, the Sierra Club, Arizona Jobs with Justice, YWCA, Pima County Supervisor Adelita Grijalva, and many more.