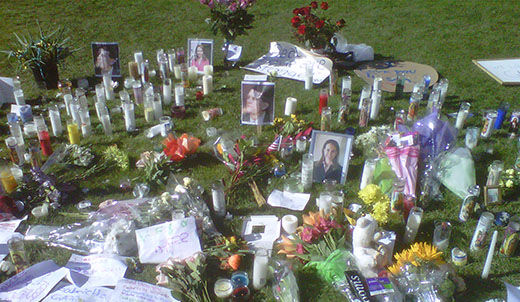 TUCSON, Ariz. – Fred Phelps and his notorious "Westboro Baptist Church" are targeting funerals of those murdered in the now infamous Jan. 8 shooting, but residents are mobilizing to ensure that the services are peaceful and, above all, respectful.
The WBC is a notorious extremist organization that believes God "hates" America because of its perceived immorality. It is planning to picket the funerals of those murdered in the rampage.
On a cool Monday evening, Jan. 10, the community came together and began preparation for the first funeral.
A planning meeting was held outside of the downtown Pima County Library, with a sheet passed around under the heading, "We will not let Fred Phelps or WBC protest any funeral in Tucson." Upon reading the sheet one understood that "We are not a counter-protest to WBC. We are a group of citizens who desire to provide a safe sanctuary where the family and their friends can attend the funerals in peace, held with dignity, and surrounded in love."
The planning covered everything from communications, parking, crowd control, carpooling, security and volunteers. The code of conduct bans signs, music, singing, passing out literature, fundraising, talking, and importantly, no engaging with WBC ("Do not respond, ignore them, turn your back and do not touch them"). Everyone must be respectful of everyone, and American flags are OK.
President Obama is also scheduled to arrive in Tucson on Wednesday to attend a memorial service for the victims of the shooting.
The Tucson community is taking the WBC protest seriously and is working vigilantly to protect the sanctity of any and all funerals that will occur. The community has been shaken, but Tucson has not lost its core value of protecting its own.
Photo: Alexander Monarrez Maldonado