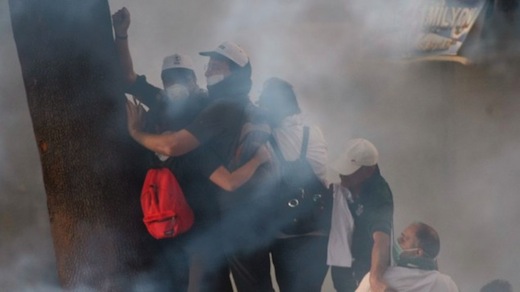 Turkish protesters clashed with riot police in the early hours today as demonstrations entered their fourth day after a night of noisy protests and violence in major cities.
In Izmir, protesters threw fire bombs at the ruling AK Party offices overnight and television footage showed part of the building ablaze.
Bus shelters, paving stones and street signs ripped up by protesters to make barricades littered a major avenue by the Bosphorus in Istanbul where some of the heaviest clashes took place.
Roads around Prime Minister Recep Tayyip Erdogan's office were sealed off in the early hours as police fired tear gas to push back protesters.
In the main street near Erdogan's office, one demonstrator drove a small mechanical digger towards police lines as other protesters followed behind.
The demonstrations grew out of anger over excessive force against protesters holding a sit-in to prevent the uprooting of trees near Taksim Square.
But they spiraled into Turkey's biggest anti-government disturbances in years, challenging the PM, who demonstrators say has appeared increasingly authoritarian.
Erdogan inflamed tensions further by calling protesters "a bunch of looters."
And he again dismissed the street protests as organized by extremists and angrily rejected comparisons with the Arab Spring.
He claimed the protests were being organized by Turkey's opposition party and extremist groups, plus "internal and external" groups bent on harming Turkey, said that the country's intelligence service was working on identifying them and threatened to hit back at them.
"We shall be discussing these with them and will be following up, in fact we will also settle accounts with them," he said.
By contrast with Erdogan, President Abdullah Gul appealed for calm from all sides and defended citizens' rights to air grievances.
"When we speak of democracy, of course the will of the people is above all," Mr Gul said.
"There can be nothing more natural for the expression of various views, various situations and objections through a variety of ways, besides elections," he said.
He claimed: "The views that are well intentioned have been read, seen and noted and the messages have been received."
Turkey's Public Workers Unions Confederation said that it would hold a "warning strike" tomorrow to protest against the crackdown on anti-government demonstrations over the last four days.
"The state terror implemented against mass protests across the country… has shown once again the enmity to democracy of the AKP government," said a statement from the confederation, which has around 240,000 members in 11 unions.
UK-based LabourStart urges union members and other activists to sign their petition protesting the brutal crackdown. "A coalition of organizations including trade unions has issued demands, which trade unionists everywhere will support.
"These include:
free all those arrested;

drop all charges against them;

hold accountable those responsible for the police violence;

and lift all bans on meetings and demonstrations."
In addition, during the evening hours in Ankara the police attacked the headquarters of the Communist Party of Turkey, throwing tear gas bombs into the building and to the café of a nearby cultural center. They took café patrons into custody.
Originally published in Morning Star.
Photo: Police use tear gas against Turkish demonstrators in Ankara, June 2. (AP/Burhan Ozbilici)