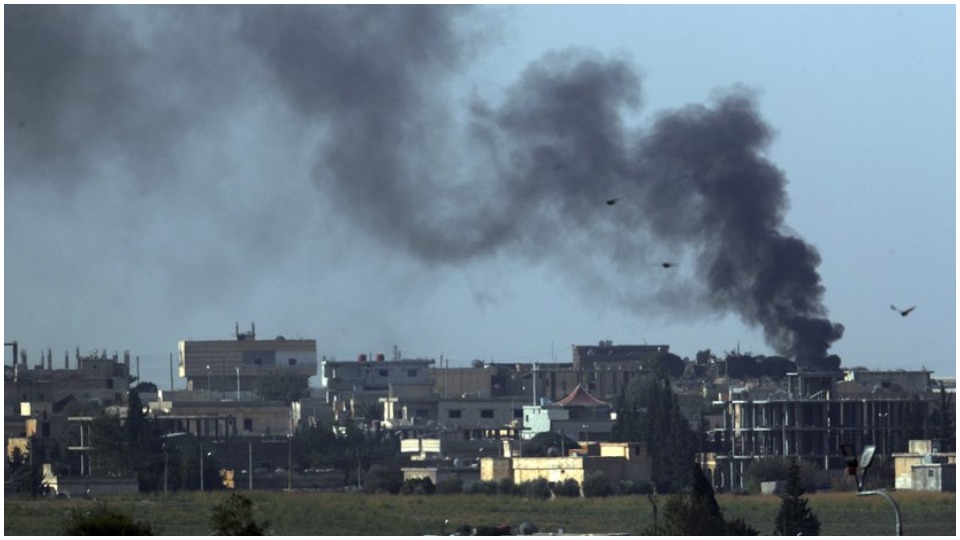 Scores of Kurdish civilians, including children, were killed and injured as Turkish forces and their jihadist allies closed in on the towns of Tel Abyad and Serekaniye in northern Syria yesterday.
NATO's second-largest army began its invasion after launching airstrikes across the Syrian border. Troops flooded into the largely Kurdish region east of the Euphrates as Operation Peace Spring begun.
But Turkish soldiers met with strong resistance from the Syrian Democratic Forces (SDF), and its initial push was repelled. But late yesterday afternoon, jihadists from the so-called Free Syrian Army (FSA)—also known as the Syrian National Army—had surrounded two border towns held by Kurdish forces—Tel Abyad and Serekaniye.
Civilians feared a massacre after the invading forces took control of the surrounding villages before encircling the towns, cutting them off.
SDF commander Amed Amude claimed that Kurdish forces had downed Turkish drones and destroyed five tanks as he pledged resistance would continue. "We do not attack anyone without reason. Even if all of the forces attack us, we will definitely win because we are the true owners of these lands and we defend our people," he said.
SDF spokesman Diyar Ahmed said: "Since four o'clock this morning, the occupying Turkish army has been continuing its attacks on the city," explaining they came from three sides. "There are heavy attacks on Serekaniye. Turkish planes have been striking from the air. At the same time, their weapons haven't stopped. They aren't stopping firing on the village, and civilians have been wounded and killed."
Hundreds of civilians have joined the resistance in Serekaniye, vowing to die as martyrs rather than leave their land.
Serekaniye local Merwan Xelo said: "Erdoğan is a dictator and terrorist. He is the father of terror. He wants to invade our lands and build a state of mercenaries. However, we will never leave our lands."
Sezai Temelli, co-chair of Turkey's opposition Peoples' Democratic Party (HDP), called for the UN and international community to take action to prevent Turkey's "racist, expansionist" war. While many have spoken out against Turkey's war, no meaningful action has been taken and President Recep Tayyip Erdoğan continues to act with impunity.
"If action is not taken, we will be trapped in a darkness created by those who want to exercise power without compassion, power without political ethics, and power without understanding," Temelli told an Ankara press conference yesterday.
A statement from the Communist Party of Turkey (TKP), also an opponent of the Erdoğan government, said that the president's justification of the invasion of Syrian territory as an attempt to return displaced Syrians to their homes is "nothing but a grand hypocrisy." Rather than Kurdish forces or the Syrian government, the TKP said the greatest security threat in the region was "NATO, the U.S., and the imperialist forces…who insist on collaborating with them."
The TKP declared that peace in Syria and the region could only be established when all foreign and occupation forces withdraw.
This article originally appeared in Morning Star; it was supplemented with material from the statement of the TKP.