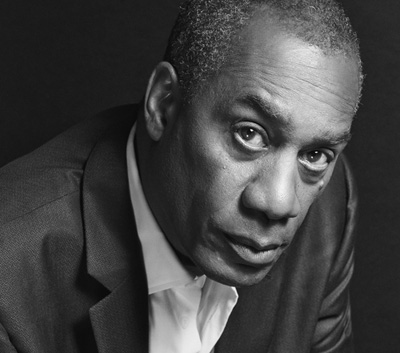 NEW YORK – A stand-up comedian on a bare stage. That's pretty much what you get, with very scant elaboration, in Gretchen Law's sensationally effective new work Turn Me Loose, a play starring Joe Morton about comic genius Dick Gregory now on view at the Westside Theatre in New York. Famous singer-songwriter John Legend is a principal producer of the play.
Almost every scene is a set-up for some memorable quips and sharp observations about life in these racist United States, seen through the eyes of a commentator who has been a public figure since the early 1960s and who still calls in from time to time. Gregory, now 83, changed the way America perceived Black comedians, with his trenchant social satire that cut uncomfortably close to the bone of our national conscience.
Gregory directed his wit against the foibles of white racism, but neither did he spare his Black brothers and sisters. He pokes loving derision at the readiness of his community to dub Bill Clinton the "first Black president," yet when Barack Obama came along they said "you're not Black enough!"
A master of words and their intricately nuanced subtexts, he talks about the fearsome potency of the phrase "Black Power." What else could convey that bold brand of politics? "Brown strength?" Uh, no.
Not implied, not tucked under the surface, but right up top is Gregory's insistence that race hatred simply means the rich man can rob us all blind. Whites, too, are in bad shape now "right here in this crumbling infrastructure." The racially mixed audience at the performance I attended (and I'd guess all performances must be well integrated) howled with universal recognition of his truth-telling.
Gregory first came to prominence as a runner in St. Louis, where he grew up, in the early 1950s. He was known for his "fast feet and a fast mouth." A practitioner of nonviolence, he says, "My tongue was my switchblade."
His devoted mom died at 48, unconscionably too soon, but the memory of his mostly absent and irresponsible father still remains a sore point in Gregory's life, a negative example to overcome. Dick Gregory and his wife Lil had ten children together. They named one of his daughters Miss, so she'd always be addressed with respect.
Law devotes almost equal attention to Gregory's career on the comedy circuit as to his work for civil rights. There's a moment in the show when Gregory recalls the terms of a contract with one club – an apocryphal story, I presume – whereby every time someone in the house would shout the "n" word, Gregory would earn another 50 bucks. So here, in the theater, Gregory/Morton asks the whole audience to rise to their feet and all say the word out loud three times. The response was most telling: Everyone stood, but few could bring themselves to full-throatedly comply with his request. An uncomfortable murmur echoed through the house and then silence. We were stunned by Gregory's transgressive invitation to bigotry. Shrewd to the ways of the capitalist economy, he used the word as the title of his autobiography, explaining that whenever you'd hear the word you'd know "they're advertising my book."
In another scene Gregory recounts his experience on the Jack Paar show. At first he refuses, because he's observed that when a Black performer appears, he's walked off the stage when his turn is done. Whereas white performers get to sit down on the couch, banter with Paar a bit and relate to the audience. In the end Gregory won the right to sit on the couch.
Gregory was generous with his appearances to raise funds and awareness in the civil rights movement. He was friends with Mississippi NAACP activist Medgar Evers and was with him two weeks before he was assassinated in June 1963 at age 38. He recalls his last foray into the South with Evers, tailed by the police: "You could smell our demise in that Southern night air." Again, Gregory takes the wide-angle view of racism as but one tool in the right-wing toolbox: They "call themselves conservatives just to hide their bigotry; if conservatives get a hold of this country the middle class is going down." Don't forget, he says, "Rome crumbled from within."
And there are moments in time when humor is simply not called for. Gregory knows you just can't crack jokes about tragedy, murder, death and loss in the struggle.
Gregory has adopted new causes, particularly the evils of the American diet. He identifies sugar as "the cocaine of the food industry," and challenges all those folks who worry about terrorism. "Terrorism?" he asks. "Y'all gonna die from sugar, toxins and obesity." "Who is hijacking your life?…Occupy Wall Street? Occupy your life!" This is no exercise in Black cultural nostalgia: It's in your face now.
He recognizes that people are driven to their wits' end by this system. "If you're weren't insane you'd be crazy," he says. "One day," he predicts, "the ledger will be balanced," and you'll be asked one simple question: "How much service did you give your fellow human being?"
Joe Morton is an Emmy Award and multiple NAACP Image Award-winning film, TV and stage veteran. He currently appears as Rowan/Eli Pope in the ABC series "Scandal." In Turn Me Loose he is 110 percent riveting from beginning to end, a pure 90 minutes of life lived with passion, love for humanity, and side-splitting, socially conscious and often disturbing humor. Directed to perfection by John Gould Rubin, Morton segues instantly from a young man starting his astounding career to the present and back again as he surveys with grace all what he has done with his time on Earth.
The author has clearly done her homework. More than that, she has dived in headfirst into this rich vein of Gregory life and lore and extracted a compelling and important story. Her bio lists other plays with Black content as well: The Adventures of a Black Girl in Search of Her God, an adaptation from George Bernard Shaw, Al Sharpton for President, History Lessons, and Loving Charley Pride. The critical success of Turn Me Loose suggests that it may soon appear in regional theaters around the country, either with Joe Morton or another actor portraying Dick Gregory. Possibly this production may interest some theater companies in some of Law's other works. If the writing is on this level, they would be worth exploring.
John Carlin ably plays multiple minor roles as a white stand-up comic who lamely tries to warm up the crowd for Gregory, a heckler, a cabbie, and a supercilious, tone-deaf interviewer.
Turn Me Loose plays at the Westside Theatre, 407 W. 43rd St., New York City, through July 3 only. Tickets may be obtained at telecharge.com, or by phone at (212) 239.6200.
Further information about the play can be found here.
Photo: Joe Morton plays Dick Gregory.