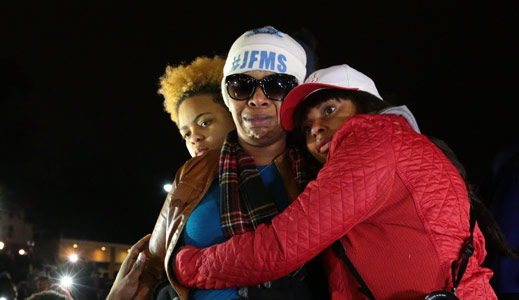 Outrage. That's the sentiment in Ferguson and around the country in reaction to the failure of the Ferguson grand jury to indict Darren Wilson for the murder of Michael Brown.
The decision was not unexpected. From the outset, local and state authorities carried out a campaign to criminalize Brown: video footage was released of him allegedly shoplifting at a local grocery; even grand jury testimony of forensic evidence purporting to favor the policeman's version of the deadly encounter was leaked to the press.
Still many held out a glimmer of hope that a process leading to justice would prevail. Instead the worst fears of decent minded Americans were realized. Once again a deadly pattern of racist police murder of black and brown youth was upheld, a pattern that almost guarantees immunity for the perpetrators in blue.
Indeed, the grand jury process from the beginning had the appearance – if not reality – of being rigged. From the outset, St. Louis County Prosecuting Attorney Bob McCulloch's close ties to local police were cause for concern, concerns that were justified when the prosecutor failed to provide the grand jury with possible charges against Wilson. Calls for a special prosecutor went unheeded, additionally undermining public confidence.
It's no surprise then that faith in justice system, particularly among young people has been lost.
Sadly, some of the outrage in Ferguson took violent forms last night complete with the familiar pattern of police provocation and the reaction of some protestors. But the call of Michael Brown's parents along with the civil rights, labor and community organizations to honor his life with peaceful protests is sure to prevail.
Civil rights groups are calling for a completion of the Justice Department's investigation. Sign HERE to add your voice. The NAACP is calling for a 120-mile 7-day "Journey for Justice" march from Ferguson to the governor's mansion in Jefferson City.
The call for Governor Nixon to appoint a special prosecutor is ongoing.
The tragic events in Ferguson, beginning with killing of Michael Brown at point blank range, the military response of local police, culminating in the failure of the grand jury to return an indictment has indicated that a new movement against police crimes is being born.
The country may be reaching a turning point. The spate of police murder of young black and brown men is at new level. Nearly 400 are killed yearly by police, exceeding the numbers lynched during the height of Jim Crow.
Whether a turning point will be reached will depend on the degree of public pressure to insure justice is done.
We urge our readers to continue fighting for justice for Michael Brown by participating in the militant and peaceful protests occurring all over the country. Let's keep the pressure on!
Photo: Lesley McSpadden, second from right, Michael Brown's mother, is comforted outside the Ferguson police department as St. Louis County Prosecutor Robert McCulloch conveys the grand jury's decision not to indict Ferguson police officer Darren Wilson in the shooting death of her son, Nov. 24, in Ferguson, Mo. (AP Photo/St. Louis Post-Dispatch, Robert Cohen)