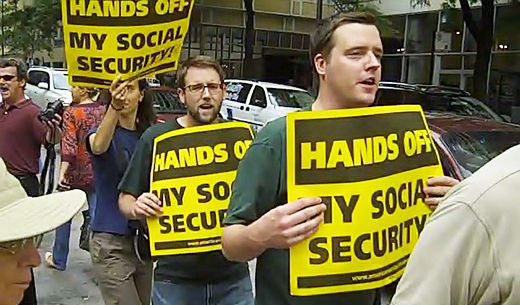 CHICAGO-For Republicans to win a majority in the House of Representatives, they need to sweep hotly contested swing district races in several states including Illinois. There are four such races here and according to polls, all are in flux and turnout will be key to victory.
Three of the districts have incumbent Democrats running. The 11th and 14th CDs have been traditionally Republican, but with changing demographics elected Democrats in 2008. A third, the 17th CD which includes the Quad Cities area has elected Democrats for several election cycles. Democrat Rep. Phil Hare running there is strongly backed by the labor movement.
A fourth, the 10th CD covering the suburbs north of Chicago, has been represented by Rep. Mark Kirk (R-IL) who has vacated the seat to run for US Senate. Democrat Dan Seals is currently leading against Tea Party endorsed Republican Bob Dold.
The GOP and reactionary groups are targeting Illinois swing districts and flooding it with cash. The 10th, 11th and 14th CDs are top priorities of Americans for Prosperity (AFP); the extremist group funded by the billionaire Koch brothers. Illinois ranks number four in total outside money coming in.
The 11th CD is a far flung district that stretches from the exurbs of Chicago west to Joliet and south to Bloomington. It has one of the highest densities of union households, but is also characterized by high unemployment and deep anxiety among voters.
Incumbent Rep. Debbie Halvorson (D-IL) is a being ganged up on by the right wing nationally. She is a top target of the Republicans, AFP, Karl Rove's sleazy American Crossroads and the anti-choice group Susan B. Anthony List. This kind of opposition means she has a tough challenge in her race against ex-McLean County Commissioner and Tea Party and Sarah Palin endorsed candidate Adam Kinzinger.
Among other things, Kinzinger supports extending the Bush tax cuts for the wealthy, calls for capping Social Security benefits, raising the retirement age and ending cost-of -iving adjustments. He's also against a woman's right to choose.
"I talk to seniors every day who are struggling to make ends meet, and cutting their benefits or raising the retirement age would simply be devastating," Halvorson said. "The petition we launched today gives those seniors a voice and lets them tell their story of why these important benefits can't be taken away."
Kinzinger has attacked Halvorson for her support of the stimulus bill, the health care reform and cap and trade legislation. She has called for eliminating tax breaks that encourage corporations to move facilities overseas, citing local manufacturer Caterpillar as a case in point.
"They're getting a tax break," she said. "They'll be able to write off all those expenses. This is taxpayer giveaways for moving jobs off shore."
Kinzinger claims corporate taxes are already too high and calls for cutting them further to keep jobs here.
Observers note a definite shift in momentum in the target races. The Illinois AFL-CIO has been cranking up phone banks and canvassing across the state. Communications Director Beth Spencer says the federation has operations in 10 zones statewide including in the battleground races.
Similarly, pro-choice, environmental and consumer groups are hitting the streets.
"We have a bunch of races that if won can go a long way in determining the national outcome," says John Gaudette, Organizing Director for Citizen Action Illinois. "People are making decisions. They are saying – here's what I expect, here's what I got, now how do I get more? The ideas of the extremist (Republican) candidates are pushing them away."
Photo: John Bachtell