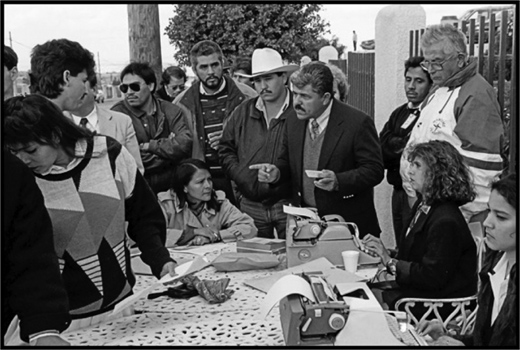 Unions and social movements face a basic question on both sides of the Mexico/U.S. border: Can they win the battles they face today, especially political ones, without joining their efforts together? Fortunately, this is not an abstract question. Struggles have taken place in maquiladoras for two decades all along the border. Many centers and collectives of workers have come together over those years. Walkouts over unpaid wages, or indemnización, as well as terrible working conditions, are still common.
What's more, local activists still find ways to support these actions through groups like the Collective Ollin Calli in Tijuana and its network of allies across the border in the San Diego Maquiladora Workers Solidarity Network. Other forms of solidarity have been developed through groups such as the Comité Fronterizo de Obreras and the Coalition for Justice in the Maquiladoras. And long-term relations have been created between unions like the United Electrical Workers and the Frente Auténtico del Trabajo (Authentic Labor Front of Mexico), and the United Steel Workers and the Mexican Mineros. More recently, binational support networks have formed for farm workers in Baja California, and workers are actively forming new networks of resistance and solidarity in the plantones (sit-ins) outside factories in Ciudad Juárez.
Over the years, support from many U.S. unions and churches, and from unions and labor institutions in Mexico City, has often been critical in helping these collectives survive, especially during the pitched battles to win legal status for independent unions. At other moments, however, the worker groups in the maquiladoras and the cities of the border have had to survive on their own, or with extremely limited resources.
These photographs show both the conditions people on the border are trying to change, and some of the efforts they've made to change them, in cooperation with groups in the U.S. There have been many such efforts – this is just a look at some.
"Working Hands: Photographs of Longshoremen by Frank Silva and Photographs of Farm and Recycling Workers by David Bacon" will be on view at Photocentral Gallery, 1099 E St., Hayward, Calif., June 4-August 6, 2016. A reception will be held on Saturday, June 4 from 2-5 p.m.
"On the Streets, Under the Trees: Homelessness and the Struggle for Housing in Urban and Rural California," photographs by David Bacon, is on view at the Asian Resource Gallery, 317 Ninth St. at Harrison, Oakland, Calif., May-June 2016. There is a reception on Tuesday, May 24 at 6 p.m.
The extended article by David Bacon on cross-border solidarity is published in the NACLA Report on the Americas, May 2016, and can be viewed here.
See also the author's blog here.
Photo: "Tijuana, Baja California Norte, Mexico – 1993," workers vote in a union election outside the Tijuana maquiladora of Plásticos Bajacal. Voting is public, and workers have to declare aloud whether they're voting for the company union or their own independent union. Lic. Mandujano, head of the labor board in Tijuana and an ally of the companies and the company unions, points to a worker and demands that he declare which union he's voting for, as company officials look on, along with Carmen Valadez, a representative of the independent union. The maquiladora organizing drive at Plásticos Bajacal in 1993 first highlighted for U.S. unions the reality of public union representation elections and the lack of the secret ballot. The San Diego Support Committee for Maquiladora Workers raised enough money to pay lost time for fired workers, so they could continue organizing the factory.