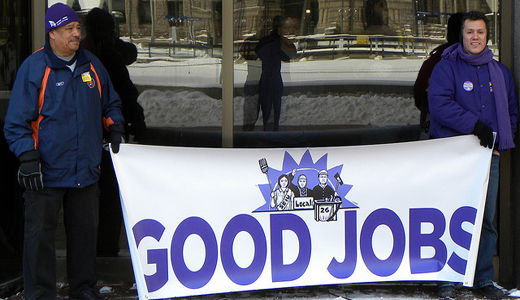 MINNEAPOLIS – After two months without a contract, hundreds of hours of negotiations and a one-day strike, Twin Cities janitors and security officers represented by Service Employees Local 26 voted on March 2 to approve new contracts.
"This is a major victory for working families," said Margarita Del Angel Lopez, a janitor who works at the IDS Center in Minneapolis. "We work hard to support our families, we fought hard against cuts that would have destroyed thousands of jobs. This shows that when we stand together, we can move forward together. These are the best contracts in the history of the local service sector industry."
"Suburban security officers have been working for years without a raise," said Fred Anthony II, a security officer from St. Paul. "Some of them haven't had a raise in up to eight or 10 years. This is the first time they have guaranteed contracts, guaranteed health care, guaranteed job security. It helps bring them out of poverty."
More than 6,000 janitors and security officers won $1.20 hourly raises over three years, which will pump $48 million into local communities. They also protected stable, full-time positions for thousands of workers. In addition, janitors and security officers secured better employer-based healthcare coverage, enabling workers to access affordable coverage, rather than be forced to rely on public programs paid for by taxpayers.
This marks the first contract for 1,000 suburban security officers who formed their union with Local 26 in January 2011. In addition to getting raises for the first time in years, they gained employer-based healthcare coverage for the first time ever.
"So often, we see the rich get richer, while the rest of us continue falling behind," said Local 26 President Javier Morillo. "Seeing working people win is a very important thing. It's a beautiful thing. And so congratulations to all of our members who worked hard for this win. Together, we are working toward a better future for all of Minnesota, where people who work for a living are able to make a living. We showed that the labor movement is alive and well in Minnesota."
Local 26 janitors reached a tentative agreement after 31 consecutive hours of bargaining. Local 26 security officers spent Feb. 27 on the streets in a 1-day strike before reaching an agreement the following evening. Both groups had been working without a contract since Dec. 31.
This article was reposted from Workday Minnesota.
Photo: Janitors with SEIU Local 26 marched for good jobs in Minneapolis on Feb. 15 – just weeks before they voted to approve new contracts, after fighting cuts that would have destroyed the good jobs that already exist. Flickr