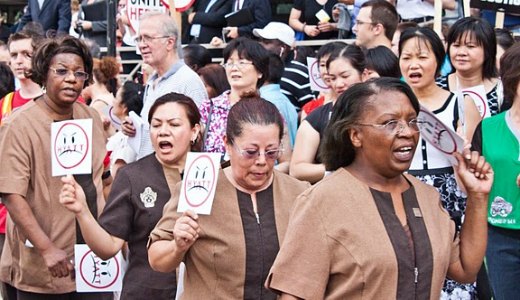 The #unionwomen tag may not have trended on Twitter, Sept. 14, but the Unite Here union and blogger Fem2pt0 hosted a lively and informative discussion on advantages for women in joining a union.
With Twitter, a timeline with the tag (in this case #unionwomen) scrolls quickly with the comments or questions (called tweets) in a more chaotic way than a traditional back and forth discussion. Yet participants said they found it a great opportunity to talk about issues women face at the workplace and in their unions.
And, perhaps most importantly, Hyatt workers, who are on strike for a contract, participated. Women make up a significant portion, if not the majority, of the hospitality industry workforce.
One Chicago Hyatt worker started out the conversation explaining with Twitter's 140-character limit why she's on strike:
@ DanettaHyatt Hello all! I'm Danetta McPhan. I'm on strike because my family's foundation is my work at #Hyatt. Glad to join the convo.
And being on strike, being active in the union is empowering, she said. "The strike has been very powerful for us. It's incredible how strong we feel knowing we have a voice in our workplace," @DanettaHyatt tweeted.
Sandra Miranda (@SandraMHyatt), also forced out on strike by Hyatt in Los Angeles, tweeted about a big issue for hotel workers, "For housekeepers, it's often the physical toll the heavy lifting takes on our bodies."
And, @SandraMHyatt added, "I'm here with my friend Felicia who has carpal tunnel from heavy lifting as a dishwasher."
Whether its sexual harassment or heavy lifting, @SandraMHyatt said, "The best thing about having a #union is having the freedom to speak up without the fear of being fired."
Tweets focused on the economic benefits for women who join a union and bargain collectively with their employer. Union women on average earn more than their non-union counterparts.
One tweet said union women "earned 22% more money on a weekly basis than non-union women in 2010. "
And @AmerWorker said, "Unions help make up the wage gap #unionwomen earn $2/hr more than otherwise identical non-union [jobs]."
@UNITEHEREunion tweeted, "Women fill the ranks of service sector, which are low-wage jobs with few benefits. We're fighting to make them middle-class jobs."
Some tweets asked questions or made comments about union outreach to young women and to the younger generation, about why unions are important for them. Another conversation thread focused on concerns about more women in union leadership, and the perception of the labor movement being mostly older men.
@heather2002mari said, "Predominate idea among #Youngworkers is that unions only apply to old guys who work in steelmills or autoplants."
"True. The traditional profile of union workers is white, male & middle-aged. Pretty much opposite ofUH members!" replied @UniteHereunion
Other unions and rights groups joined the conversation, thanking the hosts and telling their followers to read the tweetchat.
Followers are other Twitter accounts who click your "follow" button and start receiving your Tweets.
You can follow PeoplesWorld.org on Twitter @PeoplesWorld.
Photo: Hyatt workers and supporters form a picket line in front of a Chicago Hyatt July 22, 2010, for a contract. Scott Marshall/PW