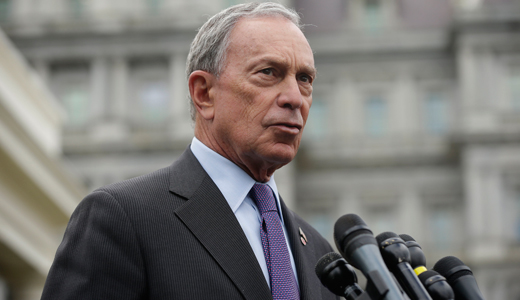 NEW YORK – Two big-city mayors, New York's Michael Bloomberg and Philadelphia's Michael Nutter, are strongly opposing paid sick leave for private-sector workers in their cities. Bloomberg plans to veto a compromise paid leave ordinance in the Big Apple, while Nutter vetoed a paid leave ordinance – for the second time – in Philly, on April 4.
And while advocates of paid sick leave plan ways to get around the mayors' vetoes, news reports show three interests that hate workers are the backbone of the opposition to paid sick leave: The National Federation of Independent Business (NFIB), the National Restaurant Association, and the business-funded secretive Radical Right cabal, the American Legislative Exchange Council (ALEC).
Enacting paid sick leave is important, especially to low-income workers. Federal law now mandates up to 12 weeks of unpaid sick leave for full-time workers, with the right to return to their jobs. But many workers can't afford the time off.
Studies show 40 percent of workers eligible for unpaid leave to care for themselves, their aging parents or their children can't take it for economic reasons. And court cases show some employers persist in firing workers who legally take unpaid leave.
So paid sick leave has been gaining momentum on the state and local level, because national legislation, mandating seven days of paid sick leave per year for most full-time workers, remains stalled in Congress.
With that D.C. roadblock facing them, the National Partnership for Women and Families, the Coalition of Labor Union Women, the union-backed Restaurant Opportunities Center and other paid sick leave supporters are carrying their campaign to states and cities. Paid sick leave is already law in San Francisco, Washington, D.C., Portland, Ore., Seattle and the state of Connecticut, among others.
Nutter claimed the Philadelphia ordinance would put the "City of Brotherly Love" at a competitive disadvantage against its suburbs and New Jersey, which lack paid sick leave. Paid sick leave, he said, "would hurt the very workers it's designed to help."
Philadelphia's city council passed the ordinance, 11-6. The ordinance would cover almost all private-sector firms in Philadelphia. A current city ordinance mandates that contractors who do business with the city give their workers paid sick leave.
The sick leave ordinance's sponsor, councilman Bill Greenlee, has until April 11 to get one foe to switch sides for an override to succeed. The best chance may be with councilman Jim Kenney. He told local TV stations the best way for workers to get paid sick leave is to unionize and bargain for it, and not through a city mandate.
"Nutter's decision to deny more than 100,000 working people in Philadelphia the right to earn paid sick days is disturbing and short-sighted – and it shows blatant disregard for the will and well-being of city residents," said Debra Ness, executive director of the National Partnership for Women and Families.
"By vetoing for a second time a policy that has been shown to benefit working families, businesses, the public's health and local economies, he has once again chosen special business interests over what is best for the city," she added, urging the council to override Nutter.
Supporters say 38 New York city council members, out of 51, back paid sick leave. That's more than enough to override Bloomberg's planned veto. The ordinance is also an issue in this year's race to succeed him. After squelching paid sick leave for three years, public pressure forced council Speaker Christine Quinn to yield. Quinn is a leading mayoral contender. The ordinance would order any employer of 20 or more workers to offer paid sick leave. It would cover an estimated 1 million workers.
If New York's ordinance becomes law, "We may be at the tipping point in the effort to make this humane, common-sense policy available to millions more workers," Ness adds. "When workers can earn paid sick days, our families and economies are stronger and our communities more vibrant.
"Now, it is time for Congress to take action to support working families and improve the public health by passing the Healthy Families Act, so workers all across the country can earn paid sick days. There is no time to waste."
The federal law may be more necessary than ever, to counteract the actions of ALEC, the third big group opposing paid sick leave.
While the NFIB and the restaurateurs' group openly lobby against local paid sick leave ordinances, ALEC, true to its secretive nature, takes a more-stealthy route to harm workers. It drafts "model" state laws stripping cities, counties and towns of the right to pass sick leave ordinances at all, and nullifying those already approved.
ALEC gained national notoriety for its scheme to strip workers of their collective bargaining rights, enacted in Wisconsin and proposed elsewhere. ALEC then garnered a national backlash when news reports revealed ALEC authored Florida's law letting anyone who felt threatened to "shoot on sight" a presumed attacker. The law let a so-called neighborhood watcher murder unarmed African American teen Trayvon Martin.
Not surprisingly, the first ALEC-written law stripping cities of their rights to enact paid sick leave sailed through the ALEC-influenced, GOP-run Wisconsin legislature in 2011. It was signed, enthusiastically, by Right Wing GOP Gov. Scott Walker.
Photo: Michael Bloomberg Pablo Martinez Monsivais/AP