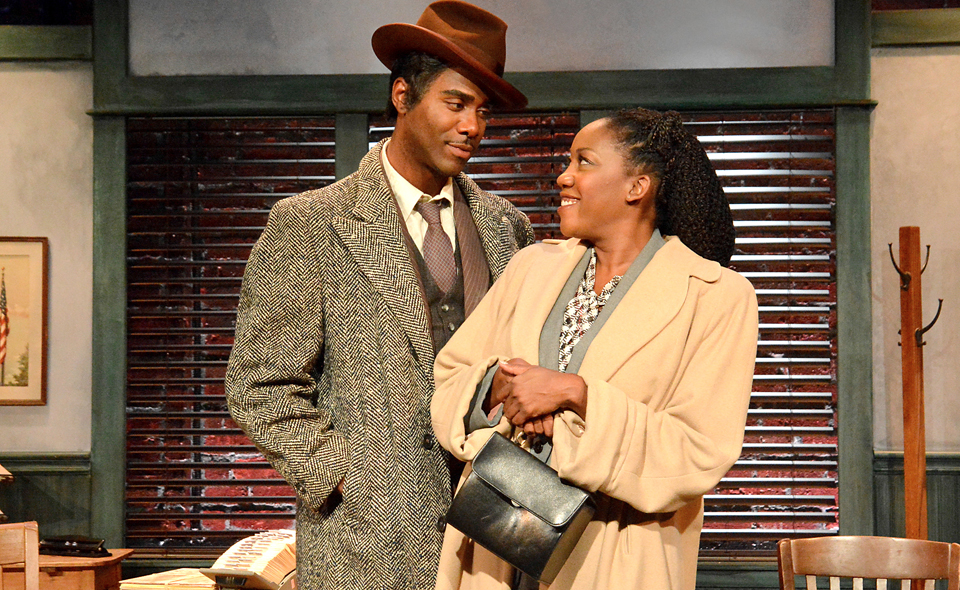 LOS ANGELES—What are the odds, at any given moment of theatre history in this city, of having two plays running simultaneously, both set during World War II with young Black men trying to enlist in the armed forces?
That's what's on the boards right now, in two world premieres: Carole Eglash-Kosoff's The Double V, directed by Michael Arabian, at the Matrix Theatre; and George W. Corbin's The Wrong Kind of People, directed by C. Julian White, a Robey Theatre Company production at the   Los Angeles Theatre Center.
Aside from these striking similarities, as well as the fact that both plays receive fine, well-acted and well-directed productions, they are completely different in character. Let's take them one at a time.
The Double V
As a card-carrying historian, I had known the meaning of the term "the Double V" for decades. But I did not know much about how it came to be. This play explains it all—and better, dramatizes it with wholly believable characters and imagined scenes.
In the immediate aftermath of the Japanese attack on Pearl Harbor, Congress declared war on the Axis powers. Almost overnight, America went into full wartime mobilization. As a long-simmering remnant of slavery, Jim Crow racism seemed such an inevitable and ineradicable piece of the American fabric, that its continuance during the war crisis did not even appear to be problematic. This was a "white man's war." As elsewhere in society, no Negroes need apply. Young Black men eager to serve their country were turned down at enlistment stations. They were the "wrong kind of people," to borrow a phrase from our second play under review.
Enter James G. Thompson (Preston Butler, III), a 26-year-old Black man from Wichita, Ks., who, according to the play, with a little help from his girlfriend penned a letter to the Pittsburgh Courier, a Black newspaper, on January 31, 1942. In it, he asked a number of pertinent questions:
"Should I sacrifice my life to live half American? Will things be better for the next generation in the peace to follow? Would it be demanding too much to demand full citizenship rights in exchange for the sacrificing of my life?
"Is the kind of America I know worth defending? Will America be a true and pure democracy after this war? Will colored Americans suffer still the indignities that have been heaped upon them in the past?"
Thompson went on to propose an answer to these questions:
"The 'V for Victory' sign is being displayed prominently in all so-called democratic countries which are fighting for victory over aggression, slavery and tyranny. If this V sign means that to those now engaged in this great conflict then let colored Americans adopt the double VV for a double victory—The first V for victory over our enemies from without, the second V for victory over our enemies within."
And so was ignited a great new phase of the ongoing Black civil rights movement.
The Pittsburgh Courier played this idea up big, urging other Black media across the country to pick it up. Players in baseball's Negro League sported the VV insignia on their uniforms. Leaders in the Black community instinctively recognized that World War II military service, with its honors, sacrifices, glory, and benefits, would contribute significantly to a renewed commitment to equality that had been stalled ever since the end of Reconstruction.
It was not all smooth sailing, however. Reactionary forces also saw the potential for uplift to the Black American cause and exerted themselves mightily to halt it. A couple of short but powerful scenes take place when the crusading editor Ira Lewis (Nic Few) is paid a visit by FBI agent William Taylor (John Apicella) who, under authority of J. Edgar Hoover, threatens severe punishment under the War Powers Act for disseminating divisive stories meant to break American unity around the war.
Though Thompson wrote the letter from which the Double V campaign grew, it's Ira Lewis and his girlfriend, cub reporter Madge Evans (Brie Eley), who anchor the drama. Other characters are Thompson's girlfriend/later fiancée Annie Culver (Terra Strong Lyons) and his father Clem (Cary Thompson), who also plays a Courier staff member.
Jamal Henderson plays a couple of smaller roles, and Joe Coffey plays the appropriately named Charlie Simpson, plant foreman where Jimmy works and an unabashed out-and-out racist and likely a Klansman.
The scenes alternate between Pittsburgh and Wichita.
Although there are only two roles for women in the play, they are strong ones. The playwright has a gift for expressing how personal plans and dreams must necessarily be put on hold until the war is over, underlining how no one's life went untouched by the mobilization. She also folds in the picture of discrimination against Black Americans on the job and within the unions.
Before too long, the U.S. government and military came to its senses and started allowing Blacks into the service. A demand that arose in the course of the campaign not only for admission but for proportional representation, i.e., about 10%, was never met as such, although the playwright claims it was in the WACS. Nevertheless, over a million Black Americans did serve, including over 6000 Black women, and that led to greater benefits in the years to come.
It's not specifically stated in the play, but the military probably believed it would use Black soldiers for the duration, and all would return to "normal" after the war. In many places it did—which Black servicemen certainly noticed when they returned in uniform to their home states in the South. The Double V campaign set the stage for Truman's 1948 order to fully integrate the armed services, and for the greater civil rights victories to come in the 1950s and 60s.
Speaking of setting the stage, John Iacovelli's scenic design is spot-on. The audience feels right in the middle of the action, inside the Thompson home, the Pittsburgh Courier office, and a Cessna airplane factory. Jared A. Sayeg provides a well thought-out lighting design, and Dana Rebecca Woods provides authentic period costuming. Projections by Fritz Davis update us on the progress of the war, accompanied by the music preparation and sound design by Christopher Moscatiello.
The playwright herself is a figure of some interest. Carole Eglash-Kosoff previously wrote the multi-award-winning play When Jazz Had the Blues. She has also published five books and wrote and directed an award-winning short documentary. In 2006, she traveled to South Africa to teach in the black townships; from that experience emerged her book, The Human Spirit–Apartheid's Unheralded Heroes, which was later produced as a play. Her historical fiction novel When Stars Align dealt with the love of a mixed-race boy and a white girl in the turbulent era after the Civil War, and a follow-up novel, Winds of Change, continued that saga.
In an ideal world, The Double V would be produced by regional theatre companies and high school and college theatre programs all over the country as a staple in the American dramatic canon. It needs to be seen.
The Double V plays at Matrix Theatre, 7657 Melrose Ave., Los Angeles 90046, through Sun., Nov. 24. Performances are on Fri. and Sat. at 8 p.m., and Sun. at 3 p.m. With one intermission, it runs 100 minutes. Tickets and further information can be had at (323) 960-7776 or at this website.
The Wrong Kind of People
Curiously, director C. Julian White's program note for this play, summarizing the condition of Black Americans before and during World War II, could have been published in the program for The Double V. It is against that background, but with little structural relationship to it, that the comic antics of The Wrong Kind of People take place.
Theo (Ken Ivy), an African-American law student, has tried to enlist in the armed services but was rejected for his poor eyesight. He's a recent graduate of USC, currently needing a couple of days of quiet privacy to study for the California bar exam in 1942, so he checks in at the exclusive Guardian Hotel located in downtown Los Angeles. He is assigned to the "Colored Room," a tawdry, rarely used room at the back of the hotel brought into service on the odd occasion when "the wrong kind of people" wish to register. He is escorted to the room by the longtime bellman, nicknamed "Fixit" (Damon Rutledge), who conducts a little private business at the Guardian facilitating illicit poker evenings and other assignations. For his cooperation, he offers Theo a small cut of the proceeds.
During this first night at the Guardian, Theo's studies are interrupted by four diverse "denizens of the night" who seek private entry to the hotel via his ground-floor window. During the course of the evening, there will be sexual shenanigans, a shady card game, an anti-FDR drunken judge on a spree, an unfaithful wife, and an inconvenient corpse. Theo gains the "real world education" needed to prepare him for the challenges of a career as an attorney.
Los Angeles playwright George W. Corbin sets the play during World War II, but Theo's attempt at enlistment is one of very few references to the larger world outside this funky hotel room. There are three Black characters in a cast of six. Aside from Theo and Fixit, there is a "penthouse girl," Mex (Chauntice Green), so named because it's slightly more respectable in the Los Angeles of those days to pass for a Mexican rather than the Black migrant from Macon, Ga., that she is. Fixit is the most fully drawn character of these three, a man whose aspirations have been thwarted by race but who sees in his underhanded side business a way to make himself a solid citizen by establishing the Coffee Cab Co. to service Black passengers.
The three white characters include Judge Purdy (Darrell Philip), whom Theo recognizes as having spoken to his law class only a month or so earlier. Purdy is a degenerate, Latin-spouting sot very far from the image of the even-keeled, fair-minded justice of the court we might imagine. His wife, Mrs. Purdy (Stephanie Schulz), enters the scene with her own unexpected backstory, and there is also the organizer of the poker game, one "Spider" Shultz (Stephen Tyler Howell).
Corbin seems to take his cue from the madcap comedies of the 1930s and 40s. His approximately 80-minute, no-intermission romp is a non-stop succession of doors and windows opening and closing, the bellman coming and going, visitors popping in and out, as (in four scenes) Theo checks in, Theo meets his new friends, there is "trouble in paradise," and morning dawns the next day.
As a screwball piece of nonsense, it works almost as cleverly as a Swiss watch. But produced by the 25-year-old Robey Theatre Company, dedicated to providing opportunities to Black actors in works that tell stories of the global Black experience, the zany play hasn't a great deal of substance to offer. Perhaps the title sums it up best, forcing us to ask who really are "the wrong kind of people."
The Wrong Kind of People plays through Sun., Dec. 8, on Thurs. through Sat. at 8:00 p.m., and Sun. at 3:00 p.m. (dark on Nov. 28), at the Los Angeles Theatre Center, 514 S. Spring St., Los Angeles 90013. Pay What You Can on Thurs., Nov. 14 and 21 (minimum $10). For reservations, call (866) 811-4111 or visit online ticketing.