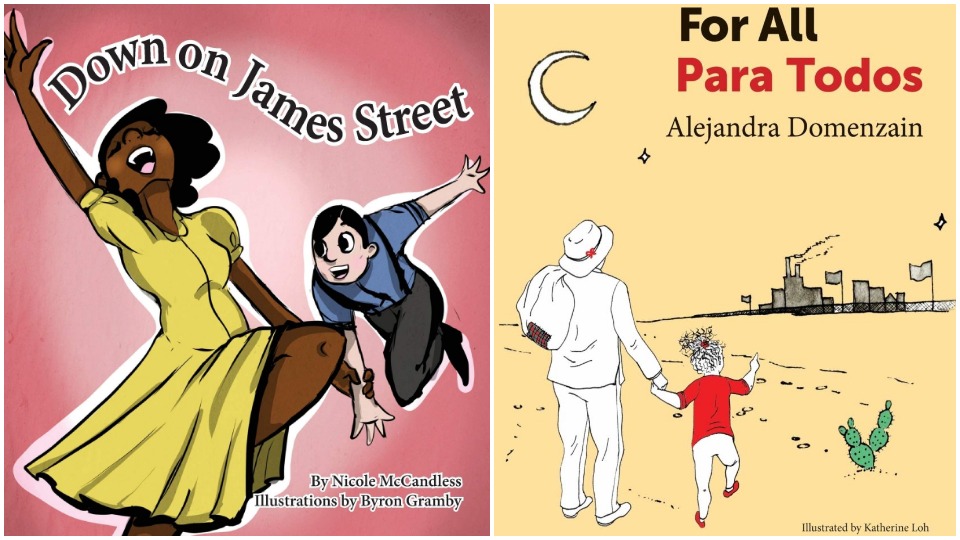 From the very first page of Down on James Street (actually page iv—the pagination is slightly off), from the clothes, the suspenders, his pointy two-tone shoes and the fact that George is heading out to James Street to a dance sponsored by the Young Worker's League, we know we are going to be reading about the 1930s.
Unbeknownst to his more conservative parents, George is a member, and they think he is spending the evening with a friend. What he will find is Dorothy at the front door, a young Black miss "ready to lindy hop" who takes the bold initiative of inviting him to partner with her, and then, inside, a happy bunch of "young workers" (although no one is identified as to what they work at).
Historically, there was in fact a Young Workers League (no apostrophe), founded in 1922, which merged with the Young Communist League in 1929, so the use of this term in the mid-1930s is a bit anachronistic, but I can chalk that up to poetic license—it's the idea that counts.
The story reminds a reader of the musical Hairspray, with a similar theme, but set in Baltimore in the 1950s.
The popular Dorothy is much more socially aware than George, and is able to prompt him toward a deeper understanding of race relations than he had ever thought about before. "The world is changing," she tells him, "whether our parents like it or not."
A nice detail at the dance is the description of the items of fashion the kids are wearing, some of them stylishly homemade out of flour sacks and feed bags.
Another good point is the inclusion of onomatopoetic renditions of the lyrics and rhythms of the be-bop music, which will test parents' acting skills as they recite to their children: "Rat a tat, rat a tat, rat a tat, tat," "Snake hips, Suzie Q, Shim-Sham. A ring fling, a ring fling, a ring a fling, ZING," and "Hacksaw. Hip Lift. Peel Away. BOOM. Slide Drag Dig. BAM BAM BAM. Around the world AND Whip." (My back went out just typing that!)
The crisis comes when a squad of violent cops raid the dance on a complaint of interracial dancing. This kind of thing, says Dorothy, is "a regular part of my life."
"Well, it shouldn't be," George replies.
"What are you going to do about it?"
And ever resourceful, the new power couple in town organize a late-night dance party to continue the fun—and the integration.
Dorothy not only has been an excellent lindy teacher, making a dance floor star out of George, but an insightful, probing questioner asking George, and presumably everyone else she comes into contact with, to rise and meet their better angels.
Byron Gramby's illustrations could not be more apt, capturing the spirit of youthful hopefulness, the joy of expressive bodily movement that is such a significant feature of the book, and the terror of the police raid.
One small quibble is that the author leaves the source of the James Street dance music unidentified—was it a radio program, 78 rpm disks, or a live band? That detail would have provided some insight into the musical culture of the era. When the party resumes later that night, the band is a live trio that includes Dorothy's own father.
The theme of the book is the fight against segregation, and we get to experience the fun kids of various races have together sharing their dance moves. But another thing doesn't ring quite true: Wouldn't there also have been a formal welcome to the Young Worker's League evening, an invitation to get involved politically in the critical issues of the day, some posters tacked to the wall and maybe even a modest appeal for a little spare change? Beyond that, there's no reference to the Depression, though the hard times come through in the homemade clothing. I know, keep it simple and all that, but just some thoughts.
"This book is dedicated to all the kids who are still dancing and still fighting for justice."
In the nation of For All/Para Todos
About ten years ago as a delegate to the California Democratic Party annual convention in Sacramento, I recall party chair John Burton opening the session with the Pledge of Allegiance, but before we started reciting he asked us to conclude "with liberty and justice for all some day."
In the conceit of author Alejandra Domenzain, who grew up in both the U.S. and Mexico, the country to which young Flor and her Papi emigrate looks and sounds a lot like the U.S. It's called "For All," echoing the sentiments emblazoned on the Statue of Liberty in the New York Harbor, and its flag has stars and stripes, but they are configured quite differently.
One day her dad said, "Flor, we're leaving our land.
The fields have all turned into dust and dry sand.
We cannot grow corn with so little water.
Our land cannot feed us, my dear darling daughter.
Yes, the entire text is written in rhymed couplets, which I assume must be the author's dominant language. The translation is fine, though not attempting to be poetic, with only suggested, perhaps even accidental near-rhymes. Somehow in the printing process many of the Spanish accent marks mysteriously show up in a vague gray not conforming with the rest of the font. Both texts are artfully arranged on the page and printed in different colors.
The story is one of immigration. Father and daughter make the arduous trip—the mother had already died from probable chemical exposure in a maquiladora back home. It's about crossing borders and coming of age in a new and strange environment. And it's about life in For All, which turns out, not unexpectedly, to fall short of the inclusiveness the name implies.
A specific time line is not stated but implied, and we see how Flor matures from a child to a young woman in the illustrator Katherine Loh's colorful line drawings with highlights of red and green, perhaps recalling the tricolor (with white) of the Mexican flag. At the same time the young, handsome Papi develops the wrinkles and lines that come with age and strenuous labor.
The nameless Dad works tirelessly in dead-end jobs (plural; it obviously takes more than one job to support this little family). Could this be the essence of the contract that allowed the immigrants into the U.S. in the first place?
"Last Christmas, you said we couldn't go shopping.
Why don't you have money if you work without stopping?
Your jobs are so hard, it doesn't seem fair,
The boss takes the money, why can't he share?"
Well, it turns out that the papers Dad and Flor were handed when they entered For All spelled it out in clear language punctuated by a big red X:
"You can pick the strawberries or pounds of tomatoes,
Clean up the bathrooms and fry the potatoes,
You can't get more money or work without pain,
You'll get into trouble if you dare to complain.
If you do, guards will come, in no time at all.
We can have you locked up and removed with one call."
The youth who come in on this X program face similar conditions—limited chances to learn and advance themselves, the promise of a life of deprivation and poverty.
Flor ran to her father and asked, "Did you know?
Did that paper list places where I cannot go?"
"Yes, Flor, it said, 'To all those that come
Know 'justice for all' means 'justice for some.'"
But creativity and hope will find ways to express themselves, and the plucky young woman discovers previously unrevealed talents thanks to a magical green pen given to her by Ms. Soto, a teacher in her school, who once trod the same path as Flor.
Flor couldn't believe it, there were so many others
Who stood up for each other, like sisters and brothers.
They told her, "We know we are all one community,
We are strong only if we believe in our unity."
The story looks forward to that "some day" when new rules will apply for all in For All.
Both books include short biographies and photos of writer and illustrator, and in the case of For All/Para Todos the translator as well (the author is credited as a co-translator). Each book has a historical interpretive note, a short list of questions for discussion, and a list of the other titles in Hard Ball's division of Children's and Young Adult Books. For All provides the notes and questions in both English and Spanish.
These are the kinds of helpful teaching and socialization aids that parents need if they want to raise woke kids.
Down on James Street
By Nicole McCandless
Illustrated by Byron Gramby
Brooklyn, N.Y.: Hard Ball Press, 2021, 47 pp.
ISBN 978-1-7344938-6-3
For All/Para Todos
By Alejandra Domenzain
Illustrated by Katherine Loh
Translated by Irene Prieto de Coogan
Brooklyn, N.Y.: Hard Ball Press, 2021, 45 pp.
ISBN 978-1-7344938-7-0