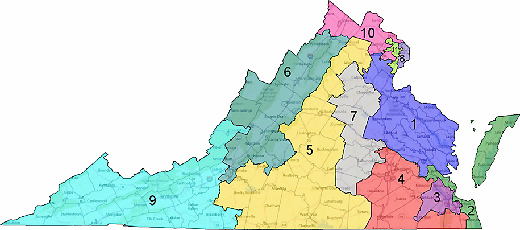 The chances Virginia Democrats might win a congressional seat in November went up sharply because of U.S. Supreme Court ruling last week. Currently, Democrats hold three of the eleven Virginia House seats.
Southern Virginia's congressional districts were re-drawn by a three-judge panel after Republicans had tried twice to pack African-American voters into one congressional district.
"This is a victory for the people of Virginia who deserve to have their votes count and to have a real opportunity to choose their representatives," said state Sen. Donald McEachin, D-Henrico, in a prepared statement.
McEachin and Chesapeake City Councilor Ella Ward will seek the Democratic Party nomination for Fourth Congressional District seat in the June 14 primary.
The new 4th District will add the cities of Richmond and Petersburg, both Democratic strongholds. The new 4th District increases the African-American population of voting age from 31.3 percent to almost 41 percent. The new district boundary is seen as a plus for Democrats because it moves Democratic-majority Richmond and Petersburg into the new 4th.
In the 2012 elections, President Barack Obama received nearly 49 percent of the votes in the 4th District under its previous boundaries. The president would have received 61 percent of the vote in the district newly drawn by the judges.
Republicans in the Virginia legislature had twice been called out by the federal courts for attempting to pack too many African-Americans into the 3rd District, which diluted minority vote influence in surrounding areas and boosted Republicans.
Three Virginia Republican congressmen appealed the decision to the Supreme Court, saying these changes would make it harder for them to win re-election. The Supreme Court didn't buy that argument.
Before the court ruling was announced, 4th District U.S. Rep. Randy Forbes had already moved to Virginia Beach so he could run in the new 2nd District, whose incumbent Republican Congressman, Scot Rigell, is retiring.
Rep. Rob Wittman, R-Westmoreland and Rep. David Brat, R-Henrico, claimed adding Democrats to their district would make it harder to win re-election.
Forbes told the Supreme Court he would move back to his former district if it rejected redistricting. Forbes' attorney later said the congressman planned to run in the Virginia Beach-based 2nd district regardless of the court's ruling.
The Supreme Court ruled that Virginia congressional Republicans didn't have legal standing to appear because they were not able to show injury, due to the decision of Forbes to change seats.
"Given this change, this court does not see how any injury that Forbes might have suffered is likely to be redressed by a favorable judicial opinion," Justice Stephen G. Breyer wrote.
McEachin has the support of the state Democratic Party leadership. The Democratic Congressional Campaign Committee's Emerging Race program added McEachin in April. He has the backing of Governor. Terry McAuliffe, Lieutenant Governor. Ralph Northam and Attorney General Mark Herring.
Ward also served the state Board of Education. She was unsuccessful in challenging Forbes for his congressional seat in 2012.
Both McEachin and Ward are African-American. If either wins on June 14, Virginia will have two African-Americans in the House of Representatives.
Virginia's incumbent African-American in the House, U.S. Rep. Robert C. Scott (D-Newport News), also saw changes to his 3rd district. The new map drops the African-American voting age population in the 3rd District from 56.3 percent to 45.3 percent. His district used to stretch from Richmond to Newport News. Now, it will be anchored in Hampton Roads.
However, this is still considered a safe seat for the Democrats.
Map attribution: Stephen Wolf