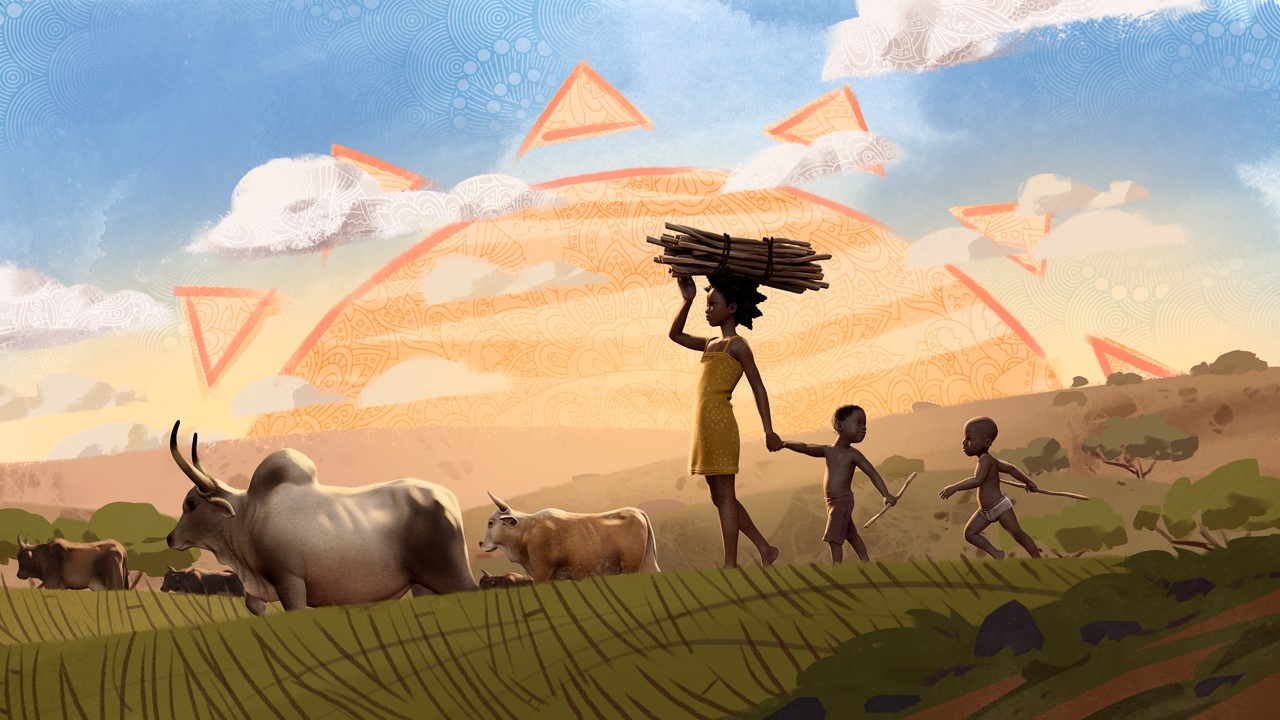 Two new films honor life-defining journeys—one upbeat, one sad.
Liyana is an inspiring film about orphaned children in Swaziland that just received its world premiere at the Los Angeles Film Festival. In fact, its co-directors Amanda Kopp and Aaron Kopp (he grew up in the Kingdom of Swaziland) won the festival's Documentary Award, confirming my own impression that this will be a major audience favorite once it's released to the general viewing public. I wouldn't be surprised if a whole new crop of baby girls will be named for this plucky African heroine.
Actually, Liyana is half documentary and half animated feature. The animation artist is Shofela Coker, who comes from a line of artists in Lagos, Nigeria.
Swaziland is a small landlocked country, 6704 square miles, the size of Connecticut and Rhode Island together, almost entirely surrounded by South Africa, except for an eastern border with Mozambique, with a population of just over a million.
Above the fertile green hills and waterways of Swaziland hangs a pall of melancholy and grief. Some 25 percent of adults in this country are living with HIV/AIDS, one of the highest percentages in the world. Many of the orphans at "The Farm" have lost their parents to the disease, and some are HIV-positive themselves and taking pills. These adorable kids carry a heavy load of loss and abandonment issues. Over time, of course, the warm embrace of The Farm, with its pastoral lushness, they gardens they cultivate, and the animals they herd, will supplant the traumatic memories with a new overlay of family and community.
The Farm invited well known South African writer Gcina Mhlophe in to help the kids collaborate on a fictional tale that is, as the children are inventing the next episode, translated into beautiful animation. Surely the children's book will soon follow—and the Broadway musical? The character Liyana, an AIDS orphan herself, becomes their daring protagonist, her experiences based on the children's own sad personal histories and their hopeful dreams for a better future.
Entertainment Weekly took a look at the hybrid animation and cinematography featured in the film, which you can check out here.
It was quite a surprise to see Gcina Mhlophe on the big screen. She's more than a writer, but also an internationally recognized singer, recording artist and actress. My traveling companion and I actually met her in Durban, South Africa, in 2013 owing to a personal introduction, and spent an afternoon at her home overlooking the Indian Ocean, her property filled with books, mosaics, gardens and little installations.
It was in South Africa that I heard a maxim I have taken to heart. I stopped someone on the street once to ask if such-and-such a place was within walking distance. With her country wisdom, she answered, "Every place is within walking distance if you have the time." Liyana's charming story takes the right amount of time to get where she's going.
The film celebrates creativity in children—some are wonderfully expressive—and the healing power of storytelling, with Mhlophe guiding them step by step along the eventful, suspenseful journey populated by a huge variety of native African animals, and at least one invented monster. Liyana travels far across the land, even as far as the ocean, in her quest to free her brothers from evil kidnappers, apparently not an uncommon crime. Although too young to participate in the project, one resident at The Farm is an albino child, treated equally lovingly by the staff. This inclusion could well have been a conscious message to fellow Africans, for in some parts of the continent albinos are in mortal danger from superstitious and greedy malfeasants.
One of Mhlophe's critical contributions is to show the children that they can choose how to create a narrative. Sometimes a family's story can end sadly, but as one child says about the project, "I want my story to end well." Out of tragedy, aspiration.
"I want people to remember us making our own words," says another child. Perhaps he'll grow up to be a writer some day.
The musical score, featuring acres of lush, harmonic African choral singing, is a joy. No one will leave a showing of Liyana with a heavy heart.
And elsewhere in the Southern Hemisphere…
Stefan Zweig: Farewell to Europe, a new film in general release, is stunning filmmaking that tells a tragic story that its protagonist, a celebrated German author in exile from Hitlerism, does not end well. Zweig was one of thousands of exiles who left their beloved homeland once it became captive to the Nazis. Many were able to reinvent their lives on other continents and start over. In other cases (writer Bertolt Brecht and composer Hanns Eisler come to mind), they returned after the war to try and create a new German culture out of the ashes of fascism.
Zweig, played by Josef Hader in the film, is wracked both by memories of the cultured life he once led and by the urgent pleas for help from friends and fellow artists still caught in the Nazi maw and anxious to escape. As the director Maria Schrader (who co-wrote with Jan Schomburg) has said, "Zweig's greatest gift as a writer, his imagination and empathy, transformed from being a blessing into a curse."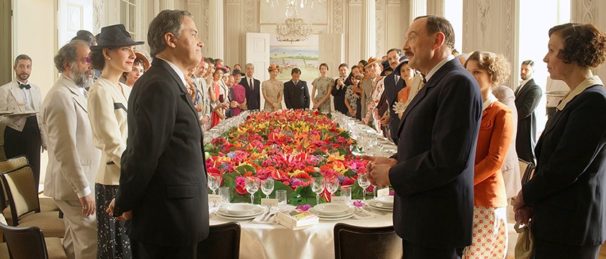 He and the people around him, his young new wife Lotte (Aenne Schwarz) and first wife Friderike (Barbara Sukowa) act with brave faces, trying to keep panic and crippling melancholy from their doorstep. At times, over the six years recounted in the film (1936-1942), including writers' conferences, reunions with his two daughters and their husbands and pets, trips into rural Brazil, where the Zweigs proposed to recreate their lives, they seem to be succeeding. Until they don't.
One noteworthy irony in Zweig's life is that in one of his last publications, the 1941 Brazil, Land of the Future, he seemed to have embraced this new adventure. He must have been trying very hard to convince himself. That book, and its title, became a kind of running joke years ago when I studied Portuguese. "O Brasil é o país do futuro…e sempre será." Yes, Brazil is the country of the future…and always will be! It took the labor-oriented governments of Luiz Inácio Lula da Silva, beginning in 2003, and succeeding him Dilma Rousseff, to truly bring the promise of that continent-sized nation to fruition. All of which has been overturned by the constitutional coup that threw the duly elected Rousseff out of office last year. For now the country is headed back toward oligarchy, neocolonialism, and open class warfare.
Schrader's film includes elegant portraits of life in those years, from toney banquets to sugarcane plantations, to New York apartments and a touching, smile-inducing reception with the mayor of a small Brazilian town in the hinterland, complete with a local band that gamely assays the "Blue Danube Waltz" in Zweig's honor. Period decor and costumes are a delight to the eye.
The trailer can be viewed here.