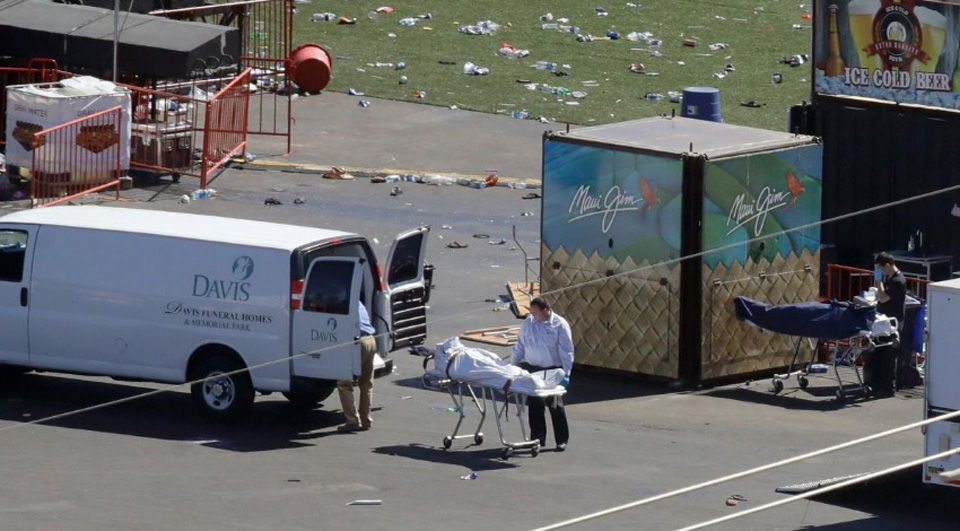 LAS VEGAS—Two Teamsters members from California, Dana Gardner of Local 1932 in San Bernardino, and Rachael Parker of Local 911, a police records clerk from Manhattan Beach, were among 59 people killed in the shooting massacre in Las Vegas the night of October 1-2, the Southern California Teamster reported. A kindergarten teacher from southern California, Jenny Parks, a member of a National Education Association local there, also was shot to death.
Gunman Stephen Paddock fired at a crowd of thousands of country music concert-goers from a 32nd-floor suite high above them at the Mandalay Bay Hotel and Casino and a quarter mile away with an arsenal of weapons. He killed 58, wounded 570, and then killed himself before Las Vegas police could get to his suite.
Paddock started with six shots, paused, then opened up with two long bursts of gunfire, eyewitnesses told Las Vegas media.
In the immediate aftermath of the tragedy, Nevada's biggest union, Culinary Workers Local 226, which represents workers at most of the hotels and casinos on the Las Vegas strip, joined an October 2 nighttime memorial service for the dead at the city's Catholic cathedral. It also appealed for blood donations from its members and offered them free—and union-paid—mental health services, too.
And one big concern was to see if everyone was safe, including its 4,000 members who work at the Mandalay Bay.
Paddock's attack was the largest mass shooting in U.S. history. GOP President Donald Trump ordered U.S. flags at federal buildings lowered to half-staff as bells tolled. He also visited Las Vegas to talk with first responders and survivors.
Carlos Rubio, business agent for Local 911, said in a telephone interview Parker "just completed her 10-year anniversary" with the Manhattan Beach Police Department and with the union. "She was young, personable and full of life, who liked having a good time with her friends," he said. And she was active with the local, as "Rachael and her team always showed up" whenever the union called a meeting to discuss its contract with the police department.
"We can't believe this hit so close to home," he added.
The San Bernardino Sun reported Gardner took her daughter, Kayla, to the concert. Kayla was uninjured. Gardner, a 26-year veteran of county government, was deputy recorder in the county clerk's office. A call to her local for more details was unanswered. Her two sisters, who also happened to be in Las Vegas, told San Bernardino media of their disbelief and grief, after stopping by a Vegas-area blood bank to thank donors who gave blood to help the injured.
Parks was shot twice in the head and died in her husband's arms, the Washington Post reported. A National Education Association local, the Westside Teachers Association, represents the K-12 teachers at her school, Summerwind Elementary. "The staff is very saddened. She was a huge part of the school," said Kathy Vanderzee, president of the Palmdale Teachers Association, where Parks was a substitute before transferring to Westside. She had been teaching for 15 years and was looking forward to a party for her husband's 40th birthday, the Post added.
"Our thoughts and prayers are with the victims, their families, tourists, first responders, and workers affected by last night's horrific attack," Geoconda Arguello-Kline, Local 226's Secretary-
Treasurer and public face, said on the afternoon of October 2.
"Culinary Union staff spent the night and all morning phone-banking workers to make sure everyone was OK. Workers, in addition to guests, were on lock-down across the Las Vegas Strip until approximately 7:30 am this morning," she added.
The union also represents hundreds of workers at nearby Pat McCarran International Airport and its surrounding hotels. Many of the concertgoers fled there to escape the cascade of bullets.
One eyewitness told the Las Vegas Review-Journal that people were able to enter the airport and flee across the tarmac after one concertgoer jumped in his pickup truck and drove it through the fencing around the airport, creating a hole. Others took cover behind cars, food trucks and other vehicles.
Before the scheduled memorial vigil, Local 226 organizers spent the rest of October 2 "conducting an outreach program in employee dining rooms supporting workers today and sharing in the pain our community is feeling," Arguello-Kline added.
"This will not paralyze our city – we will continue to work together with the resorts on ensuring workers are protected at work and safe," she promised.
The union also set up a toll-free number for families concerned about their loved ones (1-866-535-5654), including workers and concertgoers.
"Nevada is our home and we will not live in fear. Workers serve our country and our community every day. We stand united and together, today and always," Arguello-Kline concluded.
Updated by the author 4 p.m.