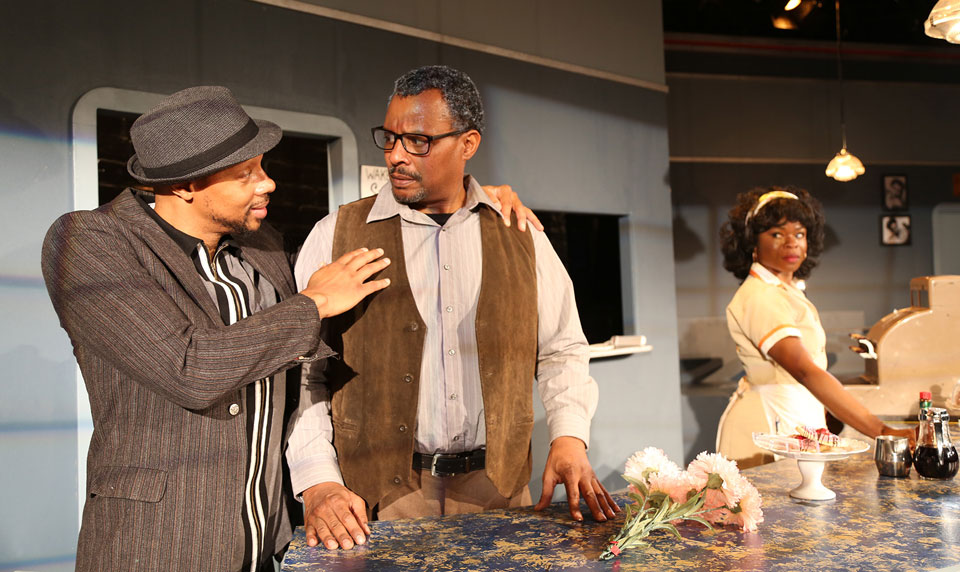 LOS ANGELES—Brava to Sophina Brown for producing Two Trains Running, the African-American playwright August Wilson's seventh installment in his ten-part decade-by-decade series of plays about the 20th century called The Pittsburgh Cycle. This one, now playing at the Matrix Theatre, is set in Pittsburgh's, not long after the murders of Malcolm X and Martin Luther King Jr. Through the exposition of his characters' concerns, Wilson reveals what's on the minds of his community at this pivotal post-MLK moment of the civil rights and black liberation struggle.
Two Trains Running was first performed by the Yale Repertory Theatre in New Haven in 1990, and then made the rounds of several regional companies. It premiered at Broadway's Walter Kerr Theatre on April 13, 1992, lasting 160 performances and 7 previews. Directed by Lloyd Richards, the cast featured Roscoe Lee Browne, Anthony Chisholm, Leonard Parker, Cynthia Martells in the only female role, and Laurence Fishburne as the seductive ex-con Sterling. The fine Mr. Fishburne sat behind me at the Feb. 23 performance and seemed to be having a rollicking good time.
The play was a finalist for the Pulitzer Prize for Drama. It won the 1991 American Theatre Critics Association New Play Award (for the best new play not yet produced in New York), and won for Mr. Fishburne the 1992 Tony Award and the Drama Desk Award for Outstanding Featured Actor in a Play. Its seven characters each demand precision vernacular acting and stage savvy, and this production excels flawlessly.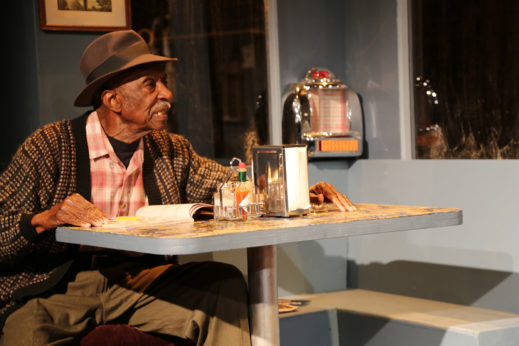 Memphis Lee's restaurant, at 1621 Wylie Ave. in the Hill District, is the unit set for both acts, and itself comes this close to being the eighth living, breathing character in the play. In earlier decades, Lee's restaurant sat at the hub of a vibrant black neighborhood. But like many other cities in that era, Pittsburgh slid into economic decline owing to suburban expansion, white flight, neglect and racism. By the 1960s, the Hill District was ready for "urban renewal," which in many places people referred to as "urban removal."
Based on the legal principle of eminent domain, Pittsburgh's Urban Redevelopment Authority appropriated land often at fire-sale prices to build a new civic center and public housing projects. Memphis (Montae Russell) knows he cannot stop the flow of time, but he refuses to accept an insultingly low compensation for the property into which he has poured his whole adult life.
Memphis's predicament directly parallels that of Hambone (Ellis E. Williams), a lovable, mentally challenged character whose single obsession in life is to obtain a ham promised him by a butcher across the street whose fence he painted a decade ago. The butcher only gave him chickens, diminishing the value of his labor. Both of these characters are defending their dignity and self-respect from "The Man."
Other characters who populate the restaurant include the back-porch philosophizing widower Holloway (Adolphus Ward), who enjoys his Social Security retirement serenely taking in all the local gossip and news. Another regular is the snazzily dressed Wolf (Terrell Tilford), who supports himself as a numbers runner, and entertains his fantasies of women all over the country who in his mind throw themselves at him—only one of several characters who leech off their own people.
Sterling (Dorian Missick), just out of the pen for bank robbery, is trying to get back on his feet, but a combination of limited opportunity and a questionable work ethic holds him back. He complains that at the steel mill he can't get a job unless he's in the union, and he can't join the union unless he has a job. He's the classic bullshitter—not a liar per se, but a self-aggrandizer always on the hustle. Representative of the younger generation, he is drawn to the militancy of the black liberation movement as his salvation, and at one point acquires a gun.
The funeral director in the black community often assumes an outsized role as a civic-minded angel in a world where whites have long openly discriminated against people of color. He appears in the black-clad, black-gloved character of West (Alex Morris), who is eager to buy up local properties on the cheap in the hope of eventually selling off the whole lot to the city for a higher price. The funeral business is renowned for mercilessly exploiting families in their time of unction, and though he commands an ambiguous respect, West is no exception.
As mentioned, there is only one female role, the waitress Risa (Nija Okoro), a muted, diffident soul who years before repeatedly gashed her own legs to exempt herself from unsolicited male approaches. She clearly has a dark personal history.
There are in addition two other characters off-stage who figure into the action. One is the self-declared Prophet Samuel, who gouges his community for money and favors as he spouts his home-grown brand of religion. Risa is among his most ardent followers. And there is Aunt Ester, an allegedly 322-year-old clairvoyant griot who lives in an upstairs back apartment with a red door just down the block at 1839 Wylie. People of all social classes visit her to unburden themselves of their worries, and she always gives the same advice: Throw $20 into the Monongahela River to change your luck. These two characters underscore the African-American oral and folk traditions that still play a prominent role in black culture.
There are actually many references in the play to the way people spend money—on numbers, on expensive caskets and funerals, on condemned property, on guns, women, jewelry, flowers and preachers—and how money spent in the black community finds its way into white hands in short order. "If it wasn't for you," one character says, addressing the others, "the white man would be poor."
Almost every one of the characters in Two Trains Running is a natural storyteller, spinning out amazingly fluid, intricately devised fantastic monologues that are virtuoso display pieces for actors. Apart from the story line of the play, these speeches alone are the theatrical gems of the evening as you sit back and let these spinmeisters carry you away to some faraway territories of the imagination.
Director Michele Shay is herself an accomplished August Wilson performer, nominated for a Tony Award for her portrayal of Louise in the author's Seven Guitars, one of the Pittsburgh Cycle plays. She also played Aunt Ester in Gem of the Ocean, and Mame Wilks in the world premiere production of Radio Golf, two more of the cycle. She has directed several others of the cycle plays. She has created a tight ensemble who play off one another like hyperkinetic pinballs. Many of them too have played roles in August Wilson plays.
Producer Sophina Brown, whose local production last year of Wilson's King Hedley II won wide praise and multiple Ovation wins, promises to produce all ten of the Pittsburgh plays in L.A. I am really looking forward to each one of them!
Unanswered questions
Perhaps to white theatergoers it might seem odd that the older characters in Two Trains Running, as well as Risa, are not absorbed in the political struggle, but are focused rather on establishing a bit of justice in their own lives in the world they know without subjecting themselves to physical danger. Questioned about that at the time, Wilson responded by saying he believed he captured what most black people were actually thinking about, not what white people expected them to be. He includes rampant use of the N-word to indicate the attitudes of the time for black folk talking amongst themselves and not for polite company.
I am not prepared to challenge August Wilson on that issue—for one thing his premature death at 60 in 2005 robbed us of his voice all too soon.
But I do have some questions about the play that in no way impinge on my profound appreciation for the performance. There's a familiar rule in the theatre called "Chekhov's gun." It's the principle that every element in the drama must be necessary, and everything irrelevant should be removed; elements should not appear to make "false promises" by never coming into play. Sterling's gun is, at least to me, such a false note; and furthermore, I would ask why, given his history of crime, Wolf would be so eager to acquire it for Sterling, unless purely to make a (very) few bucks.
I can understand why Risa, besotted with Prophet Samuel, would remain unmoved by the call to militant action with all its male-centric language, since she avoids at great personal cost the gaze and the grope of men. On the job, as she surely realizes, Memphis treats her as little more than an abused domestic, which she bears stoically. So why, after her persistent rejection of Sterling's advances, and even after prejudicing his odds on the numbers she herself provided him, does she eventually succumb to him? The troubled undercurrents of her past go unexplored and unexplained. Wilson was too smart a playwright to be dismissed as simply a male chauvinist basically disinterested in women's lives, as that does not typify his other plays. The underdevelopment of this character—and the absence of even one good juicy monologue for her—remains a mystery. Maybe it's just something Wilson intended for us to go home thinking about.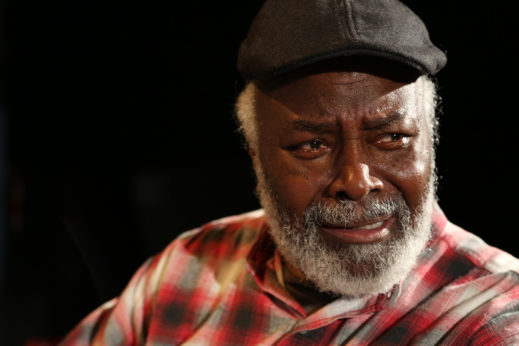 Another aspect of the play I find interesting, though not especially troubling as such: No one in the play (unless perhaps West, the funeral director) is a parent; or at least, that role of theirs does not inform their character. It's almost as if Wilson is suggesting that this neighborhood community way of life is disappearing without heirs, as African Americans of that generation pass away and the younger ones give in to assimilation. I would not necessarily agree with that, but it's a possible interpretation. And maybe that answers my issue about Risa: Sterling makes a repeated point about creating babies with her, so perhaps she feels it's up to her to get started producing the next generation.
The title of the play is curious. Memphis refers to "two trains running" every day between Pittsburgh and Jackson, Mississippi, where he is from and where he still has the deed to some farmland. Once he has cashed out in Pittsburgh, he fully intends to return there, but I don't fully understand why that aspiration gets elevated to title status. How I wish Mr. Wilson were still around!
John Iacovelli's scenic design is perfectly wonderful, capturing the ethos of a people's diner complete with the non-functioning jukebox. Lighting is by Brian Gale, and sound by Jeff Gardner. Costumes by Mylette Nora give us all manner of information about these richly mined characters.
Despite my questions about the play itself, the production is a triumph.
Two Trains Running is a guest production at the Matrix Theatre, 7657 Melrose Ave., Los Angeles 90046 (between Fairfax and La Brea). It plays only through March 3, on Thurs., Fri. and Sat. at 8 pm, and Sun. at 2 pm. For tickets call 855-326-9945 or go to this website.