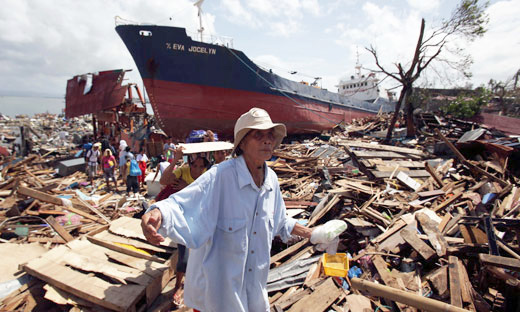 Typhoon Haiyan, known in the Philippines as Yolanda, was the strongest-ever tropical cyclone to make landfall, and in its wake, an estimated 10,000 people may have died. Officially, 1,744 are confirmed dead so far. The "super-typhoon" developed on November 3, and proceeded to devastate the country with wind speeds up to 195 mph before making its way to Vietnam, Taiwan, and parts of China.
Decimated infrastructure has hampered rescue efforts, and many survivors do not have access to food, water, or medicine. Philippines president Benigno Aquino deployed soldiers to the city of Tacloban, and has declared a state of national calamity. He stated that he may also impose martial law to stop the looting and chaos that is currently taking place there.
To say that Tacloban was one of the hardest-hit areas would be to put it softly. According to the United Nations' Office for the Coordination of Humanitarian Affairs, local officials observed a mass grave of 300-500 bodies there; people have described a stink in the air caused by the rotting. They are all victims of a storm so powerful some people thought it was a tsunami. Indeed, much of Tacloban was all but buried beneath water during the height of the typhoon's destruction.
Vietnam, Taiwan, and several areas in China were hit by the storm after it had weakened significantly, though they certainly endured devastation as well. Fourteen were killed and at least 81 injured in Vietnam. Sixteen people were swept out to sea in Taiwan; eight were rescued, but the other eight drowned. And there are six confirmed deaths in China.
An international effort
Groups are currently collaborating in an international effort to help victims. American forces were dispatched to the Philippines on November 10 – the first wave consisting of 90 marines, as well as U.S. surveillance aircraft to help with search and rescue efforts. The U.N. World Food Program, meanwhile, flew 40 tons of High Energy Biscuits (HEBs) to the country. And the country's own Red Cross deployed teams to distribute meals, blankets, and medical supplies.
The United Kingdom has donated $15 million in national aid; Australia has pledged $10 million; the European Commission has provided $4 million; New Zealand has given $2.15 million; and China has donated $200,000.
Chicago is home to over 100,000 Filipinos. Philippines-born Rev. Primo Racimo, a pastor at St. Margaret's Episcopal Church and activist in the city's large Filipino community, is currently helping with relief efforts there. People can go to the church on Sunday, November 24 for the 10:30 a.m. service to contribute, or send money to Filipino Relief Efforts, c/o St. Margaret's, 2555 East 73 St. Chicago, I.L., 60649.
But despite all these spirited efforts, people are still suffering.
"Our home was destroyed"
One victim, Miriam Refugio, 60, and her teen granddaughter, waited at the airport in a desperate attempt to get from Tacloban to the city of Manila. "Our home was destroyed," she said, "and there is no food in this town, so we have to flee." Their only drinking water was reportedly a barely-filled plastic bottle. Though they contemplated drinking water from a nearby dirty pump, the granddaughter suggested they might become very sick of they took the risk.
That is the gist of what the average Filipino is currently facing and dealing with.
"It is difficult for me to even talk or think about this," Rev. Racimo told the People's World. "I know of a father in Tacloban who walked around for days in the ruins, holding his dead child. In that same hour, a little girl wandered alone – hungry and sick – looking for her family.
"The storm, of course, was unprecedented. The winds exceeded anything that ever was experienced before. The areas hardest hit were the 15 provinces in the Central Philippines; the most poverty-stricken part of the country. Some of the area took a double-hit. In Bohal province, they had a strong earthquake just a month ago. They did not even have their electricity back from after that quake yet."
Culpability on the part of the government
"Record storm or not," Racimo declared, "there is culpability on the part of the government. Lawmakers in the 15 worst-hit provinces have this year taken $1 billion in money for pork barrel projects in their districts. This money should be going to typhoon relief, yet it is not.
"There have been disasters going on for years now. Where is the planning by the government? Over in Vietnam, the government evacuated [thousands] before the storm hit. The Philippines government, meanwhile, is beholden too much to multinational corporations that are destroying mountainsides and virgin forests. They did not conduct adequate mass evacuations and pre-planning.
"Just like in Louisiana, where oil drilling has helped destroy the bayou, the natural protection around New Orleans, we have [something similar] happening in the Philippines. We have almost no virgin forests left; they were all destroyed by the logging industry. In Mindanao, a southern province, the mining companies tore up the mountains. Any strong rain or typhoon will make landslides so much worse [as a result]. And if the area is poor, they don't care. But they sure went to work quickly last year when the surge in a storm sent water through downtown Manila streets up to the U.S. embassy."
"Get off your ivory tower"
Obviously, the storm was one of the focal points of the 2013 United Nations Climate Change Conference in Warsaw, Poland. There, Philippines lead negotiator Yeb Sano drew a connection between the typhoon and climate change. "To anyone who continues to deny the reality of climate change," he said, "I dare you to get off your ivory tower and away from the comfort of your armchair. I dare you to go the islands of the Pacific, the Caribbean, and the Indian Ocean and see the impacts of rising sea levels. … And you may want to pay a visit to the Philippines right now.
"What my country is going through as a result of this extreme climate event is madness. We [must] take drastic action now to ensure that we prevent a future where super typhoons are a way of life." Sano then declared he would begin fasting during the conference "until a meaningful outcome is in sight." Such an outcome would, according to him, consist of allocating more financial resources to help deal with global warming, and "real ambition on stabilizing greenhouse gas concentrations."
"Yeb Sano is right," Rev. Racimo agreed, noting with approval how Sano also spoke of how multi-national mining companies are making things worse. "But there is a lot of talk. What is needed is funding. The Filipino budget is being swallowed up for military defense. Defense against what? We need to defend against typhoons, not imaginary enemies. Like in America, in the Philippines we need to take the money from the one percent and put it in the hands of the people."
Photo: A survivor walks through the rubble in Tacloban. Aaron Favila/AP