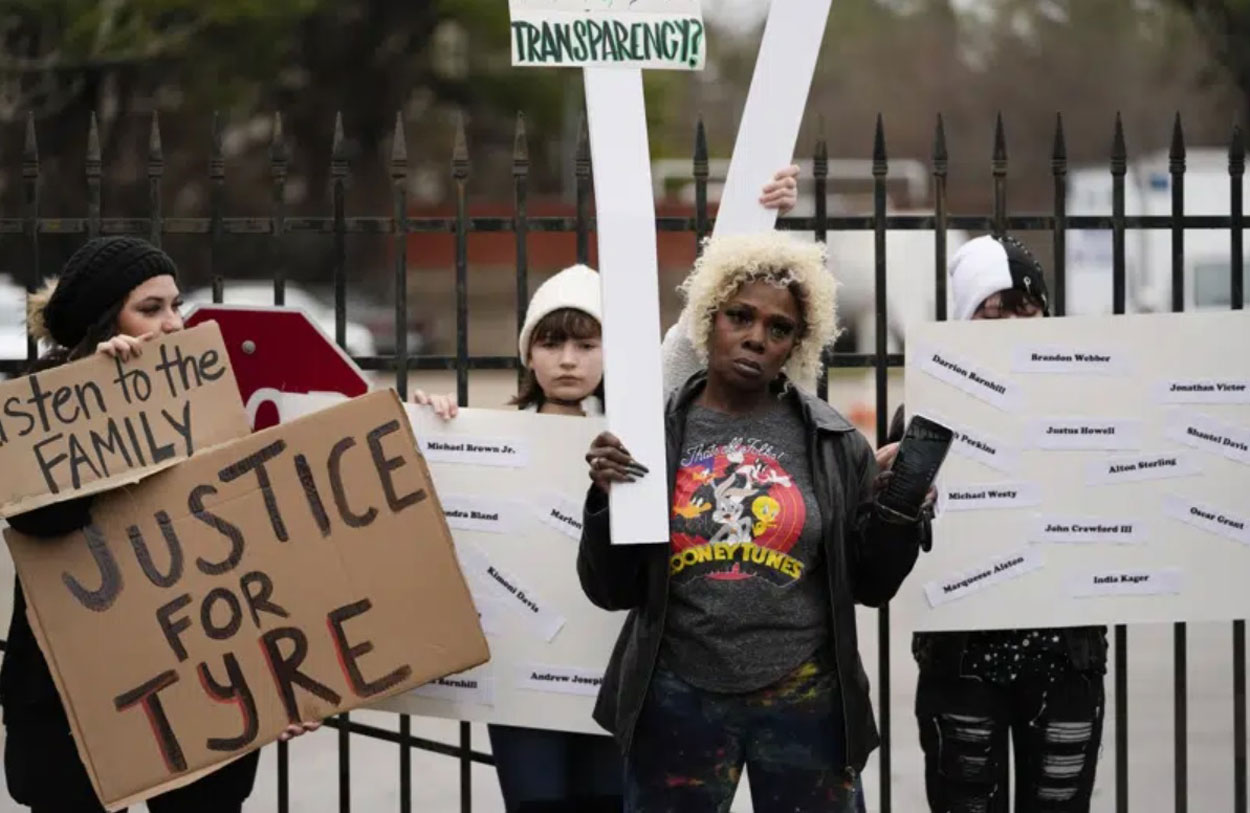 People are asking why police murders of Black people keep happening. There was a time when Black people couldn't eat at lunch counters. When they came back again and again, they were turned away again and again. People at that time stopped asking, "Why does this keep happening?" They forced passage of laws that made such discrimination illegal and punished people who broke those laws.
Similarly today, we need the George Floyd Justice in Policing Act to become law so that what happened to Tyre Nichols does not keep happening. Republicans who refused to make it law are themselves guilty of the murder of Nichols and anyone else who dies at the hands of police gone wild.
The bill is still till logjammed in Congress, but if passed, it would prohibit racial profiling, ban chokeholds and no-knock warrants, limit the transfer of military equipment to police departments, and make it easier to bring charges against offending officers.
President Joe Biden has announced that he told Nichols' mother that he would be "making a case" to Congress to pass the Floyd Act "to get this under control."
The Rev. Al Sharpton said on television Sunday that his eulogy at Nichols' funeral on Wednesday will include a call for new laws.
NAACP President Derrick Johnson also blasted Congress and particularly condemned those in that body who have been blocking passage of the Floyd Act.
"By failing to write a piece of legislation, you're writing another obituary," Johnson said. "Tell us what you're going to do to honor Tyre Nichols. … We can name all the victims of police violence, but we can't name a single law you have passed to address it."
As horrible as the murder in Memphis was, what has happened since is more than what Black people could have hoped for after similar murders in the past. Soon after the murder, the police officers involved were fired. Criminal charges were filed against them, and videos exposing their crime were released. In a matter of days, there was an investigation, charges were filed, and the City of Memphis is moving to hold the criminals accountable.
After a similar police killing in Chicago, it took more than a year to get even that far.
Across the United States, an average of three people are killed every single day by the police. Is it any wonder that there is a cry across the land for police reform? How could "protect and serve" be interpreted as "beat to death"?
Prayers, condolences, more "training," and civilian review boards are all good, but without tough new laws, they are not enough.
Nichols' fatal encounter with police officers in Memphis, captured in video made public Friday night, is a glaring reminder that efforts to reform policing have failed to prevent more outbreaks in the national epidemic of police brutality.
Three decades ago, Rodney King's savage beating by police in Los Angeles prompted calls for change. At least Rodney King lived.
But the epidemic of police violence against Black people continued to break out, over and over again. The epidemic resulted in the deaths of Amadou Diallo in New York, Oscar Grant in Oakland, Michael Brown in Ferguson, Mo., and many, many others.
George Floyd's brutal murder in Minneapolis almost three years ago was so horrible to watch on national television and on cell phones across the land that it triggered a national movement that resulted in federal legislation named after Floyd.
People from all walks of life came out in favor of the legislation, and there were calls coast to coast for a change in police culture in the U.S. Black people led in the call for a new police culture that would end fear of the police, promote trust in officers, and a respect for the people by the police themselves.
"We need public safety, right? We need law enforcement to combat pervasive crime," said Jason Turner, senior pastor of Mississippi Boulevard Christian Church in Memphis after the killing. "But we don't want the people who are sworn to protect and serve us," he emphasized, "brutalizing us for a simple traffic stop, or any offense."
The five Black officers are now fired and charged with murder and other crimes. The human being they murdered was a 29-year-old man, a father of a 4-year-old boy. He was a FedEx worker and an avid skateboarder. Everyone in his family and neighborhood saw the skinny 160-lb. man as a loving cheerful guy. Five strapping and healthy cops beat that man constantly for three full minutes, pepper spraying him and torturing him almost to the point of death. He died later in the hospital.
"The world is watching us," Shelby County, Tennessee, District Attorney Steve Mulroy said. "If there is any silver lining to be drawn from this very dark cloud, it's that perhaps this incident can open a broader conversation about the need for police reform."
Must have accountability
"To deliver real change, we must have accountability when law enforcement officers violate their oaths, and we need to build lasting trust between law enforcement, the vast majority of whom wear the badge honorably, and the communities they are sworn to serve and protect," Biden said on the weekend.
De-escalation training is already a requirement. Officers are told to limit the use of force, exhaust all alternatives before resorting to deadly force, and report all uses of force. Tennessee also took action in the recent past: State law now requires officers to intervene to stop abuse and report excessive force by their colleagues.
None of this happened in Memphis that night.
Black men and women were the main targets of police violence in Memphis each year from 2019 to 2021. They were subject to nearly 85% of the use of guns, batons, pepper spray, physical beatings, and other force in 2022, the total nearly doubling that year to 1,700 cases. Seven uses of force by Memphis police ended in death during those three years.
"I don't know how much more cumulative Black death our community should have to pay to convince elected officials that the policing system isn't broken—it's working exactly as it was designed to, at the expense of Black life," said Ash-Lee Woodard Henderson, co-executive director of the Highlander Research and Education Center, a Tennessee-based civil rights leadership training school.
The Nichols case—just one of the brutality cases to make national news this month—exposes an uncomfortable truth: More than two years since the deaths of Floyd, Breonna Taylor, and Rayshard Brooks touched off protests, policing reforms have not significantly reduced such killings. Reforms lack the punch of strong federal laws.
Right-wing claims that police are suffering because of calls to defund the police are absurd. Despite calls to "defund the police," an Associated Press review of police funding nationwide found only modest cuts, driven largely by shrinking revenue related to the coronavirus pandemic. Budgets increased, and more officers were hired for some large departments, including New York City's.
A major reason that a federal law like the George Floyd Justice in Policing Act is needed is that local laws and attempts at reform, which vary widely, have failed to produce the consistent desired results. Another problem is that local reform laws are subject to being changed or even dropped as the result of changes happening after frequent local elections.
The five officers charged—Tadarrius Bean, Demetrius Haley, Desmond Mills, Jr., Emmitt Martin III, and Justin Smith—were part of the so-called SCORPION Unit. SCORPION stands for Street Crimes Operations to Restore Peace In Our Neighborhoods.
The Memphis police chief, Cerelyn "C.J." Davis, disbanded the unit on Saturday.
"It is in the best interest of all to permanently deactivate the SCORPION unit," she said in a statement.
Protesters turned out Friday night after the city of Memphis released the video footage. Protests spread to cities from one end of the country to the other are continuing today and are expected to carry on all week.
TAKE ACTION: Tell Congress to pass the George Floyd Justice in Policing Act NOW.
Call the Congressional switchboard at 202 224 3121 and ask for your House representative and or Senator and tell them to support the George Floyd just policing bill.
AP contributed to this story.