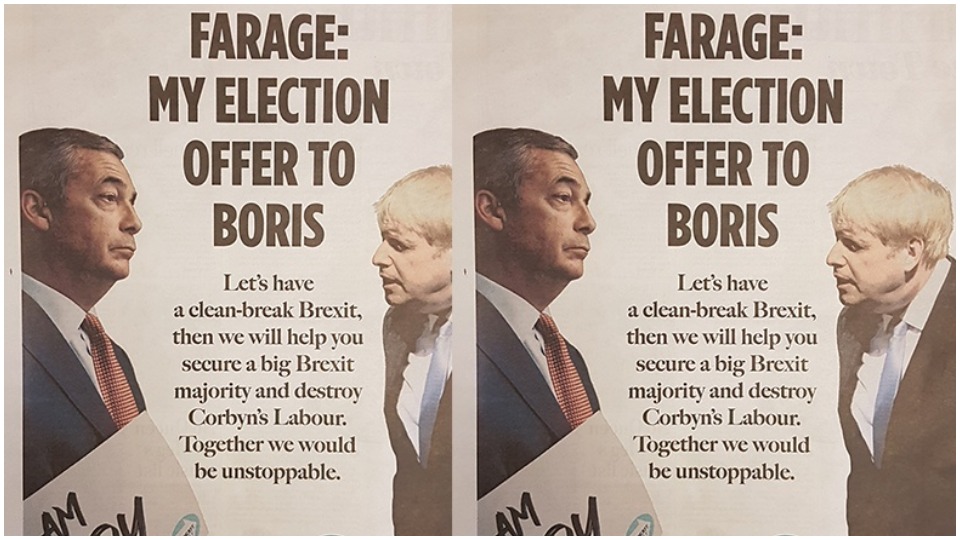 LONDON—The Tories should give the anti-immigrant Brexit Party a free run at targeting traditional Labour Party heartlands in the North, Midlands, and Wales as part of an electoral pact, its leader Nigel Farage has said.
Farage, writing in the Sunday Telegraph, said the offer of a non-aggression pact was "100 percent sincere" and would help return Prime Minister Boris Johnson to power.
According to the paper, the former U.K. Independence Party (UKIP) leader wants to see the Brexit Party not face Conservative opposition in more rural seats currently held by Labour Party members and leaders.
In return, the Brexit Party would not contest seats where they could split the so-called Leave vote with Conservative candidates, the Telegraph reported.
Farage wrote: "Johnson should cast his mind back to the European elections in May, in which his party came fifth, and ask himself: Does he want the Tories to find themselves in a similarly disastrous position when the results of the next general election come in, or does he want to sign a non-aggression pact with me and return to Downing Street?"
Meanwhile, the Brexit Party has taken out advertisements in a number of newspapers with "an election offer for Boris."
The ads say "Let's have a clean-break Brexit, then we will help you secure a big Brexit majority and destroy Corbyn's Labour," referring to the opposition Labour Party led by Jeremy Corbyn.
"Together we would be unstoppable," Farage's ads claim.
The Brexit Party took 30.5% of the national vote at the European elections in May and gained 29 of the 73 United Kingdom seats, while the Conservatives won only four seats and 8.8% of the vote, coming in fifth.
The Labour Party continues to lead efforts to resist Johnson's stumble toward a no-deal Brexit at the end of October, while also pushing for a program opposing austerity and the Conservatives' pro-big business agenda.
This is a slightly edited version of an article which originally appeared in Morning Star.