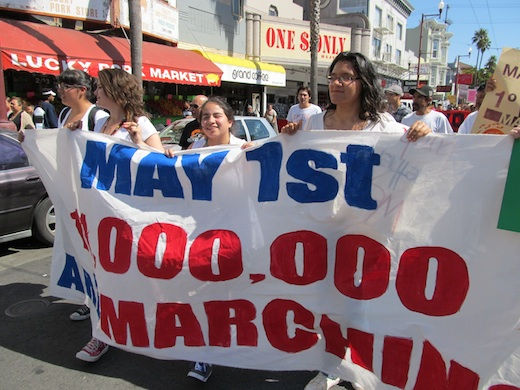 SAN FRANCISCO – Thousands of immigrants and their supporters marched across northern California May 1, calling for legalization of all undocumented immigrants, an end to deportations, reunification of families, labor rights and fair wages, and an end to human trafficking.
Demonstrators here, including many union members carrying their banners, gathered in Civic Center Plaza after marching from the heavily Latino Mission District. A large contingent marched behind the banner of the Chinese Progressive Association, while others carried signs and banners of the Day Laborers Program, the Progressive Workers Alliance and Unite Here's campaign to boycott the Hyatt hotels.
At Civic Center they heard Olga Miranda, president of the janitors union, SEIU Local 87, call on rally participants to fight for the most inclusive possible immigration reform, "not just for ourselves, for everyone. Immigrant workers have given birth to the teachers in our classrooms, have given birth to the doctors in our hospitals," she said.
"All we want is for young people to be able to come out of the dark. We want to make sure we are not exploited for the color of our skin … We are Chinese, we are Arab, we are Filipino. We are gay, we are transgender, we are all people together."
Other rallies celebrated May Day and campaigned for fair immigration reform in San Jose, Oakland, Santa Rosa, Fresno, Sacramento and elsewhere.
In related developments, California legislative bodies have acted in recent weeks against ICE deportations of undocumented immigrants arrested for minor offenses.
On April 23, the Alameda County Board of Supervisors approved an advisory resolution introduced by Supervisor Richard Valle, calling on the county Sheriff Greg Ahern to stop cooperating with the federal Immigration and Customs Enforcement (ICE) Secure Communities program. Under SComm, as it is commonly known, local law enforcement authorities send fingerprints of all arrestees to federal authorities, who then check both criminal histories and immigration status.
And earlier in the month, the California Assembly's public safety committee OK'd a new version of San Francisco Assemblyman Tom Ammiano's Trust Act, passed last year by the state legislature but vetoed by Governor Jerry Brown. The bill would require state and local law enforcement to comply with ICE detainer requests only when an arrestee has been convicted of a serious crime.
Under the Secure Communities program, initiated in 2008 and now used in every state, a quarter of a million people have been deported nationwide.
In California, deportations total nearly 80,000, and in Alameda County, across the bay from San Francisco, they have reached nearly 2,000. SComm's opponents say over three quarters were arrested for minor offenses or have no criminal record. Besides civil rights concerns, opponents say SComm has made many undocumented immigrants unwilling to report crimes or cooperate with police.
A new measure to enable undocumented immigrants to obtain drivers licenses, Assembly Bill 60 by Assemblyman Luis Alejo, D-Salinas, is now in committee.
Two measures by California state Senate leader Darrell Steinberg, D-Sacramento, both passed by the Senate Judiciary Committee, would help assure immigrants' labor rights. Senate Bill 666 would make it illegal to report or threaten to report workers' immigration status in retaliation, when they exercise their workplace rights. SB 516 would safeguard immigrant workers by making foreign labor contractors register with the state and disclose conditions of work, protecting workers from being lured with false promises and then forced to work long hours to pay back their labor contractors.
Photo: PW/Marilyn Bechtel