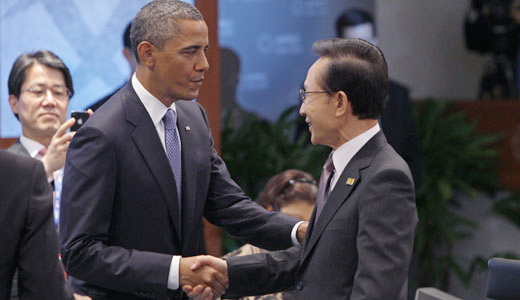 A long-awaited and controversial trade pact between the U.S. and the Republic of Korea came into effect on March 15. The deal was signed by President Obama last year as part of a series of jobs measures after passing both chambers of Congress with bipartisan support. Obama spoke to President Lee Myung-bak to welcome the landmark deal.
Lee was quoted as saying that he expects that "implementation of the Korea-U.S. Free Trade Agreement will contribute to advancing economic development and strengthening relations of the two countries."
The agreement, which is expected to increase trade among the two countries by up to $6.9 billion annually, is the biggest since President Bill Clinton signed the North American Free Trade Agreement in 1994.
It also opens South Korea to two of the world's largest economies after a trade agreement with the European Union came into effect last July.
Lee said in a statement that he hopes the agreement will serve as a model for global free trade, while Obama said he anticipates a boost in trade, exports, investment and jobs as a result of removing trade barriers.
Tariffs will be eliminated for more than 7,000 South Korean products and 62,000 American products and services. Eighty percent of all goods traded between the two countries are covered under the deal, with 95 percent being covered over five years. Analysts in Seoul estimated that 300,000 jobs would be created over the next ten years.
Opponents of the agreement on both sides of the Pacific spoke out against the pact this week. Twelve hundred Koreans demonstrated in Seoul on March 14, saying that the deal will only benefit corporate interests at the expense of small businesses, workers and farmers.
Critics in Korea say only certain sectors of the economy, such as automobile and electronics, will reap the benefits of open trade with America. Weaker sectors such as agriculture and small businesses will be at a disadvantage due to increased competition with U.S. imports.
South Korea's export-oriented economy competes with other nations in the region for trade with the US. Taiwan's government is opposed to the deal, which will cost its economy $3 billion in exports, with the textile industry being hit hardest.
In the United States, Democrats and union groups initially opposed the plan, delaying its implementation for five years. The free trade agreements with South Korea, Panama and Colombia received criticism over the lack of provisions protecting labor rights in those countries and domestic industries here at home.
President Leo Gerard of the United Steelworkers led the efforts against the trade deals when Obama sent the legislation to Congress last fall. He predicted that the Korean pact alone would cost 159,000 American jobs.
Human rights activists have pointed out that there is nothing preventing South Korean companies from performing manufacturing operations across the DMZ. There are currently 120 South Korean firms that employ 47,000 workers in North Korea.
Hyundai, for example, operates in the Kaesong Industrial Complex where it pays its workers less than half of what it paid Chinese workers.
Independent Senator Bernie Sanders of Vermont addressed this issue on the floor of the Senate prior to the vote in October saying that it would "force American workers to compete against North Korean workers who make as little as $8 a month." He criticized the president for urging lawmakers to support the agreement after opposing unfettered free trade as a candidate.
Obama told the AFL-CIO in Philadelphia on April 2, 2008, that he refused to accept "that we have to sign trade deals like the South Korea Agreement that are bad for American workers. What I oppose – and what I have always opposed – are trade deals that put the interests of multinational corporations ahead of the interests of Americans workers."
President Obama is set to visit his South Korean counterpart in Seoul for the second Nuclear Security Summit on March 26.
Photo: Obama and Lee Myung-bak shake hands. Andres Leighton/AP