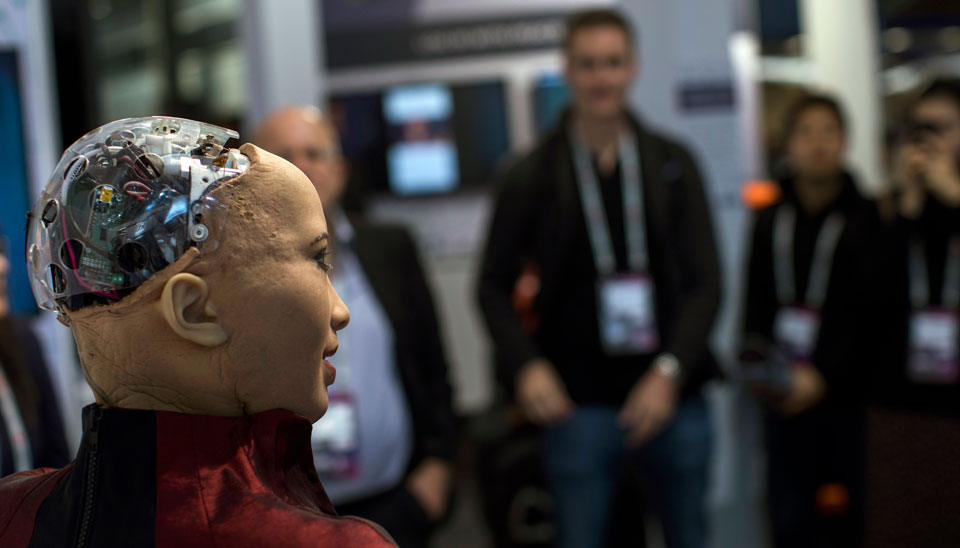 On May 21, Senators Rob Portman, R-Ohio, and Martin Heinrich, D-N.M., introduced the Artificial Intelligence Initiative Act (AI-IA). The "bipartisan" bill, according to a press release, would organize a national strategy for developing artificial intelligence (AI)—computer systems that can perform functions associated with humans, such as learning, decision-making, and problem solving. The bill would also authorize a $2.2 billion federal investment over five years "to build an AI-ready workforce…over the next 10 years," rendering it one of the first pieces of legislation to establish a national AI strategy for the U.S.
The bill comes on the heels of an executive order issued by the Trump administration last February that calls on federal agencies to allocate existing funds for AI-related projects, as well as the launch of an AI section on the White House website vowing to "expand…opportunities for American workers." It also aligns with the Pentagon's February release of its AI strategy, an April bill to broaden AI research, and the recently reintroduced AI in Government Act, which would authorize an "AI Center of Excellence" within the U.S. General Services Administration. AI, these initiatives argue, should be funded and enhanced so it can be applied to such fields as healthcare, manufacturing, academia, and the military.
Despite these claims of a rosier and more efficient future, the U.S.'s development of an AI strategy is little more than a tactic to sustain its superpower status as a capitalist country. More specifically, it's an effort to extend the profitability and global reach of U.S. government-aligned tech firms like Google, Amazon, and Microsoft that complete projects for the Department of Defense, the CIA, and other agencies.
The reasons to be skeptical of these initiatives are legion. For example, AI legislation in its current form would be a gift to tech-industry capitalists. The AI-IA has received resounding plaudits from Microsoft, IBM, and the Internet Association, a lobbyist group comprising the U.S.'s tech giants. In addition to the extensive market potential, a U.S.-led AI policy would offer a handout to homegrown software companies: An emerging industry, such as one revolving around newfangled AI technologies, comes with far fewer regulations than an established one.
Autonomous vehicles (also known as AV, or self-driving cars), which are designed to run on AI systems, also receive at least a temporary PR boost from a potential AI stimulus. Trump's executive order touts AI as the future of transportation—a bit of good press for Google-owned Waymo, Ford, and other purveyors of privatized, car-centric transit experimenting with self-driving technologies. This comes as no surprise: The Department of Transportation has championed autonomous vehicles in recent years amid mounting AV lobbying.
If tech companies stand to benefit so handily, what might that mean for the workforce? Workers, the public is told, will have the opportunity to enter new, AI-driven professional fields. Yet if previous clarion calls for Americans to work in science, technology, engineering, and math (STEM) are any indication, it's hard to imagine those promises being fulfilled. The Obama-era public– and private-sector-backed push for people in the U.S. to learn to code professionally, for example, hasn't yielded high-paying careers on a mass scale. Rather, it's become the domain of fraudulent guarantees of employment, thwarting hopes of financial stability in the process.
The prospect of a U.S. AI strategy doesn't merely have domestic implications. As the Department of Defense and the national strategy bill explicitly state, the U.S.'s goal is to outpace China, which is home to an exponentially expanding AI industry and seeks to become a world leader in AI by 2030. In light of this, artificial intelligence—which the CIA, DoD, and other U.S. governmental bodies have routinely used via multi-million-dollar contracts with Google, Amazon, Microsoft, and other domestic tech companies—becomes a proxy for U.S. power. (Relatedly, numerous proposals vaunt AI as a tool for "national security.")
The U.S.'s legislative AI documents also reveal a jingoistic, colonialist approach to the development of artificial intelligence. According to Portman, the bill he and Heinrich authored is meant not just to catapult the U.S. into global AI dominance, but also to create AI technology that "prioritizes American values"—a phrase Trump's executive order also invokes—as "China [seeks] to unseat the United States' dominance in AI." Heinrich added:
"If we defer AI development to other nations, important ethical, safety, and privacy principles will be at risk, which not only harms the United States but the international community as a whole."
"American values" thus translates to "capitalism"; "other nations," meanwhile, are those that have recovered from exploitation, building infrastructures and economies independent of exploiters such as the U.S. This parallels the Trump administration's recent trade ban on Chinese company Huawei, the world's largest telecom supplier, under the guise of "security concerns." As Ian Goodrum recently cautioned in this publication, these "concerns"—unfounded claims that the company is spying on citizens on behalf of the Chinese government—are leveraged to antagonize China, a former colonial subject, for autonomously developing widely-used technology.
The U.S.'s AI strategy—if it can be called that yet—is capitalist militancy with a techno-patina. It's largess for the ruling class, offering private industry more lucrative opportunities in the process of bolstering U.S. aggression, complete with a dash of rhetoric about job creation. And no matter how that rhetoric might change in the proposals that will inevitably follow, the underlying message, quite simply, won't.