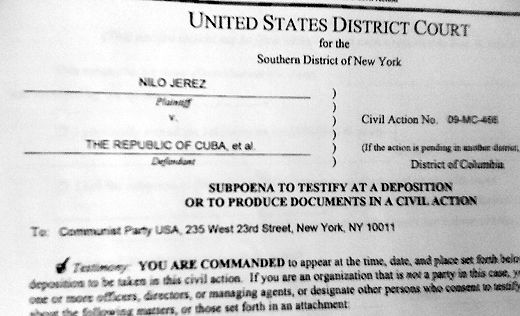 The plaintiff in a lawsuit against the Republic of Cuba is claiming the right to question the U.S. Communist Party on its relationship to the Communist Party of Cuba and an extensive list of Cuban institutions and personalities.
The CPUSA is responding "No way!" and is set to file a motion to quash a subpoena that would require the party to produce financial and political documents. The legal filings also call for the party to produce a representative to give a deposition on those relationships.
New York attorney Martin R. Stolar, who is representing the party, said, "It's really a stretch to say that because the Communist Party of the United States has the word 'communist' in its name that it must be holding assets for the Communist Party of Cuba which also has the word 'communist' in its name." Stolar added, "It appears that the plaintiff's lawyer is grasping at communists, not grasping at straws."
The case involves a civil suit filed in Miami in 2005 by a Cuban expatriate Nilo Jerez. Jerez entered the U.S. in 1980. Twenty-five years later, he claimed the sterility from which he says he suffers is a result of alleged mistreatment during a three-month stay in a mental hospital in Cuba in the 1970s. Jerez won a $50 million judgment by default. The Cuban government refused to participate in the Miami legal proceedings. Cuba's position was that U.S. courts had no legal jurisdiction over events that took place in Cuba.
Jerez's legal filings, by high-powered Washington law firm Patton Boggs, say that he is subpoenaing the party to find out if it is holding money for Cuba that he could collect to pay off his judgment.
The CPUSA has no financial relation with any of the parties mentioned in the lawsuit, says the party's secretary treasurer, Roberta Wood. "The Communist Party's relationship with folks in other countries is political, not financial. We are a social justice organization, not a business," she said. "But on principle we object to being required to testify about our relationship with our fraternal parties and we particularly object to being dragged into a blatant effort to rob the Cuban people."
Jerez is only the latest in a string of Cuban expatriates who have wormed their way into multi-million-dollar judgments against the Republic of Cuba in U.S. courts.
As the likelihood of establishing trade relationships between the two countries grows under a new administration, the litigants apparently are positioning themselves to seize trade-related funds as they move through U.S. banks. They could then apply to U.S. courts to seize these funds, which legitimately belong to the Cuban people.
Some say the "freeze and seize" efforts are counter to the interests of the people of the United States. Improved U.S.-Cuba relations could result in access for the first time to unique new Cuban-developed vaccines and medicines. For example, Cuban researchers have developed a vaccine against meningitis B, a disease which kills or permanently injures many U.S. children every year. Decisions like those of the Miami court in Jerez' case would allow Jerez to seize the funds of U.S. medical facilities seeking to purchase Cuban-made medical products, effectively making it impossible for U.S. residents to access these life-saving advances.
The precedent was set when a judge in New York in 2006 ordered payment of $91 million from frozen Cuban bank accounts to the families of two men – a CIA pilot and an arms smuggler – who died while participating in the infamous U.S.-backed Bay of Pigs invasion of Cuba in 1961.
The money for that settlement came from U.S. bank accounts holding Cuban money, including one containing payments made to AT&T for telephone services. A statement from Cuba's Foreign Ministry at the time stated that the assets wrongly went to "terrorist groups or families of U.S. citizens involved in aggressions against our country," according to the Associated Press.
The Communist Party USA's legal effort to challenge the subpoena could be costly, Wood acknowledged. The party is determined, nevertheless, to defend its rights, she said, emphasizing that, "the subpoena is not a legitimate legal inquiry."
Wood added, "Our friends and allies understand full well this subpoena is nothing more than a political fishing expedition."
Wood said donations to help the Communist Party USA defray its legal expenses in this case can be sent to the party's treasurer, Esther Moroze, at 235 West 23rd Street, 8th floor, New York, NY 10011.
Photo by Roberta Wood