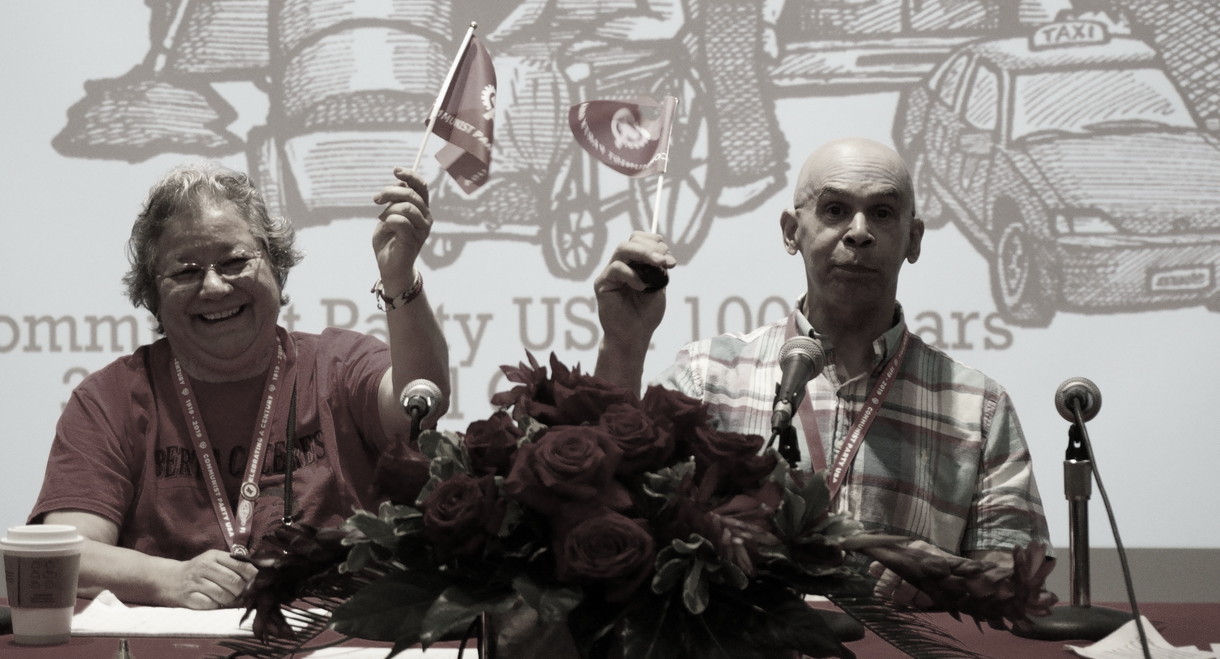 CHICAGO—The Communist Party USA elected two new leaders with deep connections to the labor and democratic movements as co-chairs at its 31st National Convention here on June 23. Rossana Cambron, a Mexican-American woman from Los Angeles, and Joe Sims, an African-American man from New York, were picked to lead the 100-year old party into its second century.
John Bachtell, who has headed the party since its 2014 convention, concluded his five-year term as chair at the gathering, which was attended by over 300 delegates and guests, including representatives from communist and workers' parties around the world.
"We have a collective style of leadership in our party," Cambron said in an interview with People's World following her election. "It's an approach that draws on the experience of all of our members who are involved in so many of the movements of labor and its allies across the country."
Cambron is the first woman picked to head the Communist Party since famed labor leader Elizabeth Gurley Flynn was elected chair in 1961. She is the party's first Mexican-American national leader ever.
Cambron, a member of Military Families Speak Out, is also a familiar figure in labor and community struggles in her hometown of Los Angeles. She has been involved in the immigrant justice movement and in key labor battles in L.A., especially the Fight for $15 and a Union, a struggle waged by fast food workers there and across the nation.
She has long been a leader of the CP in Southern California and, at the national level, served most recently as the party's National Membership Coordinator and represented it at the International Meeting of Communist and Workers Parties in Athens, Greece, last year.
"In the Communist Party, it is not our role to tell people how they should fight for economic and social justice," she said. "But we have 100 years of experience in this country fighting for the rights of working people to organize—for social security, unemployment insurance, and civil rights and against war. I think it positions us to offer advice and support to all those who want it, and that is what I'd like us to do."
Joe Sims, the co-leader elected along with Cambron, lives in New York and hails originally from Youngstown, Ohio.
Working-class and radical activism is a family tradition for Sims. He is the son and grandson of steel organizers, with his father having been an officer in Local 2163 of the United Steelworkers. His mother, who passed away last year, was an activist in the civil rights and peace movements and a longtime member of the American Federation of State, County, and Municipal Employees (AFSCME).
In his youth, Sims served as a regional organizer of the Young Workers Liberation League and was a delegation leader to a number of World Youth and Student Festivals overseas. He was among the founding members of the Black Radical Congress in 1998.
For much of the 1990s and early 2000s, he was the editor of Political Affairs, the journal of Marxist thought published by the Communist Party. He currently serves on the editorial board of People's World.
"The first task we in the party have now," Sims told People's World, "is to defeat Trump and all the extreme right forces gathered around him."
Sims said he sees the Green New Deal as an important aim and that he wants the party to help wherever it can to build both the movements to defeat Trump and to win the Green New Deal.
"In the course of all this, we want to build the Communist Party, in particular, and a strong working-class movement for socialism in general.
"Our country is in the midst of a socialist moment," Sims said, "and we expect to play a role in building on this moment to win bigger and broader support for socialism."
Outgoing chair John Bachtell will be taking up new responsibilities with Long View Publishing Co., the publisher of People's World, and will continue to serve in the national leadership of the Communist Party.
Delegates to the convention also elected a new National Committee of 71 members drawn from around the country to serve as its leadership body. Its members are heavily involved in the labor and democratic movements, according to Cambron and Sims.
The unions in which the 71 elected to the National Committee and other Communist leaders are active far outnumber the unions in which leaders of any other political party in the U.S. are involved. They include: The American Federation of Government Employees (AFGE), the American Federation of State, County and Municipal Employees (AFSCME), the American Federation of Teachers (AFT), the National Education Association (NEA), the Teamsters, the American Postal Workers Union (APWU), the Bakery, Confectionery, Tobacco Workers and Grain Millers International Union (BCTGM), the Communications Workers of America (CWA), The Newspaper Guild (TNG-CWA), the International Association of Machinists and Aerospace Workers (IAM),the International Brotherhood of Electrical Workers (IBEW), National Nurses United (NNU), Office and Professional Employees International Union (OPEIU),United Steel Workers (USW), Transport Workorkers Union of America (TWU), UNITE HERE, United Food and Commercial Workers Union (UFCW) and United Mineworkers of America (UMWA).