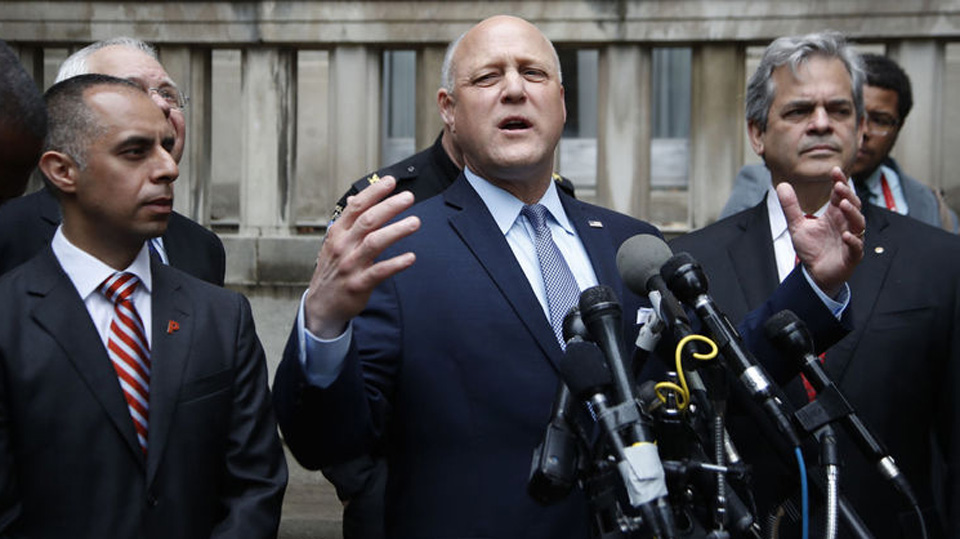 In a rebuke of President Donald Trump's militarism, the U.S. Conference of Mayors passed three resolutions taking aim at military spending and escalating nuclear tensions.
The U.S. Conference of Mayors is "the official non-partisan organization of cities with populations of 30,000 or more. The organization was founded during the Great Depression and held its 85th annual meeting in Miami Beach from June 23 to June 26.
Resolution 59 cites Donald Trump's budget as allocating "$54 billion from human and environmental spending at home and abroad to military spending, bringing military spending to well over 60 percent of federal discretionary spending."
"Be it resolved," reads the document, "that The United States Conference of Mayors urges the United States Congress to move our tax dollars in exactly the opposite direction proposed by the President, from militarism to human and environmental needs."
Building on that, the following resolution urges each city to "to promptly hold public hearings that examine what each of city's departments need to carry out the goals of the department and the work it is assigned and what they could accomplish if funds were available that now go to the military."
Medea Benjamin of CODEPINK was "very excited" about the resolution, saying "[Mayors] from major metropoles… to rural townships understand that the resources being sucked up by the Pentagon to wage endless wars overseas should be used to address our crumbling infrastructure, the climate crisis and poverty at home and abroad.
"Congress and the Trump administration should listen to these mayors, as they reflect the needs and hopes of their constituents, not the greed of corporate donors."
A third resolution, resolution 79, calls on the U.S. Government "to do everything in its power to lower nuclear tensions through intense diplomatic efforts with Russia, China, North Korea and other nuclear-armed states" and "welcomes the historic nuclear disarmament negotiations underway at the United Nations," despite the United State's lack of participation. Sponsors of this resolution included the mayors of Des Moines, Little Rock and West Palm Beach.
It further resolved to encourage all U.S. mayors to join Mayors for Peace and to establish sister city relationships with cities in other nuclear-armed nations. Mayors for Peace was started in Japan and currently counts 6,500 cities in 161 countries as their members. Their 2020 Vision Campaign is striving for a nuclear weapons-free world by 2020.
Henry Lowendorf of the U.S. Peace Council said, "The Peace Council applauds the resolve of major city mayors to dramatically cut the U.S. military budget," adding "The mayors understand how pouring the wealth of our great country into building war machines and waging wars across the globe does not make us more secure."