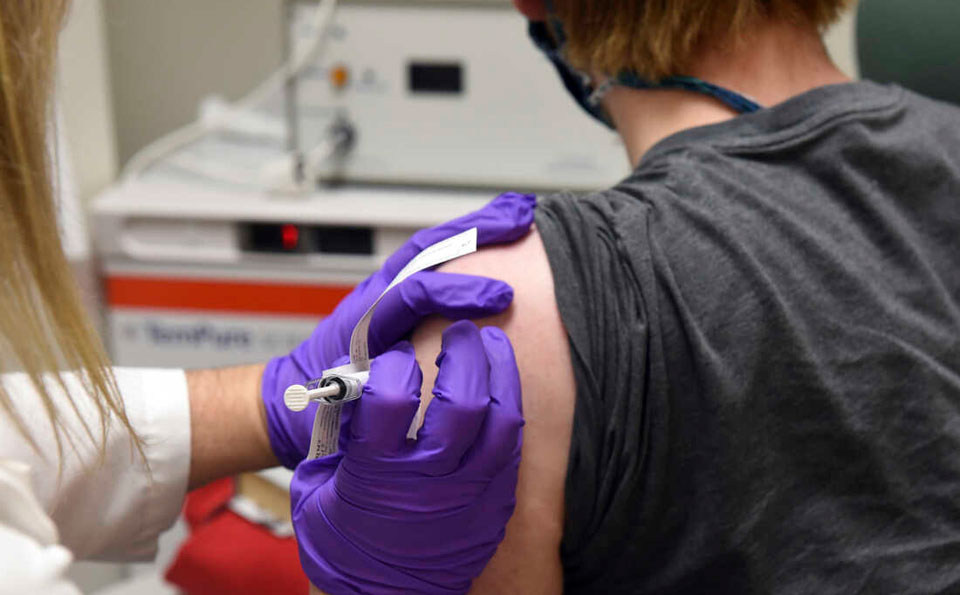 WASHINGTON—A federal appeals court ban has forced the Occupational Safety and Health Administration to suspend its mandate, known as an Emergency Temporary Standard, that businesses develop and implement plans to protect workers against the rampant coronavirus. Such plans require masking, vaccinations and frequent testing for the unvaccinated.
The ETS stays on the books for public comment through Dec. 6, but actual OSHA enforcement of it lasted a week before the ban hit on Nov. 12. Upholding a lower federal court decision, the three-judge panel of Fifth U.S. Circuit Court of Appeals in New Orleans ordered enforcement to halt "until further court order." The appellate court set no date for a hearing.
The judges, two of them named by then-GOP Oval Office occupant Donald Trump, a coronavirus pandemic denier, said the ban should be permanent. Other federal appeals courts may let OSHA go ahead. The whole mess is likely to wind up at the U.S. Supreme Court.
"While OSHA remains confident in its authority to protect workers in emergencies, OSHA has suspended activities related to the implementation and enforcement of the ETS pending future developments in the litigation," it explained in a brief notice on its website.
The court's ruling is "shameful and grossly irresponsible," retorted Marcy Goldstein-Gelb, co-executive director of the labor-backed National Council for Occupational Safety and Health.
OSHA's laconic statement hides the politically partisan fight over the modern-day plague.
Since federal declaration of the pandemic, on March 13, 2020, the coronavirus, officially Covid-19, has killed 766,692 people so far. That equals killing everyone in Seattle and 13,000 people in its suburbs. And 47.37 million have tested positive.
Unions strongly pushed both the GOP Trump regime and the Democratic Biden administration to issue and enforce the ETS. The AFL-CIO even went to the U.S. Court of Appeals in D.C. for it last year. It lost to Trump's minions, and his Labor Department political appointees chortled in glee when announcing that ruling.
The GOP governors of Texas, Mississippi, South Carolina and Utah, led the right-wing cabal that won the current court order against OSHA. Joining them were the radical right so-called American Family Association, a mob of supposed small businesses–all with similar names–and the "Word of God Fellowship" and its TV network.
The prime mover was Texas radical right GOP Gov. Greg Abbott. He, like Trump, publicly disdains the virus's impact. Over objections of Texas teachers' unions, Abbott's also banned anti-viral masks from schools. The court's anti-mandate order not only lets businesses tell workers not to wear masks but also bans anti-viral vaccinations.
OSHA's mandate poses "grave statutory and constitutional issues," the judges declared.
"The Fifth Circuit…is wrong on the facts, wrong on the law, and absolutely wrong when it comes to protecting workers' lives. While we believe this standard can be improved, there is no sound legal reason–none–to block it from taking effect at a time when Covid-19 is still a deadly threat in America's workplaces," Goldstein-Gelb retorted.
"It's shameful and outrageous to see anyone put politics ahead of public health. The judges who wrote this decision have probably been able to work safely from home throughout this pandemic. They should go right now to a poultry plant, a nursing home, a warehouse or another workplace where Covid-19 is still spreading, to see the real-life impact of their grossly irresponsible ruling."
But the judges sided with the right-wingers and the business class. OSHA, they said, "imposes a financial burden" on the businesses "by deputizing their participation" in its "regulatory scheme, exposes them to severe financial risk if they refuse or fail to comply, and threatens to decimate their workforces (and business prospects) by forcing unwilling employees to take their shots, take their tests, or hit the road." OSHA's emergency testing standard applied to firms with at least 100 workers.