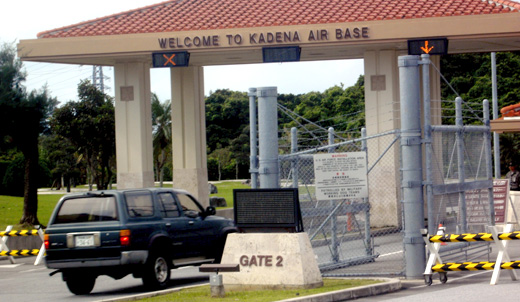 A report this month reveals that the U.S. Air Force has covered up massive PCB contamination at its Kadena Air Base in Okinawa, Japan, since the late 1980s. The contamination far exceeded safety levels.
U.S. military officials did not report the contamination to Japanese authorities, and did nothing to alleviate the contamination.
Revelation of the PCB cover-up follows a furor among both U.S. service members and Okinawans over of the unearthing of 83 barrels containing dioxins and other toxic chemicals, including barrels labeled Dow Chemical, the manufacturer of Agent Orange, on land formerly part of the Kadena base that is now the Okinawa City soccer field. And the two issues come on top of already widespread Japanese opposition to the heavy U.S. military presence on Okinawa.
PCBs, polychlorinated biphenyls, are chemical mixtures that were commonly used in electrical equipment, oil, insulation and other products before being banned by the U.S. Environmental Protection Administration in 1979 because of their toxicity. According to the EPA, "PCBs have been demonstrated to cause cancer, as well as a variety of other adverse health effects on the immune system, reproductive system, nervous system, and endocrine system." PCBs in the environment do not go away – they continue to pose health risks for decades, "cycling between air, water, and soil," the EPA says. They can spread over long distances, and can be absorbed into food crops and by small animals and fish.
Soil tests at the contaminated site showed PCB concentrations of 2,290 parts per million (ppm). That is far above the peak level of 750 ppm found at some of the most contaminated toxic Superfund cleanup sites in the U.S.
According to its own documents, the Air Force did not report the contamination at the time because of concerns that it might damage election chances of politicians who supported the U.S. military presence on Okinawa, in upcoming prefectural assembly elections in 1988.
The documents were recently leaked to Japan Times reporter Jon Mitchell, who has extensively covered toxic pollution at U.S. bases in Okinawa.
An internal Air Force action plan dated Dec. 1, 1987 expressed fear that, if the story got out, conservative politicians in Okinawa would feel compelled "at least in appearance, to put pressure on USFJ [U.S. Forces Japan] commanders and demand answers to tough questions about the incident."
Noting that "The potential for soil contamination at sites on other USFJ installations on Okinawa exists," the plan also expressed concern that U.S. and Japanese officials would be "pressured to test soil samples from high-risk sites … at all USFJ installations."
But the action plan's author, First Lt. Bob Mccarty, a public affairs officer, concluded that transparency would be the best policy for the U.S. He recommended that U.S. officials brief the Okinawa provincial governor and mayors in the affected areas about the contamination.
An accompanying cover memo from McCarty's superior, Lt. Col. Robert Winkelmann, says, "In order to avoid embarrassment and accusations of a 'cover up,' it is critical that we rapidly forward this information to Japanese government officials and try to minimize the 'damage' which will inevitably result."
These recommendations apparently were ignored.
Dr. Masami Kawamura, director of environment policy and justice at the Citizens Network for Biodiversity in Okinawa, said the PCB contamination was actually first revealed by a Japanese nongovernmental organization in 1992. In an email response to an inquiry from this reporter, Dr. Kawamura said she was "overwhelmed" by the extent of the PCB contamination. She said she felt "strong resentment" toward the U.S. (and the Japanese government) for covering up this "significant information for our health, safety and environment," for "their political reasons."
Okinawans have had long-standing concerns about contamination stemming from U.S. military bases.
A few examples:
In the 1990s, in Onna, a village in central Okinawa, "high levels of mercury, cadmium and PCBs have hampered plans to redevelop former U.S. military land" that was returned Japan in 1995.
In 2008, in Yomitan village, "levels of arsenic 120 times over the legal limit were found on former U.S.-controlled land."
In 2013, traces of PCBs nearly nine times higher than normal were discovered in wild mongoose tested near the U.S. Futenma Air Station and Makiminato Service Area (Camp Kinser).
And the town of Chatan, which borders the Kadena Air Base, "has recently been forced to postpone plans to widen roads onto former (U.S.) military land due to the discovery of dangerous levels of lead."
The report of the 25-year-long PCB contamination cover-up is likely to "increase Okinawan people's concerns" over base contamination and their right to be informed, Dr. Kawamura said.
"To get the truth," Okinawa City has been overseeing the Japanese government's investigation and cross-checking test findings, she said. "We should hold the governments of Japan and the U.S. accountable and insist on more transparency."
They should acknowledge their responsibility in the PCB contamination, Dr. Kawamura said, even "though more than 25 years has passed" since the contamination was first discovered.
Photo: Entrance to the U.S. Kadena Air Base, Okinawa, Japan. Alan Berning CC