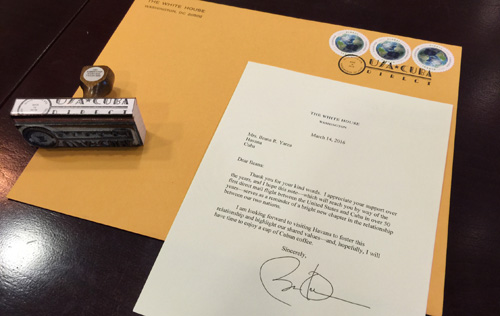 News of improved Cuban-American relations has been hitting the fast lane recently, benefiting citizens of both nations. The good news continued on March 16th as mail service resumed between the United States and Cuba. There has been no direct mail service to and from Cuba for nearly five decades. The restoration of this service will once again allow direct shipments between the two countries. This includes personal correspondence and parcels. The state-owned Cuban postal service, Correos de Cuba, announced on their website that the inaugural flight from Miami arrived at Jose Marti International Airport shortly after 10 a.m. on Wednesday morning, March 16th.
The initial postal shipment from the United States was received at the terminal in Havana by Cuban authorities from the Ministry of Foreign Affairs, the Civil Aeronautics Institute, and General Customs of the Republic of Cuba. Carlos Rodriguez of the United States Postal Inspection Service delivered a letter, formally re-initiating the direct link between the nations, to Carlos Asencio Valerino, president of Correos de Cuba. "We're making history," Mr. Rodriguez stated at the ceremonial event. Zoraya Bravo Fuentes, vice president of Correos de Cuba, announced that beginning March 25th three weekly flights would leave Miami for Havana on Mondays, Wednesdays and Fridays. IBC Airways will operate the flights. This initial service begins as a pilot program. The post offices of both nations are now accepting mail to be sent on this route.
Since January 1968, direct service was suspended by the Cuban government when a bomb exploded at the Ministry of Communications in Havana. According to Cuban reports, workers were unloading postal packages arriving from the United States when an explosion occurred from a suitcase marked 'Parcel Post from New York, U.S.A'. Numerous workers were injured, and glass doors and windows were damaged at the ministry. The source of this attack was determined to originate from anti-Revolutionary factions. This incident began a 48-year stoppage of direct mail service between Cuba and the United States.
The movement of mail during this time span has involved third countries and created numerous delays of correspondence. An agreement was signed on December 10, 2015, to resume direct service between the nations. Fuentes also announced the resumption of service between the two countries will shorten travel times, establish regular delivery, and strengthen security measures since the agreement between the two nations prioritizes this issue.
Original negotiations to reinstate service began in 2009, and took over six years to arrive at a signed agreement. A stalemate of four years occurred, and talks resumed in 2013. The news release on the official website of Correos de Cuba by Jorge Alonso Leganoa of the Cuban News Agency (ACN) states that after coordinating technical, operational and safety implementation details, the inaugural flight restores the direct exchange of mail between the two nations, leaving behind decades of mistrust and manifesting the will to move in a different relationship.
The resumption of service is one of the first tangible results after restoration of diplomatic relations between Havana and Washington last year and will benefit citizens on both sides of the Straits of Florida.
A very special letter was on board the initial mail flight to Havana. President Obama sent a reply letter to 76-year-old Cuban citizen who wrote to Mr. Obama on February 18. In her correspondence, Yarza mentioned she is eager to meet the American president and asked him to have a strong cup of Cuban coffee with her sometime. Yarza says she began writing Mr. Obama during his first presidential campaign, and was elated to receive a reply from the president delivered on Thursday, March 17. Ileana Yarza's letter and President Obama's reply can be viewed on the official White House website. According to the White House, employees at the United States Postal Service shared in a moment of excitement as they prepared to send the letter on its way. "I've worked for the Postal Service for 27 years, and this has been my goal for 26 years," one employee shared. "So this is a pretty big day for me."
Thanks to President Obama's initiative, the Embassy of the United States of America reopened in Havana, Cuba on July 20, 2015. Mr. Obama will be the first U.S. president to visit the island nation since Calvin Coolidge in 1928. These are certainly historic times for the people of Cuba, and needless to say, Americans are also feeling the excitement. The resumption of a direct mail link can only further improved relations and stands as a proud moment for Correos de Cuba and the United States Postal Service.
Photo: WhiteHouse.gov