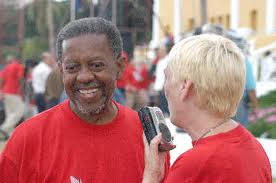 A few days and one month after his 80th birthday, Pastors for Peace executive director, the Rev. Lucius Walker Jr., died today, Sept. 7.
In an e-mail announcement, the Interreligious Foundation for Community Organizing, IFCO/Pastors for Peace, made a brief statement.
"It is with immeasurable sadness that we write to let you know of the passing of our beloved, heroic, prophetic leader the Rev. Lucius Walker Jr. this morning. We will write with more information as soon as arrangements are made. Please keep his family and his IFCO family in your prayers."
Walker was born Aug. 3, 1930, the group said.
Walker helped to found the US/Cuba Friendshipment Caravan Campaign to actively and nonviolently challenge the United States blockade of Cuba. Starting in November 1992, Walker led more than 19 caravans bringing thousands of Americans and thousands of tons of aid, including computers, medicines, bicycles and Bibles, to the island nation.
In June, Walker traveled to Texas to speak about the struggles for peace, justice and international solidarity.
For more articles on Walker and his work, click here. A fuller obituary will be forthcoming.
Photo: Radio Havana Cuba's Bernie Dwyer, back to camera, interviews the Rev. Lucius Walker of Pastors for Peace. (Walter Lippmann)