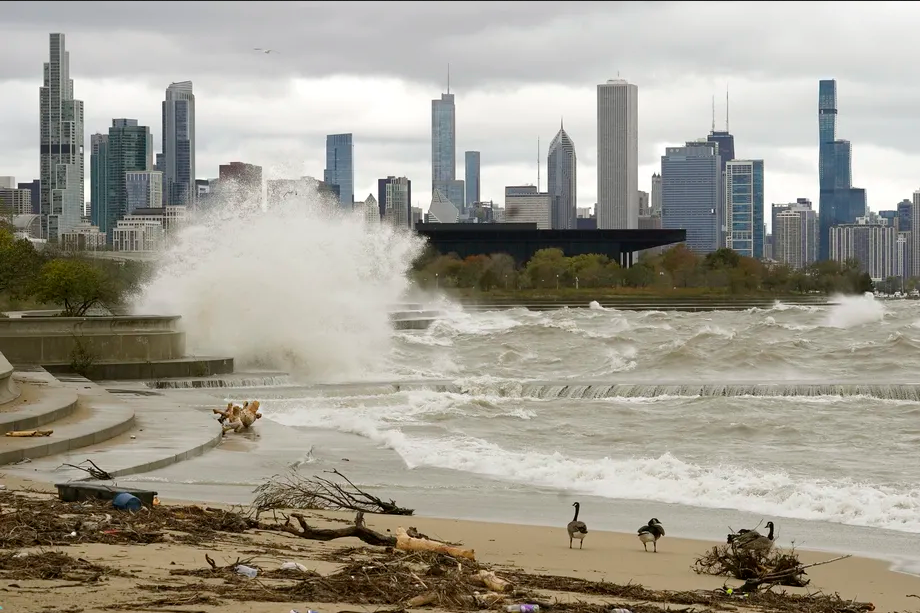 CHICAGO—The Chicago-based union which represents 1,000 U.S. Environmental Protection Agency Midwestern regional workers doesn't want President Joe Biden to wait for a dithering Congress to join in the attack on oil, a key source of carbon emissions. It wants him to ban U.S. crude oil exports and issue a moratorium on oil and gas pipeline permits, effective now.
At least that's what Local 704 told Biden EPA Administrator Michael Regan in a letter last week. It said Biden should declare "a climate emergency and take major unprecedented actions" against carbon and other greenhouse gases which cause global warming. Besides bans, Biden should "commit to a carbon-free (electric) power system by 2035."
"We're facing a climate emergency…Further inaction on climate could spell the end of a habitable world for millions," the local tweeted. "@POTUS & @EPA should enact policies that provide recovery to communities hardest hit by the #ClimateEmergency."
The EPA workers' letter, first reported by the Chicago Sun-Times, comes at a key time in the increasingly polarized domestic war over global warming, and as Biden and other world leaders addressed the issue in a global summit in Glasgow, Scotland.
Congress is tangled up over Biden's agenda, including $550 billion over 10 years, mostly in tax credits, to push power plants and other industries to shift away from carbon-based fuels—coal, gas, oil—to renewable energy sources.
The tax credits are part of his Build Back Better plan, officially a "reconciliation bill," dealing with taxes and spending allocations. All 50 Senate Republicans oppose it and "moderate" Sens. Joe Manchin, D-W. Va., and Kyrsten Sinema, D-Ariz., are holding it hostage for their votes. The other 46 Democrats and both independents favor the BBB legislation.
Manchin, along with the GOP, is a heavy recipient of campaign cash from the corporate class, particularly energy interests. He flatly opposes cutting greenhouse gas emissions, making the same argument coal companies and the Mine Workers do: They cost jobs. Sinema, a recipient of campaign money from banking interests, opposes Biden's higher corporate taxes in the BBB bill.
As if Congress wasn't enough of a roadblock, another now looms on next year's horizon: The Supreme Court. It agreed on Nov. 1 to hear four cases, consolidated together, challenging EPA's authority to regulate greenhouse gas emissions—the whole point of Biden's plan in the first place. And the lead case is from coal-heavy West Virginia. No date was set for oral argument, but it will be in 2022.
Biden urged to move on his own
Without even knowing about what the court was going to do, but with Biden's pro-environment pledges and executive orders on one side and the quagmire Congress on the other, the AFGE local's letter urged Biden to go ahead on his own.
"At a time of crisis, EPA's workforce must speak out forcefully for urgent reductions in greenhouse gases and for eradicating the racial injustice that comes with the impacts of that crisis," the local's letter says. "To tackle the climate emergency, we need to protect, empower and rebuild our workforce of dedicated scientists and engineers."
That means hiring more EPA workers, including 200 more in the Chicago-based region, which covers Illinois, Indiana, Wisconsin, Michigan, Minnesota, and Ohio, the letter said. While it did not say so, approximately one-third of the agency's workers were driven out—quit—under the former anti-environment, pro-fossil fuel GOP Trump regime.
And climate change is hitting everywhere. "Extreme rain and droughts are wreaking havoc on Lake Michigan's water levels, and downstream Chicagoans are facing increased flooding as the Chicago River swells with the overflow. We must #ActOnClimate before floods get even worse! #ClimateFriday," another Local 704 tweet said.
Meanwhile, Biden is trying to convince other world leaders the U.S., the largest emitter, per person, of carbon into the atmosphere, will once again take the lead in cutting such emissions—cuts scientists have proven are absolutely necessary to prevent even more-catastrophic global warming than has already occurred.
The U.S. will cut greenhouse gas emissions "by well over a gigaton" by 2030, he told the Glasgow summit. A gigaton is 2.2 million U.S. pounds. One environmental group calculated that weight is equivalent to 44,000 fully loaded U.S. aircraft carriers, including sailors, guns, ammo, fuel, and planes.
And union workers will do it in the U.S.—and should do it worldwide, he declared.
Biden said his BBB bill and its clean power provisions "will incentivize clean energy manufacturing, building the solar panels and wind turbines that are growing energy markets of the future, which will create good-paying union jobs for American workers—something that none of us should lose sight of.
"When I talk to the American people about climate change, I tell them it's about jobs. It's about workers who will lay thousands of miles of transmission lines of clean, modern, resilient power grid. The autoworkers who will build the next generation of electric vehicles and electricians who will install a nationwide network of 500,000 vehicle stations to power them throughout my country. The engineers who will design new carbon capture systems, and the construction workers who will make them a reality.
"Will we act? Will we do what is necessary? Will we seize the enormous opportunity before us or will we condemn future generations to suffer?" Biden asked. "Climate change is already ravaging the world. It's doing it every day."