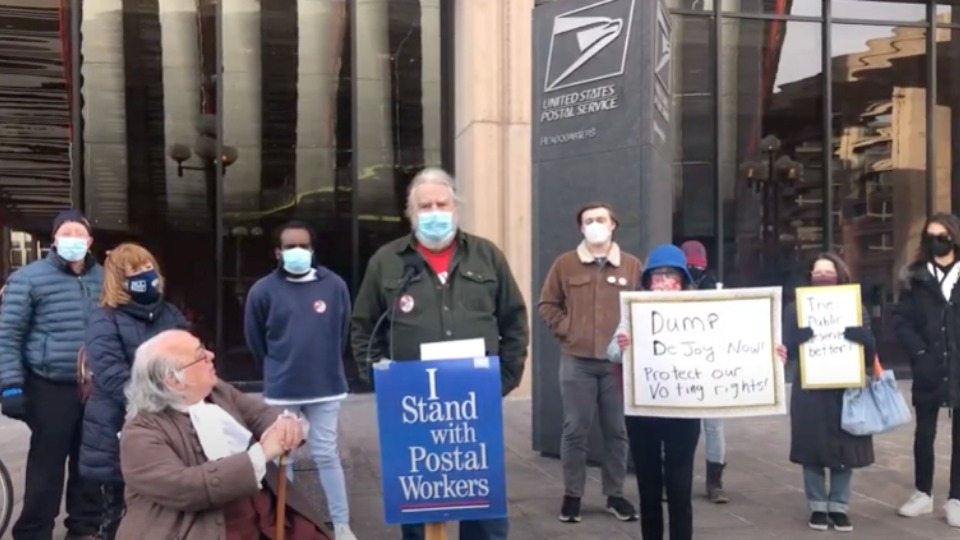 WASHINGTON—U.S. Mail Not for Sale rallied supporters in front of the U.S. Postal Service Headquarters here in response to Postmaster General Louis DeJoy's recently announced 10-Year Plan to cut transportation costs from the USPS's budget and reduce post office hours—part of a larger plan to privatize the postal service.
DeJoy was appointed to his position under the Trump administration in 2020, and his plan indicates his shared intentions to make the USPS operate like a private business rather than a public utility. This would severely slow down the postal service and render its use by millions of working-class Americans less affordable.
The rally was held Jan. 12 and attended by members of Shutdown DC, DSA for USPS, the American Postal Workers Union (APWU), and the Claudia Jones School for Political Education.
"During the 2020 presidential election, 46% of Americans voted by mail or with an absentee ballot. Slowing down the mail…compromises our entire country's ability to run free and fair elections," the RSVP message for the rally declared.
DeJoy's plan would also harm those who rely on the postal service for medicine (primarily seniors, sick, and disabled people) and union correspondence.
In the wake of decades of privatization of public services through neoliberal policy, at a time when the extreme right is consolidating its power within the GOP, and in the midst of a devastating pandemic, the erosion of capitalist democracy would make everything worse.
Dennis O'Neal, a retired New York City postal worker, spoke on behalf of the APWU: "The leadership of the [Postal] Board of Governors (PBOG) in the coronavirus crisis has been catastrophic. We have letter carriers who have been working 12-hour days, six or seven days a week for months, and it's getting worse."
Chelsea Redman, a resident of Mt. Rainier, Md., described her experience of the postal crisis: "Most of my community has not gotten mail in three weeks. We're not the only community experiencing this. The postal service is a service, not a business."
The organizers of this rally have four demands for the PBOG:
Remove corrupt Postmaster Dejoy to protect the vote.
Stop the implementation of the 10-Year Plan and restore delivery standards.
Stop the rush election for the new PBOG chair.
No privatization of the postal service.
> Watch the livestream of the rally.
> Support U.S. Mail Not for Sale.