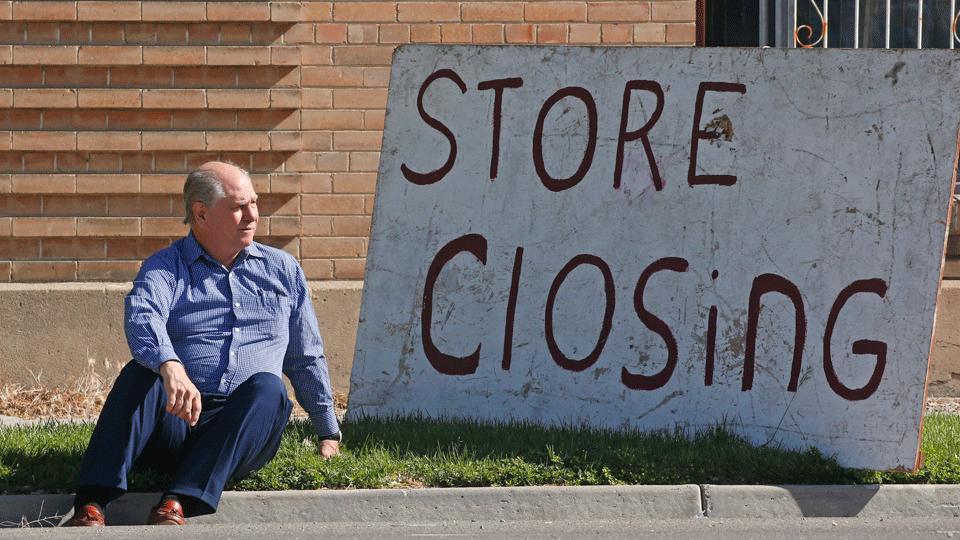 WASHINGTON—Some 2.981 million more people filed for jobless benefits in the week ending May 7, the Labor Department said Thursday, bringing total unemployment insurance claims since the coronavirus pandemic-caused shutdowns began to 36.5 million.
Progressive analysts at the Economic Policy Institute predict jobless figures will only get worse, especially for low-wage workers, women workers, and workers of color. "The May jobs number is going to be grim," EPI Policy Director Heidi Shierholz predicted.
How grim? She quoted Goldman Sachs's latest prediction, that joblessness would average 25% from April through June this year. That's one out of every four workers. Shierholz said that's worse than in any three-month period during the Great Recession a decade ago.
What she did not say was that the worst recorded U.S. jobless rate ever—which also may have understated the case—came during the Great Depression in August 1932 and topped out at 25.2%. Unemployment dragged on, averaging 24.9% for all of 1933.
"Today's weekly unemployment insurance claims numbers show things have further deteriorated—drastically—since mid-April," when the Labor Department surveyed workers and businesses for its regular monthly jobless report, said Shierholz. That report showed an official jobless rate of 14.7%, but even the Department of Labor admitted that figure was probably too low.
"An additional roughly nine million people have applied for regular UI and 2.6 million applied for" special federal jobless benefits since then. The May jobs number is going to be grim. And of course, workers aren't just losing their jobs. Our health care system ties health insurance to work, so millions of workers have likely already lost" that coverage, too.
"Many of the jobs that have been lost in this recession are low-wage service, retail sales, and office jobs. Because of things like occupational segregation, discrimination, and other labor market disparities, women and black and Hispanic workers are more concentrated in these jobs and as a result, face greater job loss," Shierholz warned.
The House plans to vote on May 15 on a Democratic-drafted $3 trillion measure which is supposed to help cope with the joblessness. Shierholz praised it, with one big exception: It has arbitrary deadlines of either the end of this fiscal year, Sept. 30, or on specific future dates, for when the aid ends. It shouldn't have them, she said. The aid should end only when data shows joblessness drops and employment rises to pre-crash levels.
She also warned lawmakers against "negotiating it" down. That's a distinct threat, given that Senate Majority Leader Mitch McConnell, R-Ky., wants to do nothing at all. "This should not be allowed to happen since the bill is the bare minimum of what is needed to address the scale of the crisis."
The Bureau of Labor Statistics said that adding in claims from the week of April 25, seven states—California (27.7%), Michigan (23.1%), Nevada (22%), Pennsylvania (21.2%), Rhode Island (20.6%), Georgia (20.2%), and Vermont (20%)—had more than one-fifth of workers unemployed. And New York, Connecticut, and Washington state were all between 18% and 18.6%. States' jobless percentages always run a week behind the national jobless figures.
While joblessness went up again, so did the number of U.S. billionaires, and their combined hoards, the Institute for Policy Studies said. "This is the tale of two pandemics. Billionaires aren't just social distancing—they are economically distancing—leaving the rest of working Americans behind," said Chuck Collins, author of IPS's recent report on billionaires and the crash.
"Billionaire wealth increased $368.8 billion," or 12.51%, since joblessness started to jump on March 18, Collins reported. And 14 more people joined the U.S. billionaires list, increasing it to 628.
Despite recent stock market drops, the ultra-rich's riches rose since May 6, IPS noted, with Tesla mogul Elon Musk leading the league, adding $3.5 billion. That gain, though IPS did not say so, came in the same weeks Musk threatened to move his auto factory out of Santa Clara County, Calif., unless officials relaxed restrictions designed to fight the coronavirus. Moving the plant would throw hundreds of more workers, many of them low-paid and/or people of color, out of jobs.