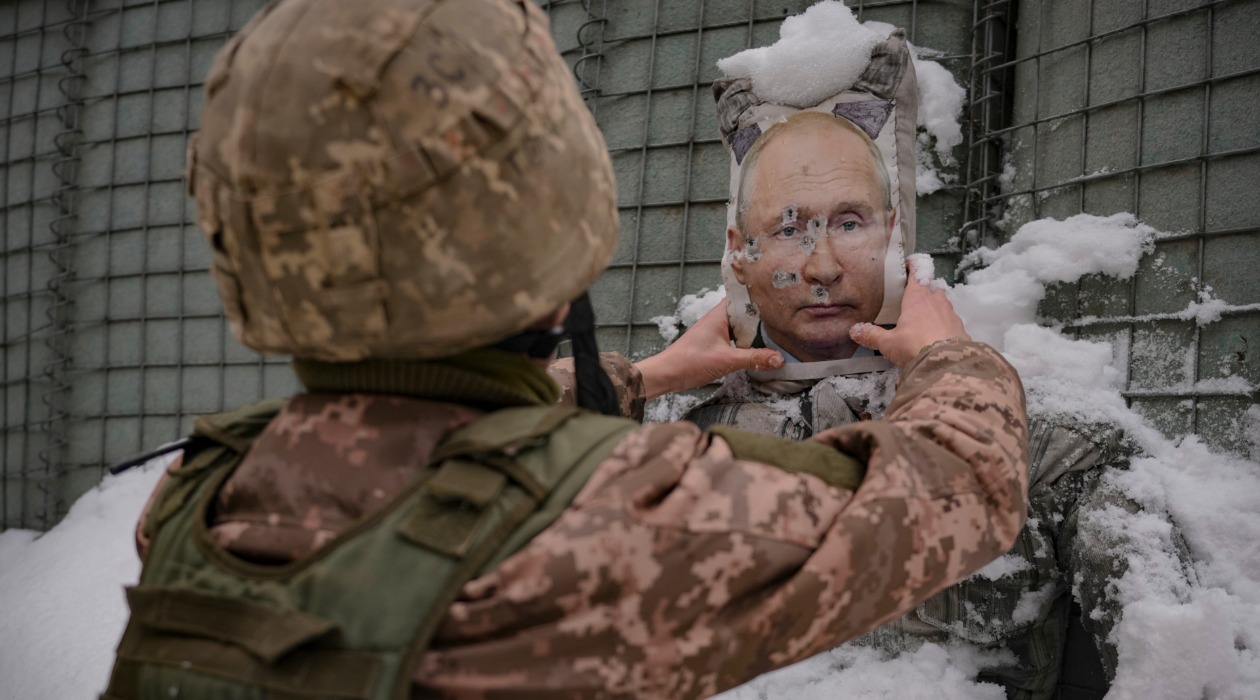 Many across Europe and here at home breathed a sigh of relief Tuesday upon reports that Russian President Vladimir Putin wanted negotiations to continue despite the U.S.' refusal to meet his country's key demand that NATO not be allowed to advance into Ukraine.
Less than 24 hours after that, however, President Joe Biden ratcheted up the war fever by announcing he was deploying 3,000 additional troops, including infantry soldiers from the U.S., to Eastern Europe.
Poland, which is right on the border with Belarus, will take in 2,000, all of which will remain under direct U.S. rather than NATO control, according to Pentagon spokesman Ned Price. They will be joining the 4,000 U.S. soldiers already stationed in that country.
The decision increases yet again the scale of troop placements the U.S. has been carrying out in Eastern Europe and along Russian borders since the end of the Cold War, placements that violate the U.S. promises made to Russia that NATO would never expand toward the east.
NATO has not only done that but has also been sending troops and weapons to countries all around the world, including places like India, Afghanistan, and other locations in central Asia, Africa, and elsewhere. The U.S. itself has 800 military bases around the planet, all stationed outside of its own territory and forming rings around Russia and China. Russia has only one overseas military base, in Syria, with no others located outside of its own territory or the territory of the former Soviet Union.
Putin on Tuesday echoed claims by international peace organizations that NATO's presence in Eastern Europe threatened world peace, but he claimed that as far as he was concerned, "dialogue would continue."
He said, however, that it was U.S. actions in the crisis that were fanning the flames of war and that the aim of the war hawks was to goad Russia into making a move which could be used as an excuse to implement harsh sanctions against his country.
The multinational fossil fuel companies want sanctions to include a ban on the Nord Stream 2 gas pipeline from Russia to Germany so that it and other European countries will be forced to purchase gas and oil from them instead of Russia. Among those companies are ones that frack the U.S. from coast to coast to extract natural gas they would like to sell to Europe. They can destroy the environment in the U.S., kill off Ukrainians and Russians, and rake in big profits all at the same time.
Officials in Russia, as well as Ukraine itself, have said that the Biden administration and western media are exaggerating the danger of a Russian invasion, although Ukraine's leadership conducted a dangerous flip-flop on this Tuesday.
After spending days saying armed hostilities were not imminent, Ukrainian President Volodymyr Zelensky signed a decree expanding the Ukrainian military by 100,000 troops—a 40% increase in size. He now says that a Russian invasion was a possibility and that if it happened there would be a European-wide war "worse than anything that has happened in the last 80 years."
It is difficult to imagine how he could compare the situation to World War II when the Nazis killed 27 million Soviet citizens, including as many as 15 million Ukrainians. Then again, there are numerous supporters of those Nazis in the Zelensky government today.
The Ukraine government is also replete with plenty of gangsters and right-wing corporatists who would like to profit from fossil fuels shipped to Europe through their territory rather than through a Russian pipeline like Nord Stream 2, which goes directly from Russia to Germany via the Baltic Sea. They have quite a bit of influence, apparently, over Zelensky who, worried about negative impacts of panic on the Ukraine economy, had been saying that there would be no invasion of his country by Russia.
Putin also said Tuesday, speaking about the war hawks in the U.S. and elsewhere, that "their most important task is to contain Russia's development." After the end of the Cold War and the fall of the Soviet Union, the Russian economy was in shambles. For more than a decade, the West was able to exercise a controlling influence over affairs in Russia—especially during the regime of former President Boris Yeltsin. Election interference was massive, as in the 1996 vote, and much of the formerly publicly-owned economy was sold off to private interests.
But during the 2000s and 2010s, a great deal of improvement took place in Russia's situation, including and especially in the standard of living of the population. The country's military has also largely been rebuilt and modernized. A rebuilt Russia that determines its own affairs and plays a prominent role in the world again clashes with U.S. and NATO hopes to continue having free reign in Eastern Europe.
"Ukraine is just an instrument of achieving this (containment) goal," Putin said.
One of the most obvious ways the U.S. can accomplish this "containment" is to coax Russia into some type of armed conflict and then strongarm European allies into going along with damaging economic sanctions against Russia. This is probably one of the main reasons why Russia does not want an actual invasion; the price to the country could be too high.
Former U.S. Ambassador to Ukraine William Taylor added his voice in support of the war hawks Wednesday morning by saying all NATO allies needed to "stay unified and in line" when it comes to standing up to Russia. He made that comment when asked by a member of the press about Germany's refusal to come out and declare that it was canceling the Nord Stream 2 pipeline. Germany and Russia have long cooperated in the area of energy sales, and Germany is in need of Russian natural gas more than ever because it has given up on the use of nuclear power to meet its energy needs. Thus the German political establishment is not unanimous on the rush to confrontation with war.
After Biden announced the additional troop deployment Wednesday, the Russian government repeated what Putin said Tuesday, namely that it was ready at any time for additional meetings between Foreign Minister Sergey Lavrov and U.S. Secretary of State Antony Blinken or between Presidents Putin and Biden.
As long as people are talking, they are not fighting, but the onus is now on Washington to rejoin the dialogue.