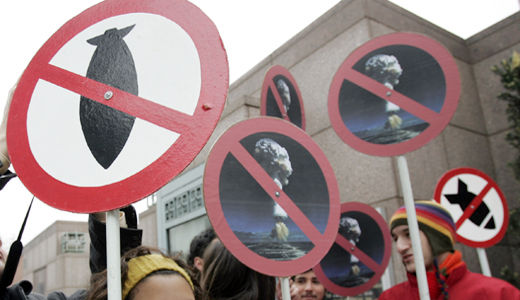 President Obama announced Friday that the U.S. and Russia, after a year of intense negotiations, have agreed to the most comprehensive arms control agreement in nearly two decades.
Obama said both nations have finalized a new strategic arms reduction treaty, a successor to the Strategic Arms Reduction Treaty, that aims to reduce the Russian and U.S. nuclear arsenals by a third.
The move is also an effort to "reset" relations between the two countries, said Obama.
Obama and Russian President Dmitry Medvedev are expected to sign the agreement in an April 8 ceremony in Prague, where Obama gave a major nonproliferation speech a year ago calling for a world without nuclear weapons.
Under the agreement, Russia and the U.S. will be limited to 1,550 nuclear warheads (from the 2,200 previously permitted) over seven years. It would also trim the number of allowable missiles and bombers capable of carrying the warheads to targets.
However both nations will remain by far the world's largest nuclear powers, with immense arsenals. Both countries possess about 95 percent of the world's nuclear weapons combined.
Yet Obama called the treaty a step in the right direction toward "the peace and security of a world without nuclear weapons." He said nuclear weapons "represent both the darkest days of the Cold War, and most troubling threats of our time."
Russian Foreign Minister Sergey Lavrov agreed saying, "Both parties see the ultimate goal in building a nuclear-free world."
John Feffer is co-director of the Foreign Policy In Focus and said overall the pact is "a relatively modest treaty in terms of nuclear reductions." But at this point a treaty of this sort could have a tremendous boost between relations of both countries, he adds.
Feffer notes some in Congress don't particularly like Russia's domestic and foreign policies and wouldn't mind maintaining a hostile relationship with them. So what the Obama administration has been able to establish is a good step forward, said Feffer.
The first thing is to get the measure through the Senate and ensure it passes by a substantial margin, he said. Then peace advocates and Obama could work together toward bigger nonproliferation goals as well as strengthening relations with Russia and making sure money is allocated for reducing arms on both sides, says Feffer.
"We're finally starting to enter a disarmament era, which is very positive," he said.
U.N. Secretary-General Ban Ki-moon said the pact was an "important milestone" noting it would "add a significant impetus" to a U.N. conference in May to review the Nuclear Nonproliferation Treaty.
Obama appealed to a strong tradition of bipartisan leadership on arms control to encourage ratification by the Senate of the new treaty. Yet given the tense partisan atmosphere in Washington these days some predict Republican support for the agreement may not come easy. Obama will need at least eight Republican votes in the Senate.
Partisanship should not hold our security hostage, and failure to ratify this treaty would have disastrous consequences for the U.S., critics note.
The President said he has met with Senators John Kerry, D-Mass., and Dick Lugar, R-Ind., to discuss bipartisan support in ratifying the measure.
Kerry, chairman of the Senate Foreign Relations Committee also called for bipartisan support.
"I know there has been a partisan breakdown in recent years, but we can renew the Senate's bipartisan tradition on arms control and approve ratification of this new treaty in 2010," Kerry said. "This is a moment for statesmanship. We can't squander this opportunity to reset both our relations with Russia and our role as the world leader on nuclear nonproliferation."
"Let's get it done," he said.
Photo: Llanquin/AP Activists hold signs against the use of nuclear weapons Aug. 6, 2009. The protest marked the 64th anniversary of the atomic bombings of Hiroshima and Nagasaki by the U.S. Santiago