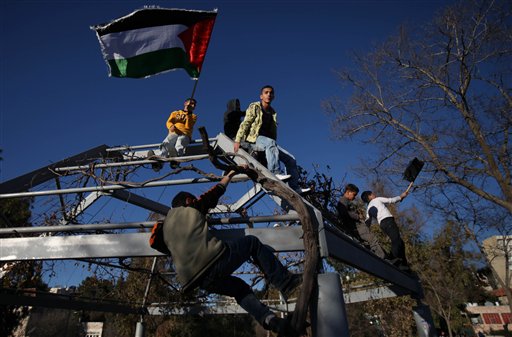 In an interview with PBS's Charlie Rose, Jan. 6, President Obama's special Middle East envoy George Mitchell confirmed reports that the U.S. is stepping up efforts to get comprehensive Israeli-Palestinian negotiations going as soon as possible. The renewed U.S. efforts include setting a two-year deadline for reaching an agreement resolving all thorny final status issues – borders, settlements, status of Jerusalem, and refugees. Mitchell said he would travel to the region this month. He is now in Europe talking with leaders there.
The interview drew a flurry of attention over the issue of what leverage the U.S. might apply to Israel to advance negotiations. Some in Israel denounced Mitchell for saying that "under American law, the United States can withhold support on loan guarantees to Israel."
ABC News notes that "in recent years the U.S. has provided Israel with up to $9 billion of annual loan guarantees. The deal provides Israel with competitive interest rates and guarantees U.S. payment should it default on the loan." U.S. law allows a reduction in the loan amount equivalent to the sum Israel spends on construction in the occupied Palestinian territories. President George H.W. Bush (Bush I) used this threat to get Israel to participate in the 1991 Madrid talks.
The State Department said the U.S. was not threatening such a move at this time. Assistant Secretary of State Phillip Crowley said, "It's one thing to say that's a tool in the toolbox, and another to say it's one we are getting ready to use. We are not."
Last November Israeli Prime Minister Benjamin Netanyahu announced a 10-month moratorium on settlement construction in the West Bank, but it specifically excluded East Jerusalem and also excluded 3,500 units already under construction in the West Bank. Israeli housing expansion in East Jerusalem is particularly inflammatory, as a core demand of Palestinians of every political viewpoint is that East Jerusalem be the capital of their new state. This is included in all generally accepted peace frameworks such as the Arab Peace Initiative.
Israel recently confirmed that it plans to build almost 700 new homes in what it considers to be Jewish sectors of occupied East Jerusalem.
Both Palestinian and U.S. officials strongly objected to the Israeli move. Chief Palestinian negotiator Saeb Erekat said it "further sabotaged international efforts to resume permanent status negotiations." White House Press Secretary Robert Gibbs reiterated the U.S. position that Jerusalem is a permanent status issue that must be resolved through negotiations and said neither party should take actions that unilaterally pre-empt negotiations.
Palestinians leader have said they will not sit down to negotiate with Israel unless there is a complete settlement freeze.
Prominent Palestinian journalist Daoud Kuttab singles out Jerusalem as the central Israeli-Palestinian issue. "If there is one issue that has permeated and defeated all efforts to achieve peace, it is Jerusalem," he wrote at bitterlemons.org. Likewise, Mitchell said, "The single most difficult issue is Jerusalem."
Citing the city's emotional significance for the three great religions – Judaism, Christianity and Islam – Mitchell noted that Israel had annexed Jerusalem in 1980. Although no other country, including the U.S., recognizes that action, the Netanyahu government is proceeding on the basis of that annexation, arguing that building housing in any part of Jerusalem is an internal affair.
It was the dispute over Jerusalem that was the reason for the failure of the second Camp David talks in 2000, in the final months of the Clinton administration, Daoud wrote.
"As this first decade of the twenty-first century comes to an end," he noted, "the eastern part of the city has been surrounded by an eight-meter high concrete wall. The number of demolitions of Palestinian homes in the city has increased sharply. Over 4,000 Palestinian Jerusalemites have been denied their birthright to reside in the holy city."
Meanwhile, as Israel's latest East Jerusalem construction announcement underscores, the Netanyahu government is attempting to transform East Jerusalem into a Jewish-majority area, moving Jewish residents in and Palestinians out.
"The settlement freeze issue, which has become the major impediment to the return to peace talks, is now stuck on the Israeli refusal to accept its application in occupied East Jerusalem," Daoud said.
Pressed by Rose on whether a settlement freeze, or even peace agreement, is attainable, Mitchell said neither the Palestinian nor the Israeli side "can attain its objectives by denying the other its objective." Israel has a state and wants security, while Palestinians don't have a state and want one, he said. "Palestinians are not going to have a state unless the residents of Israel have a reasonable sense of sustained security. Israelis, on the other hand, are not going to get that reasonable sense of sustained security until there is a Palestinian state."
"Rather than being mutually exclusive," Mitchell said, these objectives "are mutually reinforcing."
Photo: Palestinian youths and activists attend a protest near a disputed house in the East Jerusalem neighborhood of Sheikh Jarrah, Jan. 8. (AP/Oded Balilty)