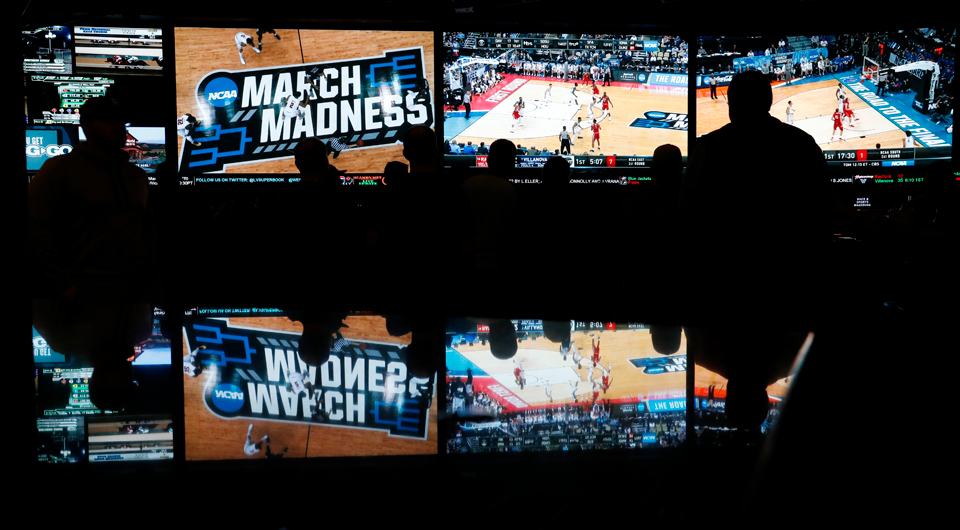 Say goodbye to the bar's seedy, smoke-filled backrooms, password-protected backdoor alleyway entrances, and that heart-stopping fear of getting tossed into Brooklyn's East River—the age of the sports bookie is over.
Yes, I'm exaggerating a bit, but there's reason for it.
The U.S. Supreme Court, in a 6-3 decision, struck down the Professional and Amateur Sports Protection Act of 1992 Monday, giving states the green light to legalize betting on sports.
The 1992 federal law barred state-authorized sports gambling with few exceptions. Nevada was the only state where individuals could wager on the results of single games.
Justice Samuel Alito, writing the majority opinion for the court, said: "The legalization of sports gambling requires an important policy choice, but the choice is not ours to make. Congress can regulate sports gambling directly, but if it elects not to do so, each state is free to act on its own. Our job is to interpret the law Congress has enacted and decide whether it is consistent with the Constitution. PASPA is not."
Justice Alito portrayed PASPA, the prohibition of state authorization of sports gambling, as a clear violation of the anti-commandeering doctrine—barring the federal government from taking control of state governments from imposing targeted, affirmative, or coercive duties on state legislative bodies.
"That provision unequivocally dictates what a state legislature may and may not do. And this is true under either our interpretation or that advocated by respondents and the United States. In either event, state legislatures are put under the direct control of Congress," wrote Justice Alito. "It is as if federal officers were installed in state legislative chambers and were armed with the authority to stop legislators from voting on any offending proposals. A more direct affront to state sovereignty is not easy to imagine"
Justice Ruth Bader Ginsburg writing the dissenting opinion said that when portions of a law violate the Constitution, the court "ordinarily engages in a salvage rather than a demolition operation," preserving what it can. She said that instead of using a "scalpel to trim the statute," her colleagues used "an axe" to cut the remainder down.
Justices Sonia Sotomayor and Stephen Breyer joined in the dissent.
Justice Bryer did agree with the majority of the court that part of PASPA should have been overturned, but not the entire law.
The high court's decision comes from a New Jersey case filed by then-Gov. Chris Christie, who hoped to legalize gambling on sports at casinos and racetracks in the state.
The years-long battle pitted state officials against the professional leagues, player's unions, the NCAA, and federal government. In court, they all argued that such a gambling expansion would damage the integrity of their games.
Over time, league leaders of all but the NFL have shown some minimal openness to the idea legalized sports gambling.
Last month, the PGA Tour commissioner said: "You have keep in mind that betting is happening right now, with illegal black markets and offshore betting, and we don't have any exposure to what is happening… If it's legalized and regulated, you get to a point where you can better ensure the integrity of your competitions. You can provide adequate protection for consumers, which doesn't exist today. There are commercial opportunities for us, which is one of the things we're here to do, which is to create and maximize playing and financial opportunities for our players."
Tony Clark, Major League Baseball Players Association (MLBPA) executive director, released a statement this morning in response to the court's decision:
"The Court's decision is monumental, with far-reaching implications for baseball players and the game we love. From complex intellectual property questions to the most basic issues of player safety, the realities of widespread sports betting must be addressed urgently and thoughtfully to avoid putting our sport's integrity at risk as states proceed with legalization."
It is estimated that within five years, 32 states will likely offer sports betting.
Chris Christie said that if justices ruled in New Jersey's favor, bets would be taken "within two weeks" of the decision, after oral arguments ended in December.
Currently, the American Gaming Association estimates that about $150 billion is wagered illegally by sports fans annually.
More pressing, in my opinion, is the affect it will have on the players unions when their collective bargaining agreements expire, and they go back to the negotiation table.
We have already seen Congress outlaw minimum wage provisions for minor league ball players, and one can only imagine how emboldened the professional leagues will feel after they get a generous cut from legalized betting.
Again, though there is a chance that legalization could provide players with a slight financial benefit, the real question would then become how to determine that increase under the current collective bargaining agreements between the players associations and the leagues.
People's World's sports desk will continue to follow this issue as it develops, including any direct-action taken by the players unions—nothing wrong with a good strike now and again.