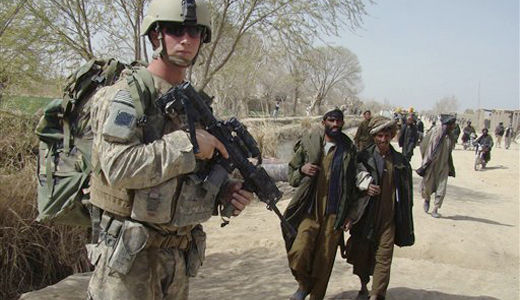 The two-week old assault on Marjah, Afghanistan, is laying the basis for the next one, Kandahar. Marjah was the largest offensive by U.S. troops in Afghanistan since the 2001 invasion. Both Marjah and Kandahar are said to be Taliban strongholds.
U.S., NATO and Afghan troops are supposed to clear out Taliban fighters and set up local governments to run schools and clinics and provide for other basic needs. The military is dependent on local populations to provide intelligence and to go along with the Kabul and Washington-run program. However, the Karzai government is widely seen as corrupt, and the local populations are angered at civilian deaths and dragnet arrests of Afghan men by U.S. and other foreign troops.
Even if schools and clinics open in Marjah, the situation there is still dangerous and, according to New York Times Kabul bureau chief Alissa Rubin, it's unrealistic to expect a parent to send a child to school under those conditions.
In a recent question and answer session with readers, Rubin also questioned the effectiveness of the military-then-development strategy.
"The idea behind reintegrating the Taliban into civilian life is to offer them jobs. I am not yet sure what kinds of jobs those will be. Most people in the area are farmers, and at the moment many are fearful that their only crop, opium poppy, will be destroyed. According to local farmers, about 60 percent of the cultivation in Marja District is opium."
And Rubin questioned the legitimacy of what's being referred to as the "government in a box" – a widely used term to describe the U.S. efforts to quickly set up local governments.
"Since in order for a government to be credible it has to be chosen by the people, it remains to be seen exactly how it will work and whether power will be shifted to district elders who have deeper roots there than people from outside the area," she said.
In a report about U.S., Afghan and NATO forces moving on to Kandahar, Al Jazeera showed a meeting between tribal leaders and NATO (Canadian) and Afghan forces where worries about drone attacks and arrests dominated. One Kandahar tribal elder, Jan Muhammed, is shown saying, "We don't want your schools and clinics. We want international forces to stop drone attacks and arrests."
Two possible paths have emerged to potentially hasten an end to the conflict.
One, regional powers China, Russia, Kazakhstan, Kyrgyzstan, Tajikistan and Uzbekistan, along with India, Iran, Pakistan and Mongolia, under the umbrella of the Shanghai Cooperation Organization (seen by many as an emerging counterweight to NATO) are taking a bigger role in efforts to bring the Afghanistan conflict to an end.
Second, there are antiwar forces in NATO countries, including the U.S. Many governments are facing strong public opposition to their military role in Afghanistan. The Dutch government recently collapsed over the issue, and withdrawal plans are in the making. Canada plans to withdraw its troops. The present German government is facing growing unpopularity over the Afghan war, along with the economic crisis.
And in the U.S., which just marked the death of its 1,000th soldier in the Afghan conflict, cities, counties and states are facing unprecedented budget crises. Mayor Richard Daley of Chicago recently lashed out at the Afghan war and occupation. "Just think of all the money that we spend on wars to save the world," he said. "Today we can't save America. Why do we always have to go to war, continually, why can't we rebuild America?"
The U.S. government has now spent $961 billion on the Iraq and Afghanistan military occupations, including $253 billion on Afghanistan.
Photo: A U.S. soldier stands guard in Marjah, Helmand province south of Kabul, Afghanistan. Many critics of the surge say it could alienate the Afghan people. Abdul Khaleq/AP