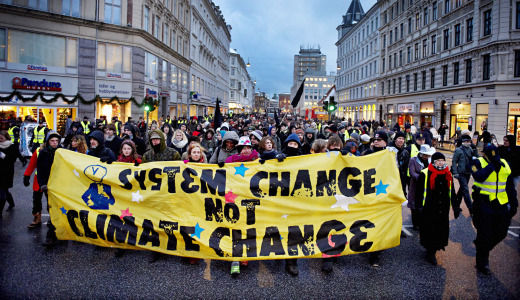 Forty union members from the United States made the trip to the climate change talks in Copenhagen this month. Their aim was to make sure world leaders heard workers' view about what should be done to save the planet.
Carl Wood, regulatory director of the Utility Workers Union of America and a Democratic candidate for state assembly in Southern California, was among them. Wood expressed frustration about the lack of progress on a firm binding agreement. But, he said, the world labor movement succeeded in making it clear to the world's leaders that "workers, their families and their unions are watching."
"We made it clear that we want the leaders of the world to commit to an agreement that results in a world we can live in, and good jobs that go along with creating that better world," Wood said.
Sharan Burrows, president of the International Trade Union Confederation and leader of the Australian Confederation of Trade Unions, said the labor movement is now on record "in support of the highest ambitions for binding targets in developing nations. We urge nations to accept transparency, to ensure trust through a global treaty that is completed in the first half of 2010."
Burrows called upon wealthy nations to lay the foundations for that trust by providing the financing and technology to kick-start low-carbon development, investment in climate resilience, and decent jobs toward those ends. She said, "The investments will transform our economies and create millions of new jobs as we rebuild after the devastation of the global financial crisis."
Furthering this theme, Wood said, "Those who say we have too much work restoring the economy to be bothered with dealing with the environment have it exactly upside down. Climate change is actually an opportunity to rebuild the economy."
Wood noted that 40 percent of the energy use in America is heating and cooling using electricity, natural gas and fuel oil, and it also involves transportation which uses petroleum. "These two areas are highly susceptible to efficiency, for example by weatherization or green jobs in building mass transit. The labor movement understands this and intends to build for this future," he said.
Mike Langford, president of the Utility Workers Union, told reporters at a press conference, "Renewable energy, and the green jobs that come along with it, are key to our economic growth."
"In order to lead the world in renewable energy technologies, and create good jobs that support our families and communities, we must look at ways to rebuild and revitalize American manufacturing," he said.
"We can't keep doing what we're doing."
Photo: Demonstration on the last day of the UN climate summit in Copenhagen, Dec. 18. (AP/Polfoto, Jens Dige)