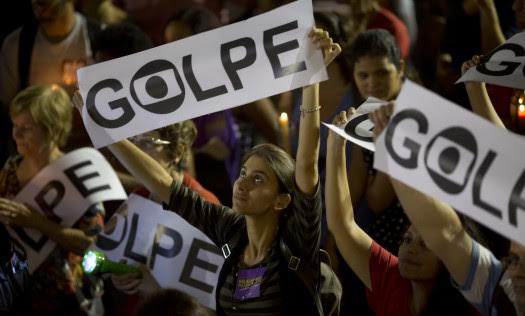 On the eve of the Summer Olympics in Rio de Janeiro, Brazil, four big unions, the AFL-CIO and 40 U.S. House Democrats are urging the U.S. government to cool relations with the new government there after what they called a "coup" against then-President Dilma Rousseff earlier this year.
The letter, crafted by Rep. John Conyers, D-Mich., was co-signed by Reps. Keith Ellison, DFL-Minn., Jan Schakowsky, D-ill, and others as well as the labor federation, the Steelworkers, the Communications Workers, the Teachers, the Auto Workers and the Coalition of Black Trade Unionists. There has been no State Department response yet and its spokespeople routinely duck the issue in press conferences.
Rousseff's foes, mostly on the right wing, suspended her from office May 12 after an impeachment vote in the Brazilian House earlier this year, pending another vote in the Senate.
They said Rousseff allegedly illegally shifted funds to cover a budget shortfall.
Rousseff was in her second term and was the second consecutive elected president from the strongly pro-union Brazilian Workers Party. But her popularity fell as the economy slid into recession. Her backers, in the letter, question the motives of those who dumped her.
"What we're seeing in Brazil is a power-grab by politicians who weren't able to win at the ballot box," Conyers said upon the release of the letter. "Our government should speak out against the anti-democratic travesty taking place in Brazil."
"The interim authorities are rushing to replace the president's progressive administration with austerity and privatization, before the Senate even indicts her," Ellison added. "This is a serious threat to the democratic process in Brazil, and our administration should not support it."
Rousseff's vice president, Michael Temer, from a right-wing party, took over, announced austerity policies and cuts in social programs and fired Rousseff's representative cabinet in favor of a cabinet full of white men. Brazilian society is made up of descendants of the original Native Brazilians, Portuguese colonizers, Black African slaves, and recent European, Arab, and Japanese immigration.
That new cabinet also is pushing anti-worker public pension and labor "reforms" and social program cuts which hurt Brazil's most-vulnerable workers, the lawmakers' letter adds.
"These sharp reversals in government policy are conducted by a government with no popular mandate and which has come to power through extremely dubious means," it notes.
The letter urges the State Department to "refrain from statements or actions that might be interpreted as supportive of the impeachment campaign," and to be concerned about the impeachment's impact on Brazilian democracy.
"This is not a legal trial, but a political one, where a two-thirds majority vote by a Senate riddled with corruption can end President Rousseff's tenure," it says.
"The circumstances surrounding these impeachment proceedings and the recent actions taken by Brazil's interim government have generated enormous controversy both in Brazil and internationally. The impeachment process has come under fire for procedural irregularities, corruption, and political motivations from its beginning. The U.S. government should express concern about the threat to democratic institutions unfolding in a country that is one of our most important political and economic allies in the region."
The letter notes Temer and lawmakers who removed Rousseff are themselves subject to a wide-ranging political corruption investigation. Rousseff has also been implicated in the probe. It adds she's never been indicted or convicted on any charges, unlike her foes.
Photo: During a protest against the impeachment of Brazil's President Dilma Rousseff, demonstrators holds signs that reads in Portuguese "Coup," in Rio de Janeiro, Brazil, May 10. Rousseff supporters displayed their frustration with rallies held in cities in more than a dozen states. Protesters occupied roads and highways, blocked university entrances and burned tires. Silvia Izquierdo | AP