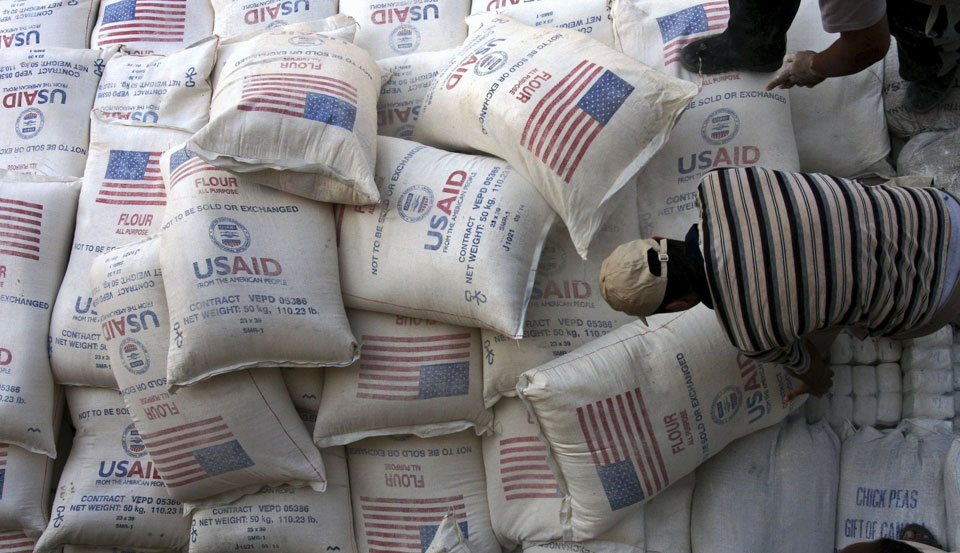 The choreographed provocations on Venezuela's borders this past week highlight an often overlooked component of the U.S.-orchestrated regime change machine—USAid (United States Agency for International Development).
Its motto, "From the American People," usually stamped on containers bound for conflict zones, might more accurately be read as "From the U.S. State Department" as USAID functions as a direct arm of U.S. foreign policy.
It is funded and staffed by the State Department, controlling or overseeing a budget of "US$16.8 billion in assistance that USAID fully or partially manages through the Economic Support and Development Fund, Global Health Programs, Transition Initiatives, International Disaster Assistance, and USAID operational accounts."
USAID works closely with the more visible regime change body the National Endowment for Democracy in "Transition Initiatives"—Washington-speak for regime change or regime consolidation programs.
USAID's Bureau for Democracy, Conflict, and Humanitarian Assistance oversees the Office of Transition Initiatives (OTI), which "supports U.S. foreign policy objectives by helping local partners advance peace and democracy" and whose "programs serve as catalysts for positive political change."
USAID has been instrumental in organizing the fake humanitarian "aid" convoys ostensibly designed to alleviate suffering inside Venezuela.
In a recent CNN interview in a Colombian warehouse where the convoy trucks were parked, USAID's chief administrator Mark Green said: "Today [February 17] what we did was bring in a new shipment of humanitarian assistance, about 66 metric tons.
"As I made clear, this was not the first, nor will it be the last, there will be other shipments coming in, other materials coming in from countries like Indonesia, they'll be coming in from a variety of sources and it really is [inaudible] what President Guaidó asked of President Trump.
"President Guaidó, who we officially recognize as interim president of Venezuela, had a specific request for emergency medical care and nutrition, and so we've been responding.
"We've been mobilizing assistance getting here, prepositioning here in Colombia, obviously Cucuta primarily, which is what President Guaidó and his representatives have asked for. But it's important because we're providing real hope for the people of Venezuela."
Green does not even bother to hide that this "aid" is aligned with the political agenda of the Trump administration and its hand-picked "interim president."
USAID was set up in 1961 as part of the Cold War battle for hearts, bellies, and minds.
In 2009, in a briefing for the Carnegie Endowment, Thomas Carothers outlined the integrated nature of U.S. regime change—or to use one of the preferred euphemisms "democracy assistance"—agencies and particularly that of USAID.
He wrote: "Over the past 25 years, the United States has built up a substantial body of democracy assistance and now devotes approximately $2.5 billion a year to it (with about half of the assistance directed at Iraq and Afghanistan).
"Three organizations serve as the main funders of such aid: the United States Agency for International Development (USAID), the Department of State, and the private, nonprofit National Endowment for Democracy (NED).
"Beyond USAID and the State Department, several other parts of the government also sponsor assistance programs that include efforts to support democratic institutions and practices abroad, including the Department of Defense, the Millennium Challenge Corporation (MCC), and the Department of Justice."
According to Carrothers, USAID's spending on political work rose from $165 million in 1991 to $635 million by 1999, with $288 million allocated to central and eastern Europe and the former Soviet Union; $123 million in sub-Saharan Africa; $111 million in Asia and the Middle East, $86 million in Latin America, and $27 million on global programs.
According to the agency's website: "USAID's Venezuela program supports civil society, promotes human rights, strengthens democratic governance, encourages civic engagement, and expands dialogues.
"We also help address the rights of citizens to be informed by independent and free media. Our assistance provides trainings, exchanges with other Latin American countries, support for research, and opportunities for Venezuelans to share ideas.
"USAID programs reflect the principles enshrined in the United Nations Convention on Human Rights and the Inter-American Democratic Charter, such as freedom of assembly, freedom of speech, and the rights to fair and transparent elections.
"USAID is building the capacity of the National Assembly to be a viable democratic institution that represents all Venezuelans."
USAID and the NED have channeled hundreds of millions of dollars into the counter-revolutionary camp in Venezuela since the very first years of the Hugo Chávez-initiated Bolivarian Revolution.
According to WikiLeaks, a November 9, 2006 cable revealed that the U.S. embassy in Caracas was coordinating the anti-Chávez campaign using a five-point strategy.
The cable stated: "In August of 2004, ambassador outlined the country team's five-point strategy to guide embassy activities in Venezuela for the period 2004-2006 (specifically, from the referendum to the 2006 presidential elections). The strategy's focus is: 1) Strengthening Democratic Institutions, 2) Penetrating Chávez's political base, 3) Dividing Chavismo, 4) Protecting Vital U.S. business, and 5) Isolating Chávez internationally."
By 2010, external funding for opposition groups in Venezuela reached more than $57 million, the majority coming from U.S. agencies such as USAID and the NED.
Researcher Eva Golinger noted that "during its first two years of operations, USAID/OTI had a $10 million budget, which is used to fund approximately 64 opposition groups and programs in Venezuela. The majority of that funding went to anti-Chávez propaganda in the media and an unsuccessful campaign to recall President Chavez from office in 2004.
"Failing in its prior attempts to oust Chávez from power, in 2006 USAID/OTI reoriented its funding, increased its budget and began focusing on crafting an opposition 'youth movement' that could utilize new technologies, such as Twitter and Facebook and other internet media to build an international campaign against the Venezuelan president.
"From 2006 to 2010, more than 34 percent of USAID's budget—which neared $15 million per year—was used to fund university programs, workshops, and other events to aid youth in building an anti-Chávez movement."
Unlike the NED, whose political motivations are transparent, USAID's remit combines both humanitarian assistance and political interference. By straddling these two areas, USAID lays the ground for "humanitarian interventionism"—a useful ideological camouflage that is routinely deployed to neutralize, or better still co-opt, liberal opinion.
One recent high-profile case involving a USAID contractor illustrates the agency has no problem in crossing the line between aid and espionage.
In 2009, USAID paid Alan Gross, through a third party, DAI, almost $600,000 to go to Cuba to install military-grade internet connections, ostensibly for the island's small Jewish community, that could not be detected by the government.
The project was part of a USAID program that was funded by the 1996 Helms-Burton Act, which gave official justification for the blockade against Cuba and explicitly called for the overthrow of the Cuban state.
According to Lou Dubose of The Washington Spectator, Cuban intelligence knew about Gross from 2004 when he first met a contact in Havana.
Fortunately, the contact turned out to be an undercover Cuban security agent. On his fifth trip to Cuba, in 2009, Gross was arrested and sentenced to 15 years for "criminal acts against the independence of the Cuban nation." Gross was eventually released at the same time as the U.S. freed the Cuban Five.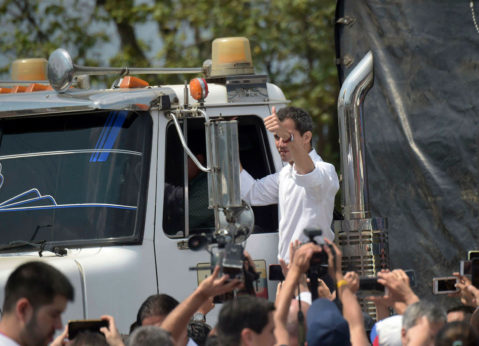 Another often overlooked element in the U.S. destabilization efforts against Venezuela is the U.S. government's attempts to control energy markets.
The State Department's Bureau of Energy Resources (ENR) "manages the critical nexus between energy and U.S. national security to ensure U.S. leadership on global energy issues."
The ENR's brief, according to its website, includes "encouraging Caribbean and other Latin American countries to reduce their reliance on energy imports from Venezuela," in other words the US exerts maximum pressure on these countries to end or limit trade with Venezuela to help cripple its economy. U.S. aid indeed.
Morning Star