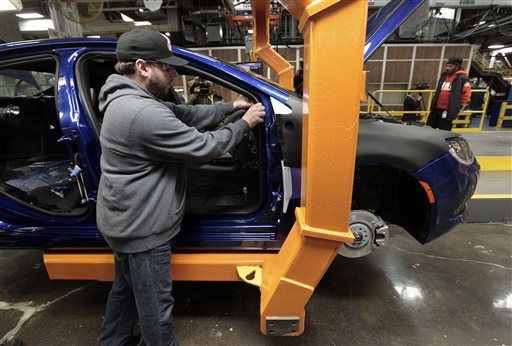 The United Auto Workers have given a strike notice to Fiat- Chrysler, terminating the extension of the old labor contract at 11:59 p.m. Wednesday.
UAW workers overwhelmingly rejected the tentative agreement UAW leadership had previously reached with Fiat-Chrysler. This means roughly 40,000 UAW workers could strike Fiat-Chrysler at any time after that Wednesday deadline.
UAW Vice-President Norwood Jewell sent a letter Tuesday to Fiat-Chrysler terminating the extension of the old labor contract, a defacto strike notice. In a statement Fiat- Chrysler says "The company continues to work with the UAW in a constructive manner to reach a new agreement."
The UAW is preparing for a strike so the possibility of one is serious. If the UAW strikes it could use different tactics, either a general Fiat-Chrysler walkout or strikes at targeted plants.
The above story by Doug Cunningham was sent to PW by Workers Independent News.
Photo: An assembly line worker builds a 2015 Chrysler 200 at the Fiat Chrysler Sterling Heights Assembly Plant in Sterling Heights, Mich. United Auto Workers members at the large Sterling Heights and Toledo, Ohio assembly plants on Tuesday, Sept. 29, 2015 rejected a four-year contract deal with the automaker. | Paul Sancya/AP