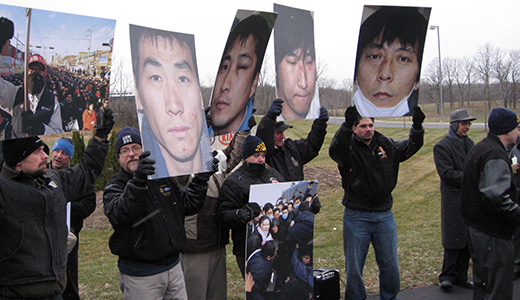 ANN ARBOR, Mich. – The movement for global justice got a big lift this week, when Hyundai Motor Co. found out its unjust treatment of autoworkers in South Korea will not go unnoticed in the U.S. That "lift" came on a bitterly cold Michigan day, when the United Auto Workers and a host of supporters demonstrated outside the Hyundai America Technical Center here, in support of striking autoworkers at the Hyundai Motor Company in Ulsan, South Korea.
Known around the world as "precarious" workers but in the U.S. as temporary workers, the Korean autoworkers have been waging a sit-down strike since Nov. 15. The strike began after company thugs attacked protesting workers and prevented them from going to their workplace. Hyundai insisted the workers withdraw their membership in the Korean Metal Workers Union (KMWU) if they wanted an opportunity to continue working.
The Dec. 6 UAW demonstration took place on short notice, on a windswept country road where the Hyundai Tech Center is located. Still, a hundred strong showed up to express their solidarity.
UAW President Bob King, who along with three other UAW leaders will be leaving this Friday to travel to South Korea to meet with the Metal Workers Union, said, "What we confront today is a global problem for workers. Bosses all over the world, even tremendously profitable corporations like Hyundai, are trying to reduce the number of permanent workers, and expand the number of temporary workers."
King noted that the UAW along with other manufacturing unions built the middle class in the United States. "When autoworkers, steelworkers, machinists and teamsters got good wages, public employees were able to demand and win good wages, service sector employees were able to demand and win good wages," King said.
"We have an unbelievable disparity between the very wealthiest in society and the working and poor class in society," the UAW president said. "The only way we are going to win justice for American workers, for Korean workers, for Chinese, Japanese, Mexican and Bangladesh workers, and workers everywhere, is through global solidarity."
Walking in the demonstration were father and son Chris Michalakis Sr. and Jr. Chris Michalakis Jr. is a leader in the United Food and Commercial Workers union and is secretary treasurer of the Metropolitan Detroit AFL-CIO. He cited the importance to the people of Detroit of supporting autoworkers across the world. "If we raise their standards in Korea, we will raise the standards of autoworkers, like my father here, in Detroit."
Also participating was a contingent of musicians from the world renowned Detroit Symphony Orchestra (DSO) who themselves have been on strike more than nine weeks. Gordon Stump, president of the Detroit Federation of Musicians, said, "We have a common commitment to support strikers around the world. We thought it would be appropriate to bring some musicians on strike."
Korean DSO violinist Eun Park read a statement in Korean that was then read in English by another symphony musician. Park said, "Throughout history, workers everywhere have struggled for their basic rights. Nothing has ever been won without great effort."
"We have been on strike for more than 9 weeks against huge pay cuts and other demands," said Park. "We have been great strengthened and encourage by the wonderful support we have received from professional musicians all over and workers in other fields. Quite simply, it can mean the difference between success and failure. Together we can send a message to those who wish to exploit us that they cannot simply travel the world to seek the most vulnerable workers. So we are happy to lend our voice to those who are calling for fairness for the Hyundai workers. May they reach a speedy resolution to their just claims."
The Korean autoworkers will have a chance to hear Park's message. The demonstration was filmed by the UAW, and union leaders will take the video along on their trip to South Korea in order to show it to the workers there.
King expanded on Park's remarks. "We have to build a global movement for social and economic justice. When workers in the DSO are being treated unfairly and unjustly, we have to stand with them. When workers in Korea are being treated unfairly and unjustly, we are going to stand with them."
King and UAW Vice President Cindy Estrada then led a delegation to the Hyundai offices where they delivered a picture of an abused Korean worker, told company representatives the conditions for "precarious" workers are intolerable, and said, "We are going to help Korean unions expand the fight if the company doesn't recognize those temporary workers as full -ime workers."
Meanwhile, the UAW has thrown its support behind the just-announced U.S.-South Korea trade pact. A U.S.-Korea trade agreement was first put forward by President George W. Bush. The UAW says changes to the initial proposal have lessened its negative impact on autoworkers. However AFL-CIO President Richard Trumka has so far withheld comment, while a number of other unions have criticized the pact, saying it will further erode our manufacturing base.
What all of labor can agree on, and unions like the United Auto Workers and Steelworkers are in the process of building, is more solidarity and ties between unions and workers throughout the world. In an era of globalization, there is no other way for workers to win.
Photo: UAW members hold up photos of abused South Korean Hyundai workers, at the Dec. 6 solidarity rally in Ann Arbor, Mich. (PW/John Rummel)