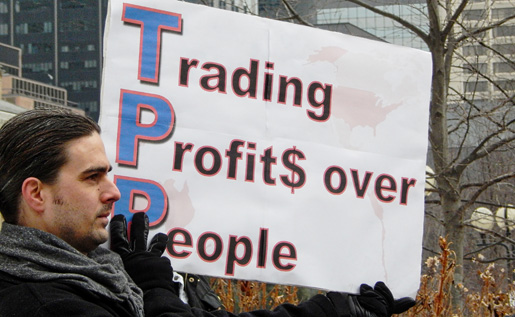 DETROIT (PAI) – Mexican corruption, tied to its trade with the U.S. and its repression of its own workers, is yet another reason for the U.S. Congress to reject the controversial Trans-Pacific Partnership "free trade" pact, Auto Workers President Dennis Williams says.
In an early-February interview with reporters, both in Detroit and by phone, Williams explained the Obama administration advertises that the TPP would fix the trade and labor problems in Mexico that pre-dated, and continue to exist, under the controversial U.S.-Mexico-Canada "free trade" treaty, NAFTA, signed 22 years ago. But TPP hasn't and can't, he said.
"We all know how corrupt their system is," Williams elaborated. "We want unions there to be able to negotiate."
Instead, he said, Mexican workers – with few exceptions – toil under government-allied unions that do not stand up to employers and that for years have let firms exploit workers. That continued even after Mexico's long-dominant Institutional Revolutionary Party lost the presidency in 2000. It has since regained the powerful office. Mexico's Congress is politically split.
The long government-union collaboration in turn helped boost the exodus of U.S. factory jobs, including auto plant jobs, to Mexico after NAFTA passed, the UAW president said.
"Why can't the United States government guarantee the same thing – labor rights – that we have in Canada?" the third NAFTA partner, Williams asked. "We need to stop soft-pedaling the fact that Mexico has a corrupt (labor) process.
"In Mexico, there are federalized unions imposed on the workers without them having the right to vote democratically" on either leadership or contracts, the UAW leader explained.
U.S. unions, led by the United Steelworkers, actively back independent non-government-allied Mexican unions. The most notable of them is the United Union of Mineworkers and related workers, Los Mineros, led by Napoleon Gomez Urrutia.
When Los Mineros campaigned against Mexican mine fatalities and company oppression, the government retaliated by trying to oust Urrutia on trumped-up financial fraud charges, to replace him with a pliable leader. Urrutia had to escape to Canada, where USW supported him for years until he was vindicated and could return.
"We cannot do it alone," Williams said about fighting Mexican corruption. "When a government imposes contracts, and the workers don't have a right to vote on them, that's corruption." The TPP doesn't fix that, he states.
Workers and their allies are campaigning hard to get the GOP-run Congress to reject legislation implementing the TPP. The vote can occur no earlier than April 3.
Photo: Nation of Change.org